Northern Illinois postgame nuggets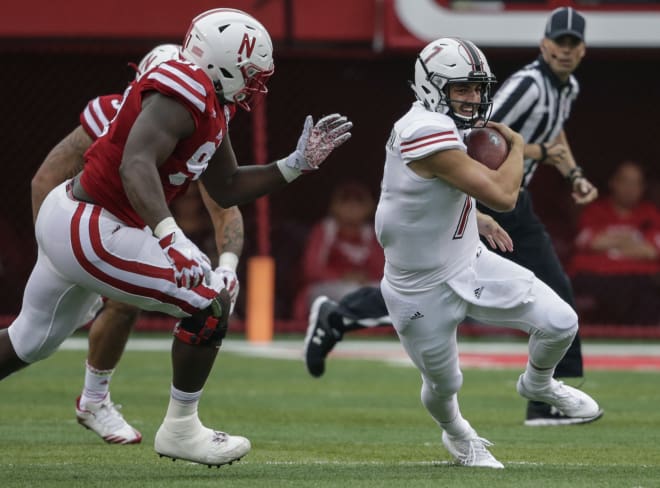 Here are some quick notes to pass along from Nebraska's postgame press conference following its 21-17 loss to Northern Illinois…
***Head coach Mike Riley opened by saying "all of this will sound like an understatement" before trying to explain what happened in the loss. He said the team was "really, bitterly disappointed… We're not playing good enough on offense right now."
***Riley said Nebraska never could recover from early 14-0 hole, and that bad start threw off the entire offense the rest of the day.
***Earlier this year Riley said he felt the offense had the ability to score every time it had the ball. Asked if he still felt that way, Riley said the Huskers were now "so far from that I can't even hint at that… I was wrong."
***Riley said the offense couldn't do anything consistently in the loss, and a big reason was "sporadic" pass protection. He didn't want to point the finger at just one group or player, but admitted the struggles were evident with the amount of pressure NIU got on the quarterback.
***Riley said the only thing the staff can do with Tanner Lee after two bad outings was "coach him and support him right now." Riley said he didn't know how Lee would respond going forward, but he's been impressed with Lee's demeanor so far and thinks he'll bounce back.
***Riley said he never considered making a change at QB. "Another guy is not going to change the protection problems," Riley said.
***Riley said the pass protection issues were a combination of just getting beat and being confused on blocking assignments.
***Riley said there was "a lot of stuff with this loss" that NU would have to deal with going forward. He told the team that they had to stick together, and there was "no way out of a hole like this without working". Riley said the Huskers just needed to get to Monday so they could start getting better.
***Riley said NIU's long pass to spark their fourth-quarter touchdown was their only "real offensive play" of the game, and "we gave them that opportunity."
***Riley said linebacker Marcus Newby pulled a hamstring in the game and his status was unknown for next week.
***Riley said he's been in a lot of tough situations in his career, so he's seen starts like this before. However, he admitted the pressure at Nebraska was a little different than most places, and the players would have to overcome that.
***Riley on offense moving forward: "We have to prove who we are. We've been inconsistent at best … and I don't like that."
***Junior left guard Jerald Foster said that while this was a bad non-conference loss, all of Nebraska's Big Ten goals were still in place. That's his mentality going into next week.
***Foster said the offensive line had "hiccups" in the run and pass game, but he promised those problems would be fixed. "We're going to figure out our problems," Foster said. "We're going to take an initiative and find solutions… We just didn't have the day we needed."
***Fullback Luke McNitt said the team came together in the locker room after the game and had a long talk, and he thinks the players will keep their heads up. He said the mood of the team was "as good as it can be after a loss like that."
***McNitt said he's not worried about Lee getting over his recent struggles, saying Lee was "a tough kid" who will bounce back, and that everyone on the team still has confidence in him.
***Lee said the first pick-six came because NIU had the perfect defense for that play call. Lee said it was a tough way to start, and the offense started pressing after that and made uncharacteristic mistakes.
***Asked to evaluate his play so far this season, Lee said: "I could play better, absolutely."
***Linebacker Luke Gifford on his message of Nebraska fans: "We're going to keep busting our tails off. There is a sense of urgency, and the standard here hasn't changed: losing is not an option… You go in the locker room, and it sucks. No one likes losing."