Noa Pola-Gates commit: What does it mean for Nebraska?
Nebraska added a big piece to its 2019 recruiting class late Saturday night as Rivals250 prospect Noa Pola-Gates announced his commitment to the Huskers at the Polynesian Bowl in Hawaii.
The 5-foot-11, 180-pound defensive back had close to 20 offers to his name and picked the Big Red over the likes of Alabama, USC, Arizona State, Penn State, Oregon, Texas, and Washington among others. Pola-Gates becomes the 26th known commit for Nebraska's 2019 recruiting class.
Here are some quick takes on what Pola-Gates' commitment means for Nebraska.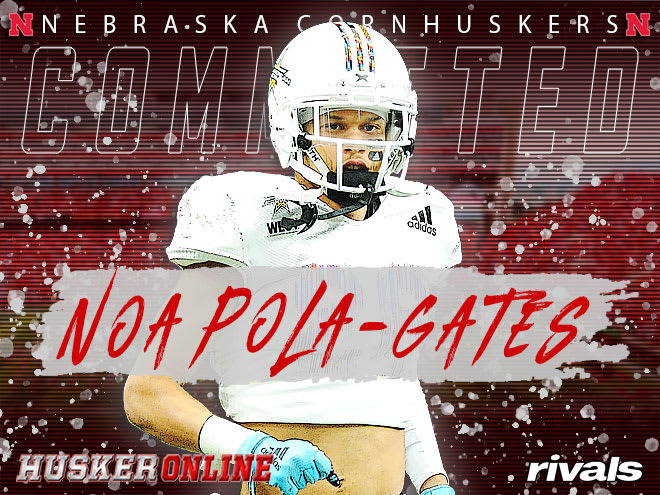 1. Gates' commitment is yet another example this cycle of how the Nebraska coaching staff is not reticent to go against - and beat - the big dogs of college football for top recruits. First of all, it's good to see the NU coaches facing off more often on the recruiting trail against the likes of Alabama, USC and Oregon for the same targets and winning at least some of the battles. The Crimson Tide, Trojan and Duck coaching staffs don't use official visits on prospects unless they want them in their programs. And Nick Saban doesn't waste time conducting in-home visits with recruits if they don't have commitable offers. Nebraska isn't going to win all of these head-to-head recruiting battles against current top national programs, but they are at least starting to win some of them. And with more success on the field, they will win even more in the future.
2. Having Noa Pola-Gates make his commitment announcement to Nebraska at the Polynesian Bowl will hopefully be the start of the Huskers reestablishing a Poly pipeline. At one point in the not too distant past, NU was signing players like Dominic Raiola, Toniu Fonoti, Tony Tata and Junior Tagoa'i on a fairly regular basis. Raiola and Fonoti went on to become All-Americans and second-round NFL draft picks. There were some fleeting attempts over the past decade and a half to sign some Polynesian recruits with little to show for it. Nebraska needs every edge it can get to reclaim national prominence, and if they can start to make some inroads with Polynesian players it would aid that effort tremendously. Pola-Gates is now in Husker fold and a couple other Poly targets like Soni Fonua and Matthew Pola-Mao are still in play.
3. With the addition of Noa Pola-Gates' commitment and signing, it now gives Nebraska the legitimate possibility of having a top 15 rated class for this cycle in the Rivals rankings. Adding Gates to NU's Class of 2019 puts this group of signees in rarefied company regarding the Huskers' recruiting classes in the Rivals.com era. On paper, the Nebraska classes of 2005 and 2011 were the only others in having at least five signees among the top 140 players in the country, according to Rivals. Hopefully, this collection of NU signees will more resemble the 2005 version than the 2011 class in their productivity as Husker players. This first, full recruiting class under Scott Frost will end up being the highest-ranked one of the past five Nebraska coaching staffs, since Bill Callahan's No. 5 class in 2005.
4. With Gates officially coming aboard Nebraska's class, it will make a productive haul in the state of Arizona for the Nebraska this cycle. NU will have signed three recruits from among the top 13 players in the Grand Canyon State: DE Ty Robinson (#4), S Noa Pola-Gates (#5) and DB Javin Wright (#14). Nebraska is also still in the picture with Noa's cousin, DT Matthew Pola-Mao (#8), which would give the Huskers four signees from Arizona this cycle. That would be the most since their Class of 2007 when they signed six from the state in one cycle: OL Jaivorio Burkes (#3), DE William Yancy (#4), CB Prince Amukamara (#11), OT Marcel Jones (#13), DB Eric Hagg (#15) and CB Armando Murillo (#21 JUCO). The Cornhusker coaches have also already tendered 8 scholarship offers to players in Arizona so far for the Class of 2020, so it looks as if Arizona will remain regular recruiting territory for this staff under Coach Frost.
5. The addition of Pola-Gates fills Nebraska's remaining need at the safety position for the 2019 recruiting cycle. He has the ability to be able to come in and fight for early playing time once he arrives in Lincoln. As a prospect in the long-term, Pola-Gates has excellent growth potential, as he's a little skinny right now yet has a nice frame to work with, and he also has genetics on his side as several of his family members have played college or profession football including safeties Troy Polamalu and Isaiah Pola-Mao.
6. Pola-Gates is an extremely gifted athlete that is well-suited for the safety position. He runs extremely well and has nice burst and lateral quickness. He has the ability to cover a lot of ground in the back end of the defense. Pola-Gates has great ball skills and is solid in coverage. However, he's definitely at his best when he's coming down in run support or when breaking on the ball to lay a big hit on a receiver. He is about as physical of a safety as you're going to find in the nation.
7. Pola-Gates understands the game of football very well and is a student of the game. He could rely on his natural ability to get by, but he's a player that is eager to learn and always willing to work hard. He has a passion for the game and is not someone you have to question whether or not they love to play football. It's those types of intangibles that the Nebraska coaching staff absolutely loves and Pola-Gates has them in spades.
***Senior season stats: Offense: 15 carries for 139 yards, three catches for 200 yards and three touchdowns; Defense: 57 tackles, one tackles for loss, seven pass breakups, five interceptions and one blocked field goal; Special Teams: seven kickoff returns for 233 yards and one touchdown (99 yards), one punt return for 21 yards.
8. 2019 Nebraska commit breakdown
1/19/2019 - Noa Pola-Gates - DB - 5-foot-11, 180-pounds - Gilbert, AZ - 4 Stars
12/19/2018 - Ty Robinson - DE - 6-foot-6, 275-pounds - Gilbert, AZ - 4 Stars
12/19/2018 - Jimmy Fritzsche - OT - 6-foot-7, 255-pounds - Greenville, SC - 3 Stars
12/19/2018 - Brant Banks - DE - 6-foot-7, 280-pounds - Houston, TX - 3 Stars
12/5/2018 - Wandale Robinson - WR - 5-foot-9, 180-pounds - Frankfort, KY - 4 Stars
12/2/2018 - Jamin Graham - OLB - 6-foot-6, 220-pounds - Attalla, AL - 3 Stars
11/18/2018 - Myles Farmer - DB - 6-foot-3, 190-pounds - Atlanta, GA - 3 Stars
10/31/2018 - Javin Wright - DB - 6-foot-3, 190-pounds - Chandler, AZ - 3 Stars
10/28/2018 - Bryce Benhart - OT - 6-foot-9, 300-pounds - Lakeville, MN - 4 Stars
10/25/2018 - Darien Chase - WR - 6-foot-1, 185-pounds - Vancouver, WA - 3 Stars
9/15/2018 - Chris Hickman - TE - 6-foot-6, 205-pounds - Omaha, NE - 3 Stars
9/4/2018 - Dedrick Mills - RB - 6-foot, 200-pounds - Garden City, KS (Waycross, GA) - 4 Stars
8/6/2018 - Quinton Newsome - CB - 6-foot-2, 180 - Suwanee, GA - 3 Stars
8/5/2018 - Michael Lynn - OT - 6-foot-7, 280 - Greenwood Village, CO - 3 Stars
7/23/2018 - Mosai Newsom - DE - 6-foot-5, 260 - Waverly, IA - 3 Stars
7/21/2018 - Nick Henrich- LB - 6-foot-3, 210 - Omaha, NE - 4 Stars
6/29/2018 - Jamie Nance - WR - 6-foot, 160 - Blanchard, OK - 4 Stars
6/22/2018 - Matthew Anderson - OL - 6-foot-7, 250 - Leesville, LA - 3 Stars
6/15/2018 - Ronald Thompkins - RB - 6-foot, 195 - Loganville, GA - 3 Stars
6/6/2018 - Jackson Hannah - LB - 6-foot-3, 234 - Nashville, TN - 4 Stars
6/4/2018 - Luke McCaffrey - QB - 6-foot-2, 180 - Highlands Ranch, CO - 3 Stars
6/1/2018 - Desmond Bland - OL - 6-foot-4, 300 - Yuma, AZ (Flossmoor, Ill.) - 4 Stars
5/5/2018 - Rahmir Johnson - RB - 5-foot-10, 170 - Oradell, NJ - 4 Stars
3/5/2018 - Ethan Piper - DE - 6-foot-4, 280 - Norfolk, Neb. - 3 Stars
11/24/2017 - Garrett Snodgrass - ATH - 6-foot-3, 220 - York, Neb. - 3 Stars
6/24/2017 - Garrett Nelson - OLB - 6-foot-3, 236 - Scottsbluff, Neb. - 3 Stars
9. 2019 commits by position
1 - Quarterback
3 - Running back
3 - Wide receiver
1 - Tight end
5 - Offensive linemen
0 - Defensive tackle
4 - Defensive end
2 - Outside linebacker
2 - Inside linebacker
2 - Safety
2 - Cornerback
1 - Athlete
0 - Special teams
10. Where are they from?
5 - Nebraska
4 - Georgia
3 - Arizona
2 - Colorado
1 - Alabama
1 - Iowa
1 - Illinois
1 - Kentucky
1 - Louisiana
1 - Minnesota
1 - New Jersey
1 - Oklahoma
1 - South Carolina
1 - Tennessee
1 - Texas
1 - Washington