Newby pushing to be NUs next feature back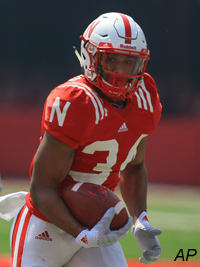 Click
Here
to view this video.
For essentially his entire football career,
Terrell Newby
has been trying his hardest to shed the label that has been placed on him every time he lines up in the backfield.
At 5-foot-10, 200 pounds, it's easy to pigeon hole the junior in the category of a "scat back", a player too small to hold his own between the tackles that can only best be used with the ball out in space. But the former four-star prospect from Los Angeles knows he's much more than just a specialty weapon, and Saturday's performance in Nebraska's annual Red-White Spring Game may have been one of his best cases for that yet.
As the No. 1 running back for the victorious Red team, Newby rushed a game-high seven times for 53 yards, all of which coming in the first quarter when he helped lead the Red squad to two straight scoring drives to open the game. The bulk of those yards didn't come off of sweeps or pitches, either, as he picked them up the hard way right up the gut.
Having already been singled out by his coaches earlier this spring as one of Nebraska's most complete running backs, Newby looks to be well on his way towards accomplishing his goal of becoming the successor to the do-it-all standout Ameer Abdullah.
"Things have started clicking for me," Newby said. "I'm picking up on the little things of the offense, and I've been doing a lot of studying on film and the playbook, so I think that should help… I've really tried to focus on that and just being into all the aspects of being a running back. Things like pass protection, ball carrying, ball security and all that."
Newby's play on Saturday was just a continuation of what new head coach
Mike Riley
has seen from him the past two weeks of spring ball, when Newby kicked his play into a new gear when the team returned to practice following the week off for spring break.
"I've been noticing that since about halfway through spring," Riley said. "His ability and his play were pretty evident today… I think he's a versatile back. I think he's a good back, a good runner. I think he understands pass protection, and I think he can catch the ball and run. A guy with what we've done in the past that can do those things can function pretty well."
Playing in the shadow ofs the All-Big Ten Abdullah last season, Newby saw action in all 13 games and carried the ball 67 times for 297 yards and five rushing touchdowns. With Abdullah now moving on likely to the NFL, the competition to fill his shoes at running back this spring was as tight of a battle as any position on the roster.
The starting job is still far from settled, but with the way Newby has been playing recently, he's made as strong as a case as anyone to his coaches and teammates.
"He has a lot (of potential)," quarterback
Tommy Armstrong
said. "He's been doing really well. I'm proud of him. Last year he kind of was behind Ameer, and this year he's stepping up big time. I told him last year that next year was going to be the year where you have to step up and make plays, because you're one of the veteran guys in the room with the running backs, you and Imani (Cross).
"I think he took that on the right way. He's running harder. He's a lot faster than he was last year, and he's running with a little chip on his shoulder just to prove to a lot of guys that he can be an every-down back. I'm proud of him."

Click
Here
to view this Link.
[rl]