New defense not as simple as originally thought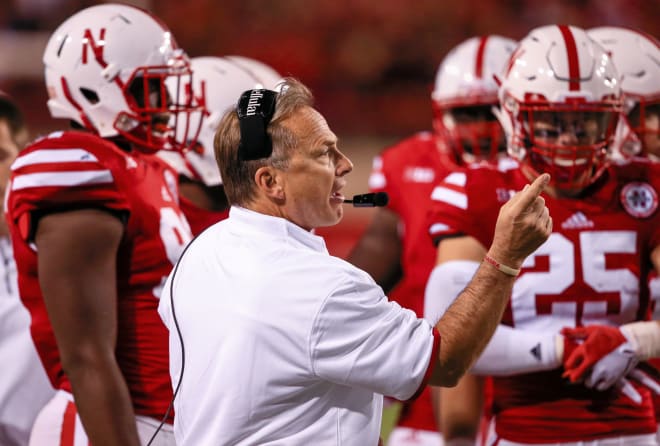 As Nebraska's defense suffered several massive breakdowns over the past couple of years, former coach Bo Pelini faced heat for crafting a complicated defense that forced his players to think too much instead of playing freely.
All indications coming out of fall camp is that wouldn't be an issue under new coordinator Mark Banker. The players swore this scheme was much easier, with linebacker Josh Banderas going as far as to say it reminded him of high school.
Turns out the Huskers may have exaggerated the simplicity of the scheme just a bit.
"I think if you'd have asked all of us, like me, who said it was like preschool, reading book compared to what we had," Banderas said. "I think we would bump it up to the high school level."
Nebraska allowed 27.8 points and 401.6 yards per game (both 10th in the Big Ten) and only six teams in the nation allowed more passing yards than the Huskers. It would take more than simplifying a few concepts to turn around the Blackshirts.
Banderas was quick to point out that the comments he and other defenders made may have been a bit strong. The coaches typically added a few more concepts each week, diversifying what was originally a limited defensive playbook.
"They started throwing some more stuff on us later in camp," Banderas said. "Early in camp we just kind of ran our regular defenses over and over against the same offense, so it was pretty much 'see ball, get ball.'
"Even now that they've added some stuff, it's still the basic concept of 'see ball, get ball' and don't think as much, but it definitely piled up a little bit."
The new staff tended to add a few more blitzes and adjustments each week as the year went on, complicating what may have started as an easier scheme. But the Huskers have improved in the last two games, surrendering a total of 509 yards to Rutgers and Iowa.
And adjusting from Pelini's defense was never going to be easy to begin with.
"It's a totally different thing," Banderas said. "Coach Banker said this defense is like an amoeba – we're going to put our base out there, then we're going to fit that to the offense, where the old one was kind of like, we need to fit to the offense and what they do."
Banderas still says this new scheme is easier to learn for a newcomer than Pelini's was, but it's not as easy as he first thought. Husker fans have to hope that another offseason with Banker at the helm shore up some of their shortcomings this year.
"I kept saying that this scheme was easier, but as we got deeper into the season they kept adding stuff and it got harder," Banderas said. "This might be a little easier to pick up, but (linebackers) coach (Trent) Bray and coach Banker do a great job of teaching the younger guys."
Related HuskerOnline articles: