Nebraskas sloppy play on offense proves costly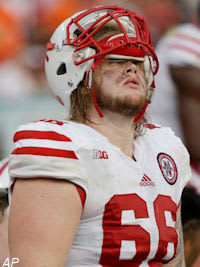 "We couldn't do anything right without doing something wrong," the first-year head coach said. "Make a play and get a penalty, or something. We were sloppy, very sloppy. We waited a long time to start playing and that was my message at halftime - that this is all our fault, the way this is going down.
"And we can change it."
Nebraska improved in the second half, allowing the Huskers to end regulation on a 30-3 run. But the frustrating errors that plagued NU remained.
But the real culprit that killed Nebraska's offense was penalties. The Huskers committed 12 infractions for 98 yards (and had one penalty declined). Among the miscues: two flags for having 12 men on the field, two personal fouls, two illegal formations and a false start.
"It's probably some inexperience and some nerves, a different environment. I don't know. You can try and guess on a lot of it, but I think it's a matter of continuing to work certain throws and plays to where it becomes a habit. We don't have to do anything crazy."
While the drops hadn't hurt the Huskers in previous games, the penalties are becoming a serious issue. NU has now been flagged 31 times for 268 yards, costing the team an average of 89.3 yards in the process. That's a major uptick from last year, when Nebraska averaged just 50.4 penalty yards per game.
Riley knows his team must perform more efficiently, and he was especially disappointed with how the Huskers started the game with such little life.
But Langsdorf takes the second half, in which Nebraska played more crisply, as a sign that things can be fixed. But there is a lot of improving to do in the coming weeks.
"We had some bad, silly mistakes," he said. "Just getting lined up, we had some illegal formation stuff - usually they warn the tackle on that deal, but that was kind of bizarre. But we had a couple of plays that we didn't line up correctly on that we know and need to be better at."