Nebraska's five biggest questions coming out of spring ball
Offensive line: Can this group turn the corner in 2017?
If Nebraska is going to make a legitimate run at the Big Ten West against the likes of Wisconsin and Iowa, improved play on the offensive line will arguably be where it has to start.
This group spiraled as the season ended in 2016, and they still have a lot of questions to answer coming out of the spring.
NU returns five players with starting experience in Nick Gates, David Knevel, Tanner Farmer, Jerald Foster and Cole Conrad. Today, that looks like it would be the starting five, but we've seen Michael Decker, Matt Farniok and Boe Wilson all get good looks this spring.
The depth has gotten better, and it will only get better when some of the upperclassmen who are not contributing get replaced by new recruits. You have to like how the offensive line finished the spring game. Now it's a matter if they can build off the strong finish and also develop the leadership and nastiness it takes to be a dominant offensive line.
Special teams: Punter Caleb Lightbourn and the return game
We still really don't have a feel for Nebraska's special teams coming out of the spring. What we know right now is Drew Brown is nearly automatic at place kicker, defensive coordinator Bob Diaco is coaching the punters and Scott Booker was brought over from Notre Dame to serve as a special teams consultant.
Sophomore punter Caleb Lightbourn returns in 2017, and the thought is he will take a big step forward this season, after being thrusted into a tough situation in 2016.
De'Mornay Pierson-El appears to be back to his old self as a punt returner, but can NU develop schemes to feature him properly? That seemed to be the problem last season, as more often than not he was not set up to have big results in the return game.
Meanwhile at kick returner, the Huskers have really struggled in this area under Mike Riley. JD Spielman looks like a prime candidate to move into this role, as does running back Wyatt Mazour.
Pass rush: Can NU create an effective pass rush? 
Since Randy Gregory left the program in 2014, Nebraska really hasn't had that consistent pass rush specialist you need to win on third down.
As this defense transitions into Bob Diaco's system, we still don't have a good feel yet who that guy could be?
Defensive linemen Carlos Davis, Mick Stoltenberg and Freedom Akinmoladun all had strong springs, but will they be able to get a consistent pass rush in a 3-4 scheme? We also don't have a great feel of how Diaco will use Alex Davis and the other outside linebackers to generate a pass rush in this defense.
Running back: Do the Huskers have a 1,000 yard rusher? 
Without a running quarterback like Tommy Armstrong or Taylor Martinez, the path to averaging 200 rushing yards per game is going to be much more difficult.
The Huskers are going to need more production out of the running back position than they have gotten the last two seasons.
NU hasn't had a 1,000 yard rusher since Ameer Abdullah in 2014, and I can't tell you when the last time NU has gone three straight seasons without a 1,000 yard back?
This remains a major question at this point if Tre Bryant, Devine Ozigbo or Mikale Wilbon can be the type of backs in 2017 to put up a 1,000 yard season.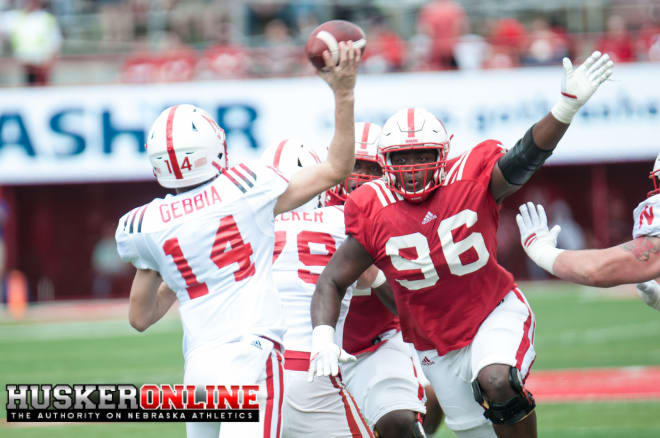 Corner depth: Is their enough corner depth to get through 2017? 
With Joshua Kalu's move to safety, Nebraska's depth at cornerback is very thin going into 2017. Chris Jones and Lamar Jackson appear to be locked in as starters, while Eric Lee is in a prime position to be the nickel corner.
After these three, DiCaprio Bootle is really the only other guy that looks to be in contention at corner for playing time.
This is a position where Nebraska can't afford to suffer any major injuries, and it also looks like freshman Elijah Blades will be in a great position to see time as a true freshman.