Nebraska runs over Illinois in 45-14 blowout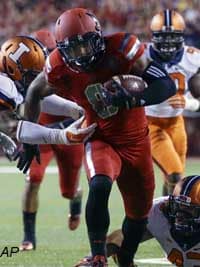 Once again, the senior running back carried the Huskers with another stellar performance, racking up 208 yards and three touchdowns on 22 carries to lead NU to a 45-14 victory over Illinois in Saturday night's Big Ten Conference opener. Nebraska ended up rushing for 458 yards as a team and only completed 10 passes, as the defense overcame some early mistakes and settled in for a solid outing.
It was far from a perfect effort, as the Huskers turned the ball over twice and gave up some big plays to Illinois' offense, but with a potentially season-defining game against No. 9 Michigan State looming next week, it was a good enough effort to achieve a perfect 5-0 start for the first time since 2010.
"Well we're happy for the win," Pelini said. "Like I just told the team, I think there were some positives from this win, but a lot of things we need to get cleaned up. We still have a long way to go as a team. There's no question. Like I said, there's a lot of good things in there, but we're nowhere near what we're capable of being or where we want to be."
The night started out with a bang as Nebraska charged 75 yards down the field entirely on running plays and struck first with a 12-yard touchdown run by Abdullah, who carried the ball five times for 60 yards on the opening drive.
When the first half finally came to a close, Abdullah had put up 196 yards and three touchdowns on 20 rushes, averaging 9.8 yards per carry, to help the Huskers post 288 yards on the ground as a team. In fact, Abdullah would have just two more carries on the first play of the second half before heading to the sideline for good with a minor knee bruise.
"I like everything I see from Ameer," Pelini said. "He's a pretty special player. I mean he got hit in the knee and got a little bruise. We felt the game was in hand. Obviously we have a lot of good running backs. So we pulled the plug on him early in the third quarter and I thought that was the right thing to do."
The focus now can officially shift toward's next weekend's huge showdown at Big Ten West Division rival Michigan State, which also improved to a perfect 5-0 with a win over Wyoming on Saturday.
"They're a good football team and it's going to be a heckuva challenge for us on the road to win the football game," Pelini said. "Every week is motivation for us. At the end of the day, and I know you probably get sick of hearing it, but we've got to get better. We've got to get better this week to be able to go on the road and win against a good football team. We need to fix us first.
"We can't start the way we did defensively the way we did today. Can't shoot ourselves in the foot and have the turnovers and things like that. Things that don't magnify themselves tonight could magnify themselves a week from now. I don't know how that game is going to go. I don't have a crystal ball, but what we can control is getting better ourselves to give us the best opportunity to win the football game."