Nebraska basketball will travel to NC State for ACC/Big Ten Challenge
One of the final pieces to Nebraska's 2021-22 non-conference schedule was added to the puzzle, as the pairings for this year's ACC/Big Ten Challenge have started to surface.
It was officially announced on Monday that the Huskers would travel to take on North Carolina State in the first-ever meeting between the two programs.
The game will be played on Wednesday, Dec. 1, with tip time and television information announced at a later date.
All 14 games are carried on the ESPN family of networks (ESPN, ESPN2 and ESPNU) and available on the ESPN app.
Nebraska is 5-5 in the challenge since joining the Big Ten in 2011 and will be playing its third road game in the event in the past four years. Six of its 11 appearances in the challenge will now have been on the road.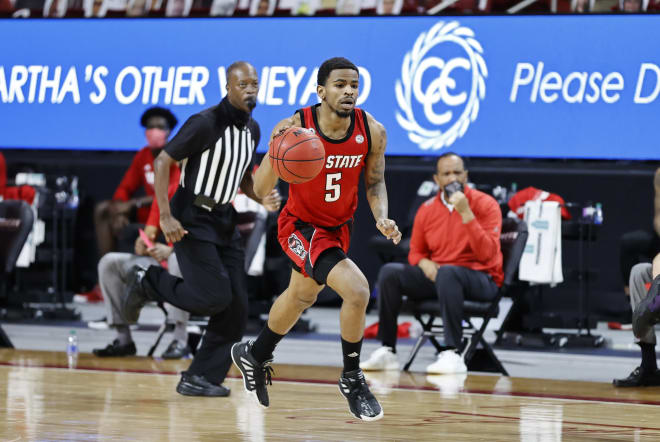 The matchup's most intriguing storyline is NC State junior guard Thomas Allen, who played two seasons with the Huskers from 2017-19 before transferring to the Wolfpack.
The former four-star recruit out of Brewster (N.H.) Academy was the only freshman in NU's 2017-18 rotation and played in all 32 games that season.
Allen then averaged 8.7 points per game on 44 percent shooting, including 36 percent from 3-point range, while playing in NU's first 29 games (25 starts) as a sophomore.
His Nebraska career essentially came to a close when he suffered a season-ending injury in the second half at No. 9 Michigan on Feb. 28, 2019. Allen entered the NCAA transfer a month later.
After sitting out '19-20 due to transfer rules, the Raliegh, N.C., native made his NCSU debut last season. He played in 17 of the Wolfpacks' 25 games with 15 starts, averaging 7.4 ppg and shooting 38 percent from behind the arc.
The Wolfpack finished 14-11 overall and 9-8 in the ACC last season, advancing to the quarterfinals of the NIT.
Head coach Kevin Keatts returns five players who started at least eight games last year and adds a 2021 recruiting class featuring four-stars Ernest Ross and Terquavion Smith and three-star Breon Pass.
The Wolfpack also picked up two transfers in Virginia sophomore guard Casey Morsell (rated No. 49 nationally in 2019) and Providence sophomore forward Greg Gantt Jr. (No. 55 in 2019).