Nebraska baseball tops Michigan 13-9 in topsy-turvy Big Ten opener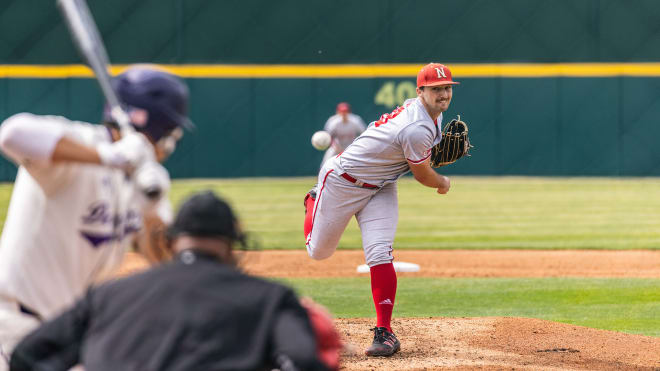 Winning a game when a team allows five home runs is hard. Doing it in addition to surrendering 11 more hits adds another level of difficulty. But that is exactly what Nebraska baseball (9-11) did on Friday night topping Michigan (9-12) by four, 13-9.
Michigan struck first.
Two almost identical singles to right from the first pair of Wolverine hitters quickly put Nebraska starting pitcher Koty Frank behind the 8-Ball. Then cleanup hitter Jimmy Obertop ripped a ball to the left gap for a double to make it 1-0. Frank settled in, and coaxed a strikeout and a groundout to end the inning.
The Huskers bounced back in a big way in the bottom half of the frame. Nebraska got a single from Cam Chick while Max Anderson took Michigan starter Connor O'Halloran deep into the count for a walk. That set the table for freshman Garrett Anglim who doubled to left with two outs and scored both runners giving Nebraska a 2-1 advantage.
Michigan got one back in the second with a two-out single by Clark Elliot to even the score at 2-2. The score remained tied until Anglim delivered again with a sacrifice fly to right field scoring one and retaking the lead for the Huskers.
Frank preserved the 3-2 Nebraska lead with two strikeouts in the fourth inning and brought his total to eight in the fifth. Then the first cracks began to show. First it was a home-run swing by Matt Frey. Next, Obertop hit it out of the park while Ted Burton and Tito Flores did the same.
Four consecutive home runs.
It was a Big Ten record for the Wolverines and with it they took a 6-3 lead. But Michigan didn't hold it for long. Nebraska scored six runs in the fifth inning on four hits including Anglim's bases-clearing double to reclaim the lead for Nebraska. The Huskers had scored six runs in the fifth inning all season prior to Friday's fifth.
The Huskers didn't stop there. They tacked on four more runs in the sixth inning off of just a single hit. Three of those runs scored from hit batsmen and all four Nebraska runs came in with two outs. With two thirds of the game in the books, the Huskers led 13-6.
Jaxon Jelkin continued a strong relief outing into the eighth inning before allowing a double, single and a walk. With runners on the corners, the freshman went to the dugout in favor of Tyler Martin. The Wolverines scored a run in the inning and two more in the ninth but the Huskers held on to win in a game with a final runtime of 3:34.
"You just gotta show up. That's the game of baseball. We did that this week leading up to this game, we did that tonight and the challenge is to do that tomorrow."
— Head coach Will Bolt
The Friday Five
Nebraska feels confident in its top five batters.
Will Bolt said as much during his press conference on Thursday. Matthews, Chick, Anderson, Griffin Everitt and Anglim all delivered on Friday night. Four of the five hitters knocked in a run and a walk. All five registered a hit and several were hit by a pitch. As a group, they were 6-19 with 10 of the team's 11 RBIs.
The bottom third of the order did their fair share too.
Jack Steil, Core Jackson and Luke Sartori accounted for six of 11 walks and did a solid job of turning the lineup over for the first five hitters. An all-around offensive contribution was necessary for Nebraska in a game in which it gave up nine runs.
Once again, consistency is key. Friday may have been the Huskers most consistent night at the plate this season. It certainly was its most resilient digging out of the 6-3 hole provided by those four home runs. The question is if Nebraska can hold that momentum throughout the remainder of the weekend.
"Solo home runs don't win ballgames"
There were a ton of weird things on Friday night.
The four consecutive home runs by Michigan was just shy of tying the NCAA record of five. Nebraska scored three runs in a row later in the contest of hit batters. One thing was true of each and every shot by the Wolverines, they were solos.
Both players and Bolt brought up that fact after the game.
It was part of why the Huskers were able to stay in the game not just on the scoreboard but mentally. The easiest way to avoid multi-run long balls is to avoid free passes. Nebraska gave up just two walks and had no errors.
Compare that to the Wolverine's 11 walks allowed and four hit batters and it becomes clearer why the Huskers were able to come out on top.
"There wasn't a second in my mind where I didn't think we would win that game."
— Garrett Anglim
What's next
Nebraska baseball returns to the diamond Saturday at 2 p.m. to resume its series with Michigan. The game will be televised on Nebraska Public Media and can be heard on the Huskers Radio Network.