Mount Rushmore Nebraska: Wide receiver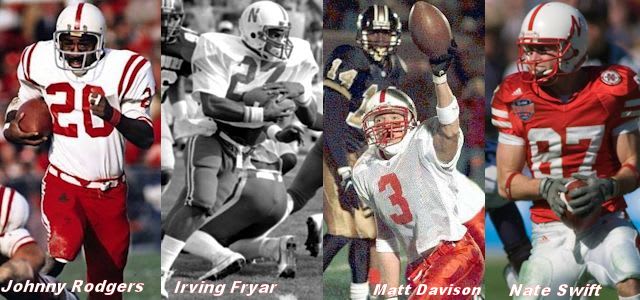 Over the next few weeks of summer HuskerOnline.com will introduce a new feature called "Mount Rushmore Nebraska."
Similar to the legendary Mount Rushmore monument in South Dakota, HOL will recognize the "four faces" for each position in Husker program history. These are the four players Nebraska would choose to put on a monument for each position.
As you can imagine, narrowing it down to four players at each position is not an easy task. We also wanted to make sure that all eras in the program's history were included in this, so you will see players from as early as the 1920's included in our Mount Rushmore lists.
Today we continue the series with HOL's Mount Rushmore for the wide receiver position.
Johnny Rodgers 1970-1972
Omaha native Johnny Rodgers was Nebraska's first Heisman Trophy winner in school history and a game changer on offense for NU's first two national championship teams in 1970 and 1971. Rodgers would go on to finish his career with 143 catches for 2,479 yards receiving and 25 touchdowns. Rodgers still holds the career receiving yards record and single season record (942 yards), along with the career touchdowns mark. He is second in touchdown receptions in a season with 11.
Rodgers also returned seven punts and one kickoff for a touchdown and finished his career with a school-record 5,586 all-purpose yards. He averaged 13.8 yards per attempt on 406 career all-purpose touches. Rodgers is clearly remembered best for his punt return for a touchdown in the 1971 "Game of the Century" against Oklahoma.
Irving Fryar 1980-1983
A 1983 first-team All-American, Irving Fryar was also the No. 1 pick in the 1984 NFL Draft by the New England Patriots. No other receiver in school history has ever been drafted in the first round at Nebraska.
Fryar was a critical piece to the 1983 "Scoring Explosion" offense with quarterback Turner Gill and running back Mike Rozier. As a senior Fryar was second in the conference in all-purpose yardage at 1,267 and finished with 40 catches for 780 yards and eight touchdowns. Fryar finished his career with 70 catches for 1,196 yards and 11 touchdowns and went on to have a 17 year NFL career where he played in five Pro Bowls.
Matt Davison 1997-2000
Wide receiver Matt Davison will always be remembered for making the biggest catch in school history against Missouri in 1997, but he was more than a one-hit wonder. Davison still holds the single-game receiving record at 167 yards from his sophomore year in 1998, and when you count his four bowl games Davison finished with 102 receptions for 1,699 yards and eight touchdowns.
Very few players could live up to the hype after Davison's catch in 1997, but he managed to do that and finish as one of the best receivers in school history. When you add that all up he was a shoo-in to be on Nebraska's wide receiver Mount Rushmore.
Nate Swift 2005-2008
Minnesota native Nate Swift finished his career as the all-time reception leader in school history with 166 catches for 2,476 yards and 22 touchdowns. He's second behind Johnny Rodgers by just three yards for being the all-time receiving yardage leader. Swift's 63 catches in 2008 are also a school record for receivers, and his 941 yards in 2008 rank second to Rodgers by a single yard.
Swift wasn't necessarily flashy, but it's hard to find very many more reliable receivers in school history, and his name will certainly be in the Husker record book for many years to come.

Just missed the cut
Clarence Swanson - 1918-1921: End Clarence Swanson was the great grandfather of former Husker linebackers Barrett and Bo Ruud and inducted into the College Football Hall of Fame in 1973. Swanson's three touchdown catches against Colorado State in 1921 was a school record at the time and to this day no player has ever broken it, but several have tied it. Swanson would later go on to be a NU Board of Regent and was instrumental in the decision to hire Bob Devaney from Wyoming. Swanson picked up Devaney at the airport when he arrived to Lincoln for his interview.
Guy Ingles - 1968-1970: Overshadowed by Johnny Rodgers, Guy Ingles was a key receiver for the Huskers under Bob Devaney. In the 1970 national championship season, Ingles had 36 catches for 625 yards and a team-high eight touchdowns. He would later go on to coach at Nebraska.
Bobby Newcombe - 1997-2000: New Mexico native Bobby Newcombe was an electric all-purpose player that spent nearly all of his career at wide receiver, but started at quarterback in 1998 before being beat out by future Heisman winner Eric Crouch. During the 1997 national championship season nearly every time Newcombe touched the ball he was magnificent. That season Newcombe had 20 touches for 423 yards, averaging 21.6 yards per touch. He single handily won a game at Kansas in 1999 by scoring on a punt return and a long reception in the second half. If not for an injury in 1998, Newcombe had a chance to be one of the program's best.
Maurice Purify - 2006-2007: In terms of pure talent at Nebraska there weren't very many physically better than junior college transfer Maurice Purify. The problem was Purify was really only effective for part of 2006 and all of a throwaway 2007 season under Bill Callahan. In 2006 Purify caught a last-second touchdown pass from Zac Taylor to beat Texas A&M and clinch the Big 12 North. Purify finished his career with 91 catches for 1,444 yards and 16 touchdowns over 25 games.