Mount Rushmore Nebraska: Tight end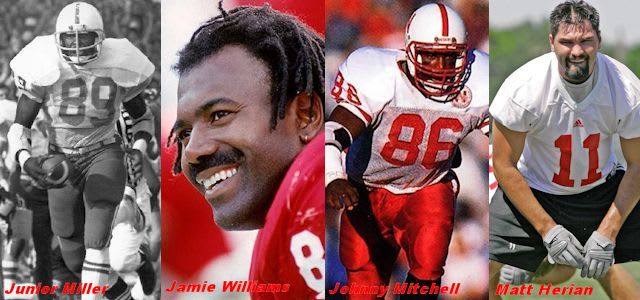 Over the next few weeks of summer HuskerOnline.com will introduce a new feature called "Mount Rushmore Nebraska."
Similar to the legendary Mount Rushmore monument in South Dakota, HOL will recognize the "four faces" for each position in Husker program history. These are the four players Nebraska would choose to put on a monument for each position.
As you can imagine, narrowing it down to four players at each position is not an easy task. We also wanted to make sure that all eras in the program's history were included in this, so you will see players from as early as the 1920's included in our Mount Rushmore lists.
Today we continue the series with HOL's Mount Rushmore for the tight end position.
Junior Miller - 1977-1979
The only Nebraska tight end to be named an All-American (1979), Miller holds the school record for tight end receiving yards in a season (560 in 1978). When he finished his career, he held every major tight end receiving record in school history. Also an able blocker, Miller finished his career with 61 catches for 1,196 yards and 13 scores.
The Atlanta Falcons made Miller the No. 7 overall pick in the 1980 NFL Draft. He made the Pro Bowl in each of his first two professional campaigns and finished his five-year career with 122 receptions, 1,409 yards and 14 touchdowns.
Jamie Williams - 1980-1982
Williams may not have been as productive as Miller, but he helped fill the void left by his predecessor. Williams was an All-Big Eight selection in each of his final two seasons on campus and finished his career with 44 catches for 516 yards and seven touchdowns. His numbers were hurt by knee injuries in his junior season.
Williams went on to play 12 years in the NFL and won a Super Bowl with the San Francisco 49ers in 1989. He had 181 catches for 1,980 yards and 11 touchdowns in his career. Williams joined the athletic department at Nebraska in 2012 as an associate A.D.
Johnny Mitchell - 1990-1991
Mitchell was a huge part of Nebraska's offense, particularly in his final season in 1991, during which Mitchell caught 31 passes for 534 yards and five touchdowns. During that season he set the school's tight end record for receiving yards in a regular-season game with 137 on seven catches against Oklahoma on Nov. 29. He also holds the NU postseason record, gaining 138 yards on five passes against Georgia Tech in the 1991 Citrus Bowl. Nebraska went 18-5-1 during Mitchell's career.
The fifteenth overall selection in the 1992 NFL Draft, Mitchell played five professional seasons, totaling 2,103 yards and 16 touchdowns on 159 receptions.
Matt Herian - 2002-2006
Herian thrived catching deep balls from Jammal Lord early in his career, and his skill set seemed to match perfectly with Bill Callahan's West Coast offense when the coach arrived in 2004. Herian set career-best marks that year in just eight games, but suffered a gruesome broken leg that ended his season and caused him to miss the entire 2005 campaign. He returned in 2006 and posted decent numbers, but he clearly wasn't the same player as before.
Herrian holds the school's records for tight ends for receptions in a game (eight vs. Southern Miss, 2004) and career receiving yards (1,243). He will best be remembered for his ability to catch deep passes, as he averaged 19.1 yards on his 65 career catches. While Herian had a very strong NU career, it's hard not to think of what might have been without the injury.

Just missed the cut
Tracey Wistrom - 1997-2001: A major cog in the 2001 offense that helped Nebraska reach the BCS title game, Wistrom was named a third-team All-American by the Associated Press and the Sporting News. He finished his career with 58 catches for 1,150 yards and 10 touchdowns, and tied the school record in 2000 with three scoring catches in one game.
Mike McNeill - 2007-2010: McNeill holds the school record for receptions in a season (32) and a career (82) at the position, though the offenses he played in certainly helped him there. Nevertheless, McNeill was a dangerous receiver who was athletic enough to move to wideout for his senior season.
Kyler Reed - 2008-2012: Reed posted the most explosive season by a tight end in school history in 2010. Reed averaged 18.0 yards per reception and scored a position record eight touchdowns that year, teaming with Taylor Martinez on a number of deep passes. Though he was never again able to match that type of production again, Reed finished his career with 67 catches for 1,063 yards and 11 scores.