Mount Rushmore Nebraska: Running back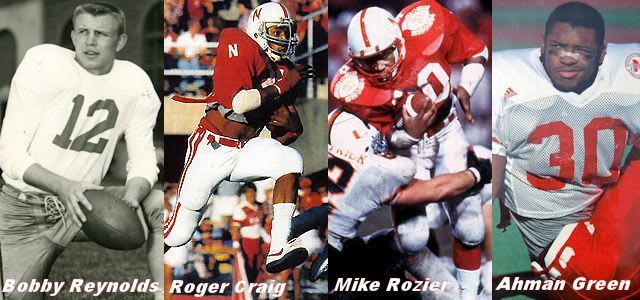 Over the next few weeks of summer HuskerOnline.com will introduce a new feature called "Mount Rushmore Nebraska."
Similar to the legendary Mount Rushmore monument in South Dakota, HOL will recognize the "four faces" for each position in Husker program history. These are the four players Nebraska would choose to put on a monument for each position.
As you can imagine, narrowing it down to four players at each position is not an easy task. We also wanted to make sure that all eras in the program's history were included in this, so you will see players from as early as the 1920's included in our Mount Rushmore lists.
Today we continue with HOL's Mount Rushmore for the running back position.
Bobby Reynolds - 1950-1952
Unfortunately, Reynolds played long ago in an era before Nebraska football became a national power, leaving some of his exploits forgotten. When Reynolds arrived in Lincoln in 1950, the Huskers had gone 10 years without a winning season. Reynolds helped to change that immediately, leading the Huskers to a 6-2-1 record by setting school records 1,342 yards and 22 touchdowns. In just nine games, Reynolds scored 157 total points (22 touchdowns and 25 PAT's), good for a 17.4 point per game average. That mark still ranks No. 1 today, as no other player has ever averaged that many points in school history. It also ranks second all-time behind Oklahoma State running back Barry Sanders, who averaged 21.27 points per game in 1988. Reynolds finished fifth in the Heisman as a sophomore in 1950, and was one of the favorites to win the award in 1951.
However, thanks to a litany of injuries Reynolds was never able to match the explosiveness of his first season. A separated shoulder, broken leg and eye infection limited him for the remainder of his career, but many of his records lasted at least 20 years, when Nebraska football arrived on the national stage. It wasn't until Mike Rozier won the Heisman in 1983 that many of his major school records began to fall.
Roger Craig - 1979-1982
A member of the Nebraska Hall of Fame and a 1981 all-Big Eight selection, Craig's best season came in 1981, when he rushed for 1,060 yards and 12 touchdowns. Injuries robbed Nebraska of seeing a Craig-Rozier domination that figured to be dominant in 1982, but Craig rebounded to have one of the best professional careers of any Nebraska position player. He played 11 professional seasons and won three Super Bowls with the San Francisco 49ers. He finished with 8,189 rushing yards in the NFL, three times breaking the 1,000-yard barrier.
Mike Rozier - 1981-1983
One of Nebraska's three Heisman Trophy winners, Rozier rushed for a school-record 2,148 yards and 29 touchdowns in 1983. His 4,780 career rushing yards (on 7.2 yards per carry) are also tops in school history. Rozier is a member of the College Football Hall of Fame and was one of six Huskers named to Sports Illustrated's 85-player All-Century team. Though he never won a national title, Rozier's incredibly dominant final two seasons in Lincoln made him a lock for this list.
Ahman Green - 1995-1997
Green took home a pair of national titles, helping the Huskers' reach college football's ultimate stage in 1995 and 1997. He was a Doak Walker award finalist and a second-team All-American in 1997, during which he ran for 1,925 yards and 22 touchdowns, gaining 7.8 yards per rush. Green sits second on NU's all-time rushing chart with 3,880 yards despite leaving school after three seasons. The Seattle Seahawks made him a third-round pick, and Green went on to play in five Pro Bowls in 10 seasons, many of which came with the Green Bay Packers. Green is the Packers' all-time leading rusher (8,322 yards).
Just missed the cut
Jeff Kinney - 1969-1971: After putting together solid sophomore and junior seasons, Kinney exploded for 1,136 yards and 17 touchdowns in his final season, garnering All-Big Eight and All-American honors. A major contributor in Nebraska's "Game of the Century" win over Oklahoma (171 yards, four scores), Kinney left NU as the record holder for career yards (2,420) and touchdowns (35).
Ken Clark - 1987-1989: A two-time All-Big Eight selection, Clark rushed for more than 1,000 yards in each of his final two seasons. He averaged 6.1 yards per carry during his career, and had his greatest moment against one of the best at his position. Clark outgained Sanders with 256 yards and three touchdowns, including a scintillating 73-yard scamper on NU's first play, to help the Huskers top Oklahoma State 63-42.
Calvin Jones - 1991-1993: Jones ended his career with back-to-back 1,000-yard seasons and left Lincoln with 3,153 yards, then the second-most in school history. Despite starting just 12 games, Jones piled up 16 100-yard rushing contests and was a preseason All-American in 1993 before injuries slowed him to begin the campaign. The Big Eight Offensive Player of the Year in 1992, Jones left early for the NFL and was a third-round pick by the Los Angeles Rams.
Lawrence Phillips - 1993-1995: If this list were based on production alone, Phillips would have a great shot to make the final cut. He was one of the most dominant rushers in school history, amassing 1,818 yards in 1994. Unfortunately, his run-ins with the law off the field make him a tough face to carve onto the running backs Mount Rushmore of Nebraska.
Rex Burkhead - 2009-2012: Burkhead was an All-Big Ten selection in 2012, rushing for 1,357 yards and setting a single-game school record with 38 carries against Iowa. Injuries cut his senior year short and slowed his assault on the NU record books, but Burkhead still made a great impact. A two-time Academic All-American, Burkhead became friends with Jack Hoffman and helped spearhead the Team Jack campaign, which helps raise money for pediatric brain cancer research.