Mount Rushmore Nebraska: Quarterback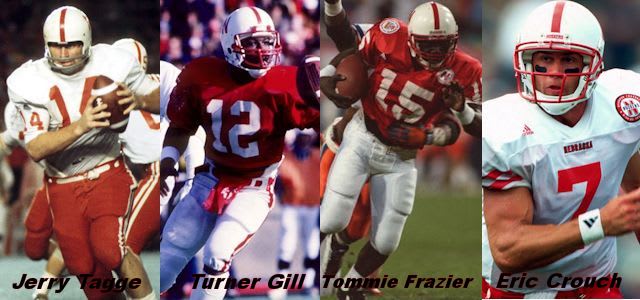 Over the next few weeks of summer HuskerOnline.com will introduce a new feature called "Mount Rushmore Nebraska."
Similar to the legendary Mount Rushmore monument in South Dakota, HOL will recognize the "four faces" for each position in Husker program history. These are the four players Nebraska would choose to put on a monument for each position.
As you can imagine, narrowing it down to four players at each position is not an easy task. We also wanted to make sure that all eras in the program's history were included in this, so you will see players from as early as the 1920's included in our Mount Rushmore lists.
Today we start things off with HOL's Mount Rushmore for the quarterback position.
Nebraska's two-time national championship quarterback, Jerry Tagge was an All-American in 1971 and MVP of the January, 1 1971 Orange Bowl. Tagge's 63.03 completion percentage in 1970 was a NU school record all the way up until 1978. The 1971 national champion Huskers led by Tagge under center owned victories over No. 2 Oklahoma, No. 3 Colorado and No. 4 Alabama in the final AP poll. NU handed both the Sooners and Crimson Tide their only losses that season.
Nebraska's starting quarterback from 1981 to 1983, Turner Gill led one of the most explosive offensive attacks in college football history, as NU averaged 546.7 yards of total offense and 52.0 points per game in 1983. The only thing missing from Gill's resume was a national championship, as the Huskers fell short losing to Miami in the 1984 Orange Bowl after a failed 2-point conversion.
After his playing career, Gill coached at NU from 1992 to 2004 and helped develop the skills of some of the finest quarterbacks in Husker history, including 2001 Heisman Trophy and Davey O'Brien Award winner Eric Crouch and 1995 Johnny Unitas Golden Arm Award winner Tommie Frazier. Frazier led the Huskers to two national championships in 1994 and 1995 with Gill on the sidelines, while another star, NU quarterback Scott Frost, added a third national title in 1997.
Tommie Frazier - 1992-1995
Only one word can describe Nebraska quarterback Tommie Frazier over his illustrious career from 1992 to 1995 - winner. Frazier finished his career at NU with a remarkable 33-3 record as a starter, including an 11-2 mark against ranked teams. He's considered the best quarterback in NU school history and one of the best players in college football of his generation. He was inducted into the College Football Hall of Fame in 2013.
Over his four-year career NU played in three straight national championship games and won four Big Eight conference titles. Frazier was a unanimous All-American and captured the Johnny Unitas Golden Arm Award in 1995 as the Huskers won back-to-back national championships. The only thing missing from Frazier's trophy case was the Heisman. Frazier lost out on the award to Ohio State running back Eddie George by a margin of 1,460 to 1,196.
Eric Crouch led the Nebraska to the 1999 Big 12 championship and in 2001 he led the Huskers to the Rose Bowl where they lost to Miami for the national championship. Crouch went on to win the Heisman Trophy in 2001, despite the fact the Huskers lost 62-36 in the regular season finale to Colorado. Crouch also won the Walter Camp Player of the Year Award and the Davey O'Brien Quarterback of the Year Award in 2001. He finished his career with 3,434 rushing yards and 59 touchdowns, to go along with 4,481 yards and 29 touchdowns through the air. Crouch is NU's last Heisman Trophy winner, and he's the last quarterback to lead the Huskers to a conference title and a major bowl game victory.
Vince Ferragamo - 1975-1976: If you count Vince Ferragamo's two years at Cal, along with his two years at Nebraska he passed for 5,061 yards and 46 touchdowns in four seasons. Ferragamo's 20 touchdown passes in 1976 was an NU school record up until 2006. A 1976 All-American, Ferragamo is the only Husker quarterback to start in a Super Bowl, as he started for the Rams in Super Bowl XIV.
Steve Taylor - 1985-88: A two-time All-Big Eight and 1987 All-American, Steve Taylor finished his career in 1988 as NU's most prolific rushing quarterback. Taylor had 2,215 career rushing yards and 32 rushing touchdowns. He also threw for five touchdowns against No. 3 ranked UCLA, which was a school-record at the time.
Brook Berringer - 1992-1995: It's hard not putting Brook Berringer on this list, because he certainly belongs based on the impact he's made on the program even to this day. However, in some ways Berringer already has his own monument with a statue outside North Stadium. No other player on this list can say that.
Scott Frost - 1996-1997: The Wood River, Neb. native started his career at Stanford with Bill Walsh, before transferring to Nebraska in 1994. Scott Frost led the Huskers to the 1997 national championship by becoming the first QB in school history to rush and throw for 1,000 yards in the same season. Frost finished his career with a 24-2 record as a starter.