Mount Rushmore Nebraska: Offensive tackle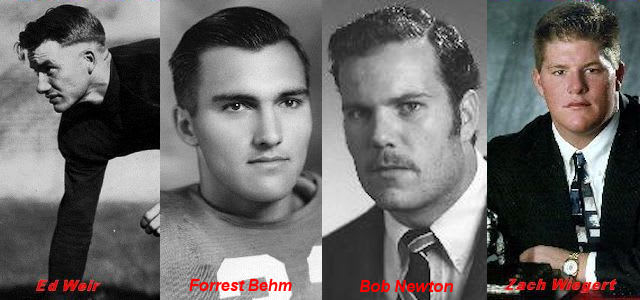 Over the next few weeks of summer HuskerOnline.com will introduce a new feature called "Mount Rushmore Nebraska."
Similar to the legendary Mount Rushmore monument in South Dakota, HOL will recognize the "four faces" for each position in Husker program history. These are the four players Nebraska would choose to put on a monument for each position.
As you can imagine, narrowing it down to four players at each position is not an easy task. We also wanted to make sure that all eras in the program's history were included in this, so you will see players from as early as the 1920's included in our Mount Rushmore lists.
Today we continue the series with HOL's Mount Rushmore for the offensive tackle position.
Ed Weir - 1923-1925
Regarded by many as one of the best all-around athletes the state of Nebraska has ever produced, Weir was the Huskers' first ever two-time All-American and first inductee into the College Football Hall of Fame. Having led the way for the NU teams that handed Notre Dame's "Four Horsemen" their only two losses from 1992-24, Weir played so well that legendary Fighting Irish head coach Knute Rockne called him "the greatest tackle I ever saw."
After a three-year career in the NFL, Weir returned to Nebraska as an assistant football coach from 1929-37 and also eventually took over as the head track and field coach from 1939-55, where he coached NU to 10 conference track titles. He then served as assistant athletic director from 1955-68, and in 1974 the school dedicated the Ed Weir Stadium in his honor, which is currently home to Nebraska's track and women's soccer programs.
Forrest Behm - 1938-1940
Despite nearly losing his leg to amputation as a child and almost being turned away from the Nebraska football program because of economic issues during the Great Depression, Behm walked on with the Huskers in 1938 with just one year of high school football experience but eventually earned first-team All-America honors as a senior in 1940.
A true Renaissance Man, Behm was also named class president, was an ROTC Cadet Colonel, an honor student, member of the college choir, and a recipient of a Harvard Fellowship for graduate study. He would eventually be named to the Nebraska Football Hall of Fame in 1980 and then to the College Football Hall of Fame in 1988.
Bob Newton - 1969-1970
Newton didn't begin his Nebraska career until his junior year when he transferred from Cerritos (Calif.) Junior College in 1969, but his impact on the Huskers was felt from the day he set foot on campus. After an impressive debut as a junior, Newton was a consensus All-American and first-team All-Big Eight selection in 1970.
Newton was the anchor on the offensive line that paved the way for NU's first national championship during the '70 season, in which the Huskers rushed for more than 3,000 yards and averaged 421.3 total yards per game. Newton set a Big Eight record during that stretch by being nominated for Lineman of the Week four times that season.
Zach Wiegert - 1991-1994
The face of Nebraska's vaunted "Pipeline" offensive line during the mid-1990s, Wiegert ended his college career considered one of the best offensive tackles in school history. In helping lead the Huskers to their third national championship in 1994, Wiegert earned consensus All-American honors and became NU's seventh Outland Trophy winner after racking up a team-high 113 pancake blocks that season. He was so good that he even received one first-place vote for the '94 Heisman Trophy, as he finished ninth in the voting with 27 total points.
Wiegert played in 46 games and was a three-year starter, which makes the one sack he allowed during his career maybe his most impressive feat of all. One of only 17 Huskers to be a three-time all-conference selection, Wiegert went on to become the 38th overall selection in the second round of the 1995 NFL Draft by the St. Louis Rams. His No. 72 jersey way retired prior to the 1995 season.

Just missed the cut
Doug Glaser - 1987-1989: Glaser helped lead the way for a dominant Nebraska running game in the late 1980s, including two straight national rushing titles in 1988 and '89. After starting every game as a junior in '88, Glaser had his breakout season the next year as a senior when he earned first-team All-American and first-team All-Big Eight honors. That all came in spite of the fact that he missed three games that season with a broken toe.
Rob Zatechka - 1991-1994: He may not have the same individual accolades on the field as others on these lists, but there's no arguing that Zatechka ended his college career as one of the most decorated student-athletes in school history. A three-time Academic All-American, Zatechka won every major national academic award as a senior and graduated with a perfect 4.0 GPA. Oh yeah, he also started every game on NU's 1994 national title team and earned second-team All-Big Eight honors.
Carl Nicks - 2006-2007: A junior college transfer who didn't earn a spot in Nebraska's starting lineup until his senior year, few Huskers made as big of a jump in such a short amount of time than Nicks. Named a second-team All-Big 12 Conference selection in 2007, Nicks only continued to get better and was a fifth-round pick by the New Orleans Saints in '08. He won his first Super Bowl ring and was a two-time All-Pro with the Saints, and he later signed one of the biggest offensive lineman contracts in the league with the Tampa Bay Buccaneers in 2010.