Mount Rushmore Nebraska: Fullback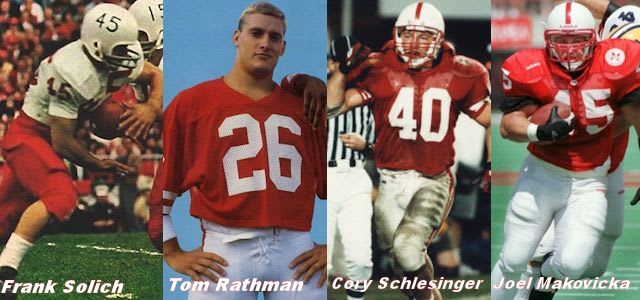 Over the next few weeks of summer HuskerOnline.com will introduce a new feature called "Mount Rushmore Nebraska."
Similar to the legendary Mount Rushmore monument in South Dakota, HOL will recognize the "four faces" for each position in Husker program history. These are the four players Nebraska would choose to put on a monument for each position.
As you can imagine, narrowing it down to four players at each position is not an easy task. We also wanted to make sure that all eras in the program's history were included in this, so you will see players from as early as the 1920's included in our Mount Rushmore lists.
Today we continue the series with HOL's Mount Rushmore for the fullback position.
Frank Solich - 1963-1965
For more than 40 years, Solich was a central figure in Nebraska football. As a player, he was a member of Bob Devaney's first recruiting class in 1962 and the first Husker ever to be featured on the cover of Sports Illustrated. He also rushed for 204 yards in a win over Air Force in 1965, which was a single-game school record and still stands as the most ever in a game by an NU fullback.
Solich's impact was felt for several decades following his playing career as well, as he served 19 seasons as an assistant under legendary coach Tom Osborne before eventually succeeding Osborne in 1998. In six seasons as head coach, Solich posted a record of 58-19, including winning the 1999 Big 12 Championship and a trip to the 2001 National Championship game.
Tom Rathman - 1983-1985
After posting one of the most productive careers by a fullback in Nebraska history, Rathman's career had only just gotten started when he was eventually drafted by the San Francisco 49ers following his All-Big Eight season in 1985. Having rushed for 1,425 career yards and 12 touchdowns as a Husker (including a fullback-record 881 yards on 7.5 yards per carry in '85), Rathman became a lynchpin in the 49ers famed West Coast offense.
Helping pave the way for former Husker running back Roger Craig, Rathman was a part of two Super Bowl teams in San Francisco during a nine-year NFL career. Regarded by many as maybe the best fullback in Nebraska history, Rathman only lost a total of four yards on 220 career carries as a Husker.
Corey Schlesinger - 1992-1994
Schlesinger became a fixture in Nebraska football lore after coming up with two of the most iconic plays in program history with his two fourth quarter touchdown runs to help defeat Miami in the 1995 Orange Bowl for NU's first national championship since 1971. His career numbers were a bit more modest compared to the likes of Rathman, but he did rank second on the team with 456 yards on 7.2 yards per carry during that 1994 championship run.
Like Rathman, Schlesinger went on to have a long and successful NFL career after leaving Nebraska, as he was a sixth-round draft pick and played all 12 of his professional seasons with the Detroit Lions. Schlesinger was a Pro Bowl alternate selection for three straight seasons from 2001-03.
Joel Makovicka - 1995-1998
One of the later pieces in an impressive line of Nebraska fullbacks during the 1990s, Makovicka was front and center for one of the most successful team runs in college football history and holds the rare claim of being a part of three national championship teams (he was a redshirt during the 1994 title).
Eventually taking over for his brother, Jeff, as the Huskers' starting fullback from 1996-97, Makovicka rushed for 1,447 yards and 11 touchdowns in his career, including 685 yards as a senior in '97. He went on to be a fourth-round pick by the Arizona Cardinals and played four seasons in the NFL.

Just missed the cut
George Sauer - 1931-1933: Sauer was one of the faces of Nebraska football during the 1930s, as the All-American did a little bit of everything for the Huskers. In three varsity seasons, Sauer rushed for 1,570 yards, passed for 701 yards, was a starter on the defensive line and also handled NU's punting duties. He would later win an NFL championship with the Green Bay Packers in 1936 and coached for more than 20 years at New Hampshire, Kansas and Baylor. Sauer was inducted into the College Football Hall of Fame in 1954.
Tony Davis - 1973-1975: With his fearless running style, "Tough" Tony Davis became a fan favorite and ended his Husker career as the school's all-time leading rusher in 1975 with 2,445 career yards. Davis started at NU as an I-back but moved to fullback after his sophomore season, and he was named the MVP of the '75 Sugar Bowl for his 126 yards on 17 carries in a 13-10 victory over Florida.
Andra Franklin - 1977-1980: One of the rare players to earn a letter as a freshman under Osborne, Franklin holds the Nebraska football record with 1,738 career rushing yards with a career 5.8 yards per carry. Franklin earned first-team All-Big Eight Conference honors as a senior in 1980 and was later a second-round draft pick by the Miami Dolphins.