Mount Rushmore Nebraska: Defensive end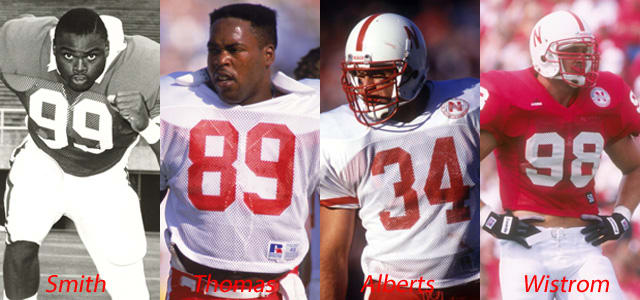 Over the next few weeks of summer HuskerOnline.com will introduce a new feature called "Mount Rushmore Nebraska."
Similar to the legendary Mount Rushmore monument in South Dakota, HOL will recognize the "four faces" for each position in Husker program history. These are the four players Nebraska would choose to put on a monument for each position.
As you can imagine, narrowing it down to four players at each position is not an easy task. We also wanted to make sure that all eras in the program's history were included in this, so you will see players from as early as the 1920's included in our Mount Rushmore lists.
Today we continue the series with HOL's Mount Rushmore for the defensive end position.
Neil Smith - 1985-1987
One of the most dominant defensive linemen of his generation, Smith was a first-team All-American selection in 1987 at the defensive tackle position in Nebraska's 5-2 defensive front, which essentially translated to an end in a modern 3-4 scheme. Smith ended his career with 133 total tackles, including 14.5 sacks and 26 tackles for loss.
He was taken as the second overall pick by the Kansas City Chiefs in the 1986 NFL Draft, where he would go on to be a six-time Pro Bowler during his 13-year NFL career and earned two Super Bowl rings with the Denver Broncos in 1998 and '99. Smith's 104.5 career sacks rank 25th on the NFL's all-time list, and he was inducted into the Chiefs' Hall of Fame in 2006.
Broderick Thomas - 1985-1988
A rare four-year letterman at Nebraska, Thomas became a star seemingly from the moment he first stepped foot on the field as a Husker. A two-time first-team All-American and three-time unanimous All-Big Eight Conference selection, Thomas ended his NU career having racked up 242 total tackles, 39 tackles for loss and 22.5 quarterback sacks. In 1988, Thomas was named the Big Eight Defensive Player of the Year and was a finalist for both the Butkus and Lombardi awards.
That was just the beginning of Thomas's football success, as he went on to be the No. 6 overall pick in the 1989 NFL Draft by the Tampa Bay Buccaneers. He played nine seasons in the NFL with the Buccaneers, Detroit Lions and San Francisco 49ers.
Trev Alberts - 1990-1993
Nebraska's first ever Butkus Award winner, Alberts is widely regarded as one of the best defensive players in school history. After a breakout junior year in 1992 where he earned first-team All-Big Eight and second-team All-America honors, Alberts put together one of the best individual seasons ever by a Husker defender as a senior in '93. In leading NU to a perfect regular season and a berth in the national championship game, the Big Eight Defensive Player of the Year led the team with 96 tackles and tied the school record with 15 sacks.
Alberts was also given the NCAA's highest academic honor by being named to the Today's Top Six, and his No. 34 jersey was retired by Nebraska in 1994. He was later taken by the Indianapolis Colts with the fifth overall pick in the '94 NFL Draft. After a three-year professional career and a stint as a college football analyst for ESPN, Alberts was eventually named athletic director at Nebraska-Omaha in 2009.
Grant Wistrom - 1994-1997
Wistrom emerged as the face of the vaunted Blackshirt defense during Nebraska's dominant run in the mid-1990s, where he helped lead the Huskers to three national titles and a 49-2 record during his career. The school's all-time leader in career tackles for loss (58.5), Wistrom was a two-time first-team All-American and a three-time all-conference selection. He was also a two-time Big 12 Defensive Player of the Year and took home the Lombardi Trophy as a senior in 1997.
Like Alberts, Wistrom was just as successful in the classroom, also winning to the Today's Top Eight Award for academics. He was the No. 6 overall pick by the St. Louis Rams, earning a Super Bowl ring in 2000 with two other Super Bowl appearances in during his nine NFL seasons with the Rams and the Seattle Seahawks.
Just missed the cut
Guy Chamberlain - 1914-1915: Chamberlain only lettered two years at Nebraska after transferring from Nebraska Wesleyan, but he still managed to have one of the most successful careers in school history. After starting his Husker career as a halfback, "The Champ" moved to end in 1915 and earned All-American honors while guiding NU to an 8-0 record and a Missouri Valley Conference crown. He became the first Husker to play in the NFL and spent 10 seasons in the league as a player, player/coach and head coach. Chamberlain became one of only two Huskers to be named to both the College Football Hall of Fame and NFL Hall of Fame.
Tony Jeter - 1963-1965: The first African-American to earn All-American honors at Nebraska, Jeter was primarily a wide receiver but played a significant amount of snaps at defensive end as well. While starting 33 consecutive games during his three seasons with the varsity squad, Jeter was a two-time All-Big Eight selection and an Academic All-American in 1965. He was a third-round draft pick by the Green Bay Packers in 1966 and was later inducted into the Nebraska Football Hall of Fame in 1986.
Willie Harper - 1970-1972: Harper ended his Nebraska career as a two-time first-team All-American, a two-time first-team All-Big Eight selection, and a two-time national champion. He would go on to be a second-round pick by the San Francisco 49ers in the 1973 NFL Draft, where he would play the next 11 seasons before jumping to the USFL for another two seasons in 1984-85.
Jared Tomich - 1994-1996: While Wistrom may have gotten more of the acclaim, Tomich was arguably every bit as dangerous of a pass rusher off the edge. A walk-on who went on to become a two-time first-team All-American
and a finalist for the Lombardi Trophy in 1996, Tomich racked up 26 tackles for loss, 16 sacks (including 10 in 1995) and two national championship rings in his decorated Husker career. He was selected in the second round of the 1997 NFL Draft by the New Orleans Saints and spent five seasons in the pros.
Mike Rucker - 1995-1998: Despite playing behind guys like Wistrom and Tomich much of his career, Rucker still managed to establish himself as one of the most feared defensive ends of his generation. Rucker ended his career ranked in the school's all-time top five with 40 tackles for loss and in the top 10 with 17 sacks. He only earned second-team All-Big 12 as a senior in 1998, but he was taken in the second round of the '99 NFL Draft by the Carolina Panthers, where would play all nine of his professional seasons.