Mount Rushmore Nebraska: Cornerback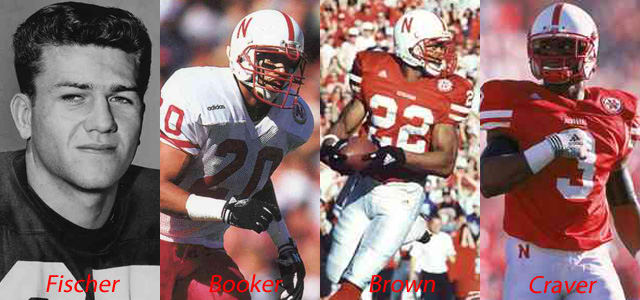 Over the next few weeks of summer HuskerOnline.com will introduce a new feature called "Mount Rushmore Nebraska."
Similar to the legendary Mount Rushmore monument in South Dakota, HOL will recognize the "four faces" for each position in Husker program history. These are the four players Nebraska would choose to put on a monument for each position.
As you can imagine, narrowing it down to four players at each position is not an easy task. We also wanted to make sure that all eras in the program's history were included in this, so you will see players from as early as the 1920's included in our Mount Rushmore lists.
Today we continue the series with HOL's Mount Rushmore for the cornerback position.
Pat Fischer - 1958-1960
Not only did Fischer have a standout career manning Nebraska's secondary, he also went on to have one of the longest and most successful NFL careers ever by a Husker. Fischer did it all for NU, serving as the starting quarterback as a senior and the starting halfback as a junior and sophomore while also starting at cornerback. On top of that, he was one of the best return men in the country, setting a school record for career punt return average at 18.33 yards per return.
He went on to play 17 seasons in the NFL with the St. Louis Cardinals and the Washington Redskins. Fischer was a three-time Pro Bowl selection, a two-time first-team All-Pro and two-time second-team All-Pro. In 1974, the Omaha native was inducted into the Nebraska Football Hall of Fame.
Michael Booker - 1994-1996
A two-time national champion and first-team All-Big 12 Conference selection as a senior in 1996, Booker helped anchor a dominant Nebraska secondary in the mid-1990s. He had maybe his best performance on one of NU's biggest stages, too, as he had four tackles, three pass breakups and returned an interception 42 yards for a touchdown to earn Defensive MVP in the Huskers' 62-24 rout of Florida in the 1996 Fiesta Bowl.
Booker was later selected by the Atlanta Falcons in the first round (No. 11 overall) of the 1997 NFL Draft. He played five seasons in the pros with the Falcons and Tennessee Titans, including serving as the starting cornerback on the Falcons' 1998 NFC Championship squad.
Ralph Brown - 1996-1999
Widely regarded as the best cornerback ever to play at Nebraska, Brown started all 52 games of his college career - a school record that ranks the second most ever nationally - to become one of the most decorated Husker secondary players of all time. Other school records on Brown's resume include pass breakups in a game (7) and career (50), and he became the first Husker to lead the team in breakups four years in a row. His 15 breakups in '99 set an NU record and now rank second all time.
A three-time first-team All-Big 12 selection, Brown was a first-team Freshman All-American in 1996, a third-team All-American in '97 and then a first-team All-American as a senior in '99, along with being a three-time Thorpe Award candidate. He was drafted in the fifth round of the 2000 NFL Draft by the New York Giants and would go on to play 10 years in the NFL.
Keyuo Craver - 1998-2001
It required a special player to fill Brown's shoes when his Nebraska career finally came to an end, and the Huskers got exactly that when Craver stepped into the spotlight. When all was said and done, the two-time first-team All-Big 12 selection and 2001 first-team All-American finished just behind Brown on the school's all-time list with 41 pass breakups to go along with 192 career tackles, the fourth most by an NU defensive back.
Craver's best year came as a senior in '01, when he was a semifinalist for the Thorpe Award and for the Football News Defensive Player of the Year. He even came up with one of the few highlights in Nebraska's national title loss to Miami in the Rose Bowl by picking off Hurricane quarterback Ken Dorsey early in the first quarter.

Just missed the cut
Barron Miles - 1992-1994: Miles was a two-time first-team All-Big Eight honoree who consistently played much bigger than his 5-foot-8, 165-pound frame. Along with his 40 tackles as senior during Nebraska's undefeated national title run in 1994, Miles had 13 pass breakups and five interceptions. His impact on special was just as big, if not more so, as he holds the school record with seven career blocked kicks. He was even NU's backup punter for road games. Miles was a sixth-round pick by the Pittsburgh Steelers and went on to become a six-time all-star in the Canadian Football League.
DeJuan Groce - 1999-2002: Along with passing up Brown for the school season record with 17 pass breakups in 2000, Groce earned second-team All-Big 12 honors as a senior in '02. Like Miles, Groce's impact was felt even more on special teams, as he was named first-team All-American and all-conference as a punt returner in '02 and is near the top of almost every Nebraska punt return record list, including touchdowns in a game (2) and a season (3), and the single-season mark for return yards (732).
Fabian Washington - 2002-2004: Washington broke onto the scene immediately as a true freshman in 2002 by setting school freshman records for pass breakups (13) and interceptions (4), earning him second-team Freshman All-American honors. He only earned third-team All-Big 12 as a sophomore and honorable mention league honors as a junior, but that didn't stop him from becoming NU's highest drafted player since 1998 when the Oakland Raiders selected him with the 23rd overall pick in the first round of the 2005 NFL Draft.
Prince Amukamara - 2007-2010: Arguably the best cornerback to play under Bo Pelini at Nebraska, Amukamara emerged as one of the best cornerbacks in the country by the time his college career was done. His breakout year came as a senior in 2010, when he was a first-team All-American and a unanimous first-team All-Big 12 pick, the Big 12 Defensive Player of the Year and a finalist for the Thorpe Award. Amukamara was a first-round pick by the New York Giants in 2011 and is currently one of their starting cornerbacks.