Morgan making major strides both on, off field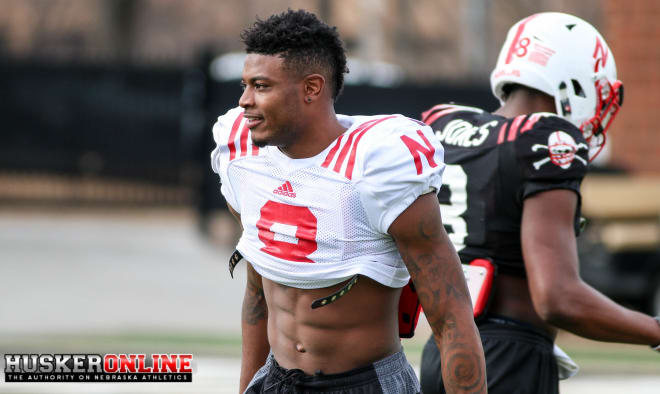 As soon as the final whistle blew in Nebraska's Music City Bowl loss to Tennessee to close the 2016 season, Stanley Morgan knew immediately his role was about to change in a major way.
Following the departures of senior wide receivers Jordan Westerkamp, Brandon Reilly and Alonzo Moore, Morgan was left as one of only two NU wide outs - along with De'Mornay Pierson-El - boasting any kind of legitimate game experience as Huskers.
Not only would he have to step up his production to help fill the void left by that trio on the field, the junior-to-be also knew he'd have to take on a much bigger voice as a leader.
"Yeah, it's crazy," Morgan said. "It hit me really fast, and it's actually what pushed me on my own just to be that leader."
Morgan was already presumed to be one of the Huskers' go-to guys in the passing game in 2017. The 6-foot-1, 200-pound native of New Orleans was Nebraska's second-leading receiver last year with 33 receptions, catching at least one pass in every game.
But having to also take on the primary leadership roll in the receiver room has pushed him even more this offseason.
Morgan's progress since December can be directly seen in his gains in the weight room. Taking on a much more dedicated approach to his strength and conditioning, he's reshaped his body to the point where he's now arguably in the best shape of his life.
One of the routines Nebraska has its players do is known as the "55" workout, where players do sets of increasing reps of a lift going from one rep to 10 reps (55 total) with as little rest in between as possible.
Morgan said he does that workout squatting 315 pounds, benching 245, and power cleaning 295.
"It jumped a lot, I ain't gonna lie," Morgan said of his overall strength. "I was never really a weight room kind of guy, but I take it really serious now."
That work has definitely translated to his play on the field, as head coach Mike Riley said he's been extremely impressed with how Morgan has looked early on this spring.
"Stanley really, really looks good and confident," Riley said. "He's like the veteran player out here."
Outside of Morgan and Pierson-El, the rest of Nebraska's 14 wide receivers this spring have combined to catch six passes for 110 yards and two touchdowns. That group also includes two true freshmen in Jaevon McQuitty and Keyshawn Johnson Jr., who enrolled a semester early.
Morgan said that's why he's doing everything he can to help his younger fellow wide outs as much as possible, while also making sure he lives up to his own lofty expectations.
"These guys, I see they're ready to learn," Morgan said. "They are ready to get out there and play. They are asking a lot of questions about plays and everything, and I just sit down and watch film with them…
"I can't take a day off. With these guys behind me and looking up to me, I can't take a day off."