Moos talks future of Black Friday games and Big Ten scheduling philosophies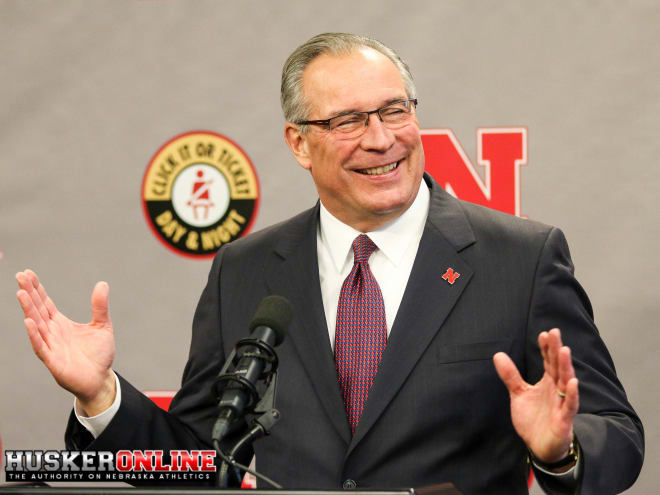 Nebraska Athletic Director Bill Moos dropped a few scheduling notes on his monthly radio show that are sure to get everyone's attention in the college football world.
First, Moos confirmed that NU is the process of getting a long-term agreement set for 2022 and beyond with Iowa to play on Black Friday.
In the meantime, Moos also confirmed the 2020 and 2021 games with Minnesota would be played on Black Friday, meaning the Huskers streak that dates back to 1990 of playing a nationally televised game won't go away.
"I had somewhat of a feel for it before I got here, watching those great Nebraska-Oklahoma games the day after Thanksgiving," Moos said on the Huskers Sports Network. "I don't think I ever missed one, and some of them I saw in black and white TV. Then when I got here, there was a couple of things I went to right away, and one was Black Friday and to secure the rivalry with Iowa.
"I know there's a bit of one now, but that needs to be our rivalry. It's easy enough for our fans to go to each place, and once we came to the Big Ten, we didn't have a traditional rival. That's going to be in the works, and that will be scheduled long after I'm gone, and I mean on the face of the earth. But we couldn't get the Minnesota thing turned around, but we will in 2020 and 2021 play on Black Friday, but it will be Minnesota, which is fine. Then we go into the Iowa Series from here on out."
Moos also said you don't mess with tradition and in his mind the positives far out away the negatives about playing on Black Friday.
"I like to color outside the lines at times, but at the end of the day I go with tradition," Moos said. "Especially at a storied place like Nebraska. The brand is a national brand, it's a respected brand and the things that have been done over the years traditionally need to be left alone. Some things can be changed, but not the ones that have a deep, deep traditional respect from the fan base."

The decision to take Nebraska off of Black Friday will go down as one of the bigger head-scratching decisions made by NU's former administration.
Iowa did not want the Black Friday series with the Huskers to end. It was solely led by former Athletic Director Shawn Eichorst and supported by former football coach Mike Riley.
"It's an exclusive window, and like you said it's not like a typical Friday night or afternoon game because people aren't at work," Moos said. "They are watching our brand, and that's a whole big key to getting ourselves back in that national picture."
The other interesting schedule note dropped by Moos on Monday night was in regards to future Big Ten scheduling.
Moos hinted that the league is in strong talks about modifying the 9-game conference schedule that puts the Big Ten at a competitive disadvantage against the SEC and ACC when it comes to the College Football Playoff, New Year's Six Bowl games and overall win-loss records which effect polls and strength of schedule.
"We might have some other schedule news here in a week or so in regards to 2022, on," Moos said. "It was something I really became a bulldog on in regards to Nebraska and some of the traditional power programs in the Big Ten not beating each other up so bad. Because in my opinion the strength of schedule really hasn't had much impact on who's being selected for the College Football Playoff. We are in the process of addressing that to hopefully mine another satisfaction."

And Moos is not saying Big Ten teams should back down from non-conference scheduling.
He feels the league needs to evaluate their approach and look at what's best for the long-term health of the conference.
"First of all, we play nine conference games," Moos said. "Six in the division, and then the crossovers. Like I said, in recent years those crossovers have pitted the powerhouses against each other on a consistent basis. For non-conference scheduling, it's a fine balance. Without freshmen teams anymore, you want to hopefully have opponents that you are just primarily playing at home, so it's a money game, you have a realistic chance of winning, and you can play a lot of players and get a look at them early in the year. I do like an intersectional game with a Power Five opponent.
"Some of these are already in place, but I would really (like) to concentrate on the old Big Eight. Our fans can get to Kansas and Kansas State easily, even maybe Missouri, even though they are in the SEC now. We'd probably stay away from Oklahoma on a regular basis, but we are playing them coming up, and that's going to be exciting for our fans. Colorado, they are now in the Pac-12.
"So on a yearly basis if you are playing Iowa State or the Kansas schools, then Missouri snuck in there or Colorado, well now you are getting exposure in the Pac-12 and the SEC and the Midwest and down into the Big 12. That's all good, and the fans are interested in that. Look for more of that coming down the road."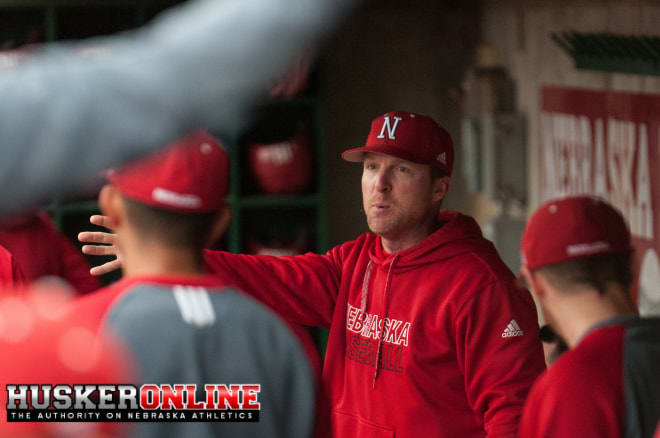 More from Moos
***Moos will get together with Big Ten Commissioner Jim Delany in Omaha this week before the Big Ten Baseball Tournament kicks off on Wednesday.
"I have the opportunity to have dinner with him (Tuesday night) in Omaha, and I'm looking forward to that," Moos said. "I've really gotten to know him well. I think we have a mutual respect."
***Moos hopes most Husker fans will have a guarded optimism when it comes to expectations for this season.
"The thing we have to guard against is we most likely aren't going to go undefeated this season," Moos said. "I think we are going to be a lot better, and I know our guys will play hard, and they will be very well coached and disciplined. It is a process, but it will take two to three years to get everything the way it needs to be in regards to the football program."
***Last week Moos announced that they would be going in a different direction with the men's golf, men's tennis, performance lab and nutrition department. He elaborated more on his decision to make moves in those sports/departments on Monday.
"Anyone that takes any delight in replacing people in termination, they don't have a soul," Moos said. "We really felt we needed to make some changes in men's golf and men's tennis. Both of those coaches have been here a long time, and their contracts were running out at the end of June. We haven't had a lot of success lately, and it might be time to make a change there. With the resources we have at Nebraska, we should be in a position to compete for championships, and I know we can. Sometimes a change like in football is necessary to kick start and recharge a program and get it turned around.
"The two administrative positions were in our performance area. It is very important to me that our young people meet their potential both on the field of competition and in the classroom. I just didn't think that we were in harmony – all the different areas that are a part of performance. That's your training room, your nutrition, strength and conditioning and the NAP - the performance lab is a tool that nobody has.

"I just didn't really feel we were taking full advantage of it. We thought 'hey, we've got to tune this up, so we are sure that these young people are getting all these things they need in order to compete at their highest and reach their potential. Those searches are going on as we speak, and I'm looking forward to seeing what our pool of candidates looks like."
***Moos called baseball coach Darin Erstad one of the most "competitive" people he's ever been around and remains confident he'll get things turned around next season.
"If Darin had struggled for five years in a row, that would be one thing," Moos said. "But people have short memories. We won the Big Ten regular season championship last year, and that's not easy. I'm cutting him some slack, and really feel he'll get everything back on track."