Moos says NU will boost roster to 150, one way or another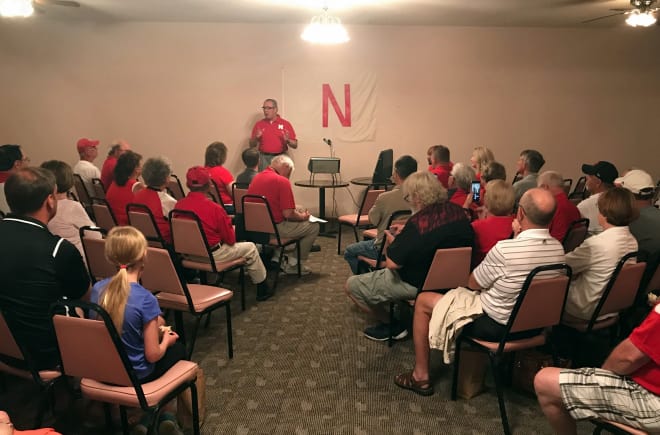 AUBURN - From the day Scott Frost returned to Nebraska as its new head coach, he hinted at wanting to expand Nebraska's football roster to as many as 150 players.
While the regular player total has generally been around 135, the prospects of adding 15 spots are becoming very real, according to athletic director Bill Moos.
Before speaking at the Husker Nation Tour event in Auburn on Tuesday, Moos said he has actively been exploring ways to increase the roster size for football over the next two to three seasons.
The main issue facing that task is continuing to abide by the rules of Title IX, which require schools to have an equal number of athletic roster spots for women's sports as there are for men's.
"If we go that route, and I want to hopefully do that, we're going to have to be creative with what we're doing with our numbers in regards to the gender equity," Moos said. "We've got to look at some options, which we are right now, and whatever we do to get to 150, it's probably going to have to be implemented over two or three years."
The most obvious ways Nebraska could add 15 players to its football roster would be to either eliminate or reduce the numbers from another men's sport or add another women's sport.
"I don't like to cut sports," Moos said. "So either we've got to trim some down on the men's side, or add a women's sport, if indeed we're going to go up to 150."
Aside from the Title IX compliance, there's also the financial investment behind bringing in more football players. Not only from the individual player perspective but a facilities standpoint.
"It's not cheap," Moos said. "We've got challenges in that regard, and even maybe more so in locker size and those kinds of things. So all of that needs to be addressed before we can start building on that 135 number."
Moos declined to say what potential new women's sport could be added but said in previous cases at other schools one option has been to cut some roster numbers from men's track and field. Moos didn't say that was what NU might do, but he also didn't rule it out, either.
"We're going to put every option out there and maybe take parts of all of them or maybe pick one we're going to focus on," Moos said.
Regardless of how they do it, there seems to be little doubt that Frost will soon get his wish of boosting his football roster up to 150, where it was back when he was a star quarterback at Nebraska in the 1990s.
Moos said this was an issue that was very important to Frost, and as a result, it was important to him as well.
"It is (important) because you look at what he's already doing, he's getting these walk-on kids, and there are some good players that are going to contribute and develop, much like in his day," Moos said.
"I've got to tell you, this is very important… I know Scott wants to see us get back to that, and it lends itself to his style of practice and also keeps hometown talent here. We've been losing those cats, so we want to explore every way we can to get that number up."
Quick hits
***On the topic of Nebraska basketball, Moos reiterated that he was interested in seeing "stability" and "consistency" from head coach Tim Miles' program following an impressive 22-11 campaign a year ago.

That said, Moos stressed that he has not set any hard win/loss expectations for this coming season, nor is he viewing it as an NCAA Tournament-or-bust situation for Miles.
"I don't do that, and I don't say you've got to win so many games, either," Moos said. "If he'd have won 22 games and had a bunch of guys that were renegades and flunking out of school and all that, he'd be gone.
"All of those things are being taken care of to my liking, and we've just got to continue to make the scoreboard look good."
***After his speech, Moos was asked about Nebraska's 2022 home game vs. old rival Oklahoma and if they had anything special planned for the Sooners' return to Lincoln.
"The most special thing we're going to do is beat them," Moos said, which was followed by laughter and applause from the crowd.
***Offensive line coach Greg Austin joined Moos at the event, and he said there was already a plan in motion for solving Nebraska's current void at center following the departure of Michael Decker.
In fact, because Decker didn't participate during spring ball at all due to an injury, Austin said it really wasn't being considered a very big loss because Decker had never played a snap in NU's new offense.
***Austin wouldn't say who the projected No. 1 center was right now but hinted that Cole Conrad could be poised to win the job. Austin said Conrad has come back very strong after his offseason surgery and has emerged as one of the clear leaders on the offensive line.