Monday notebook: Williams makes his return to staff this week
Wide receivers coach Keith Williams won't be allowed to be a part of Nebraska's first four game this season, but he does make his return to the North Stadium coaching offices on Thursday Sept. 1.
Williams is currently serving a four-game suspension from the Aug. 14 DUI he received in Lincoln, but he will be allowed to come back and work in the coaching offices starting Sept. 1.
"Thursday Keith (Williams) will enter back in with our team for working, but he will not be at a game for four games," head coach Mike Riley said.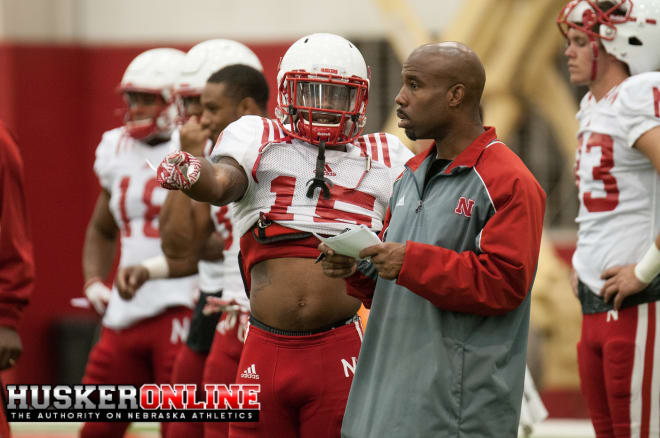 Riley added that Williams has only had limited talks with the wide receivers at this point and has not been allowed in the facility since the incident.
Williams will also be able to have some limited interaction with the recruits that will be in Lincoln over the Fresno State and Oregon weekends according to Riley.
"He should be able to talk to the recruits at the appropriate time," Riley said. "Not during the game."
It's been a difficult situation for Nebraska's wide receivers not to have Williams around the last few weeks.
Senior captain Jordan Westerkamp said it should be a big boost to have Williams around again starting on Thursday.
"We all know that Coach Williams is super energetic and a great a motivator for us, and it's going to be huge to get him back Thursday," Westerkamp said. "I'm sure that's going to jolt our room and probably the whole team as well."
New game day roles for several NU coaches 
Nebraska's coaching staff will be taking on a new approach to game days this season, with a couple of coaches making big changes to their in-game roles.
Riley confirmed Monday that both offensive coordinator Danny Langsdorf and offensive line coach Mike Cavanaugh will work from the coaches' box on game days.
Both coaches were down on the sideline last season, but Riley said the move upstairs was an easy decision for everyone involved.
"We've had a history like that before," Riley said. "We actually talked about that once again for this year. (Cavanaugh) and Danny have spent a year together in the box, and they actually like that. I think being new last year, it was a good thing for everybody for them to be available on the sidelines.
But I've contended all along - I've called plays for years and years, and I did it from the sideline all the time, and it's not that easy. It's nicer to have everything kind of laid out when you're in a contained environment. So I think that this will be a good move for us."
Langsdorf and Cavanaugh's move up to the box does leave the Huskers a bit short-handed in terms of interacting with the players on the sidelines during games.
That's especially true considering wide receivers coach Keith Williams - who was heavily involved in the offensive sideline huddles between drives last season - is suspended for the first four games.
To account for those absences, Riley said running backs coach Reggie Davis would take over the sideline huddles with the offense, tight ends coach Tavita Thompson will relay information from Cavanaugh to the offensive line, and Riley and grad assistant Hardie Buck and James Rodgers would work with the receivers on the field.
"I think we will have the right people who can communicate with the players on the field," Riley said. "We'll be able to cover all the bases that way."
- Robin Washut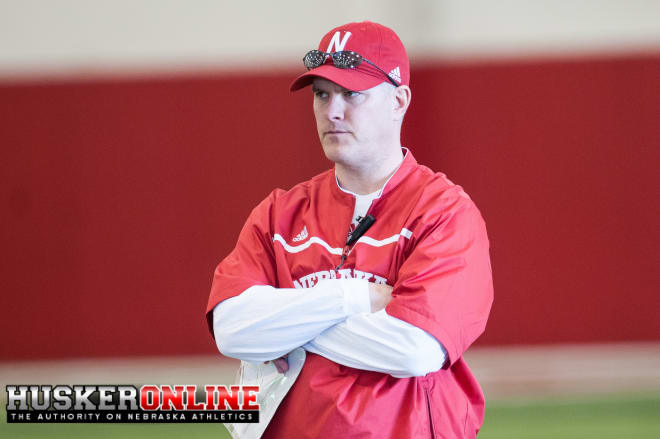 Hahn thriving in new opportunity at guard 
When Sam Hahn came into fall camp, he expected to have roles on Nebraska's field goal and punt teams and to just be ready if needed in the offensive tackle rotation.
No way could he have predicted that less than a month later he would be the starting left guard for the season opener against Fresno State.
But after starter Jerald Foster was lost for the season to a knee injury and then top backup Corey Whitaker injured his knee just four plays later in the same practice two weeks ago, Hahn's role took a dramatic turn.
Cavanaugh approached him about possibly moving inside to guard, and the senior walk-on from DeWitt, Neb., didn't hesitate to accept the challenge. After starting out at right guard, Hahn moved over to the left side two days later and quickly skyrocketed up the depth chart.
"(Cavanaugh) asked me to move and I said, 'Whatever we need to do,'" Hahn said. "I've told him constantly I'll do whatever the team needs. It's about the team, it's not about me."
Hahn said it's been a bit of an adjustment going from playing on the outside at tackle to inside at guard, but overall it's been an easier transition than he initially anticipated.
"It's a different ball game inside than it is outside," Hahn said. "You've got this these bigger, stronger, stockier, shorter guys maybe instead of the longer, lankier, more athletic guys on the outside. That makes you focus on some things and assignments, but it's been going OK."
Hahn added that he's been relying heavily on guys like senior center Dylan Utter and sophomore left tackle Nick Gates to help him get up to speed at his new position. He's especially leaned on Utter, a former starting guard last season who Hahn said "knows everything".
Utter compared Hahn's transition to what Zach Sterup did last season, and based on what he's seen thus far, Hahn should thrive just as much with his his new role.
"His situation is kind of like Sterup's last year," Utter said. "He looks really good in there and athletic, and he's a smart guy, so having him on the line knowing his stuff is going to help us all."
- Robin Washut
Keyan Williams gives Huskers inside scouting take of Fresno State
Nebraska will have a unique scouting angle for this week's season opener against Fresno State. Sophomore wide receiver Keyan Williams played for the Bulldogs a year ago, catching seven passes for 34 yards in 5 games as a true freshman.
Williams transferred to NU in January, so he could play for his father Keith. Keyan Williams is not eligible to play this season due to NCAA transfer rules, but there's no question he's served as a resource for this week as the Huskers prepare for the Bulldogs.
"We have," Riley said when asked if he's asked Keyan Williams about his former team. "He knows guys, he knows talents and he's been helpful that way."
Westerkamp joked he is all ears for any information Keyan Williams is willing to share with him.
"It's funny yesterday I asked him 'I know you came from there, is there anything your friends texted you?' Just talking to him about it," Westerkamp said. "I'll continue to do so to get some inside intel from Keyan. It will be a fun week.
"We played these guys in the past and went there. They are always a good team and extreme competitors. From the defense's point of view they are fast and big guys. We have to do what we've got to do and we should be alright."
-Sean Callahan
Quick hits
***Riley enters Saturday's Fresno State game with 99 career coaching victories.
***Nebraska will wear No. 27 decals on their helmets in the memory of punter Sam Foltz throughout the entire 2016 season.
***Nebraska has not lost a home night game since Missouri in 2008. NU has won 17 straight and is 43-5 all-time at home in night games. All five of the Huskers home night losses came to teams to eventually won 10 games or more.
***Riley said they knew last Saturday that De'Mornay Pierson-El was back when he saw him make a couple big plays in the scrimmage. Pierson-El is totally cleared and healthy and Riley said he's been getting more comfortable every day.
***Riley said the decision to redshirt JD Spielman had a lot to do with Pierson-El's progress this fall.
***Quarterback Tommy Armstrong said he's happy that Langsdorf will be coaching from the box this season, but admitted he "was looking forward to our celebrations" together on the sideline. He said Langsdorf moving upstairs shows how much trust he has in Armstrong to handle business during games.
***Westerkamp said Alonzo Moore, who sat out most of last week with an undisclosed injury, should be good to go for Saturday.
***Kieron Williams said playing without Nate Gerry will be like playing without the quarterback of the defense. He said the goal for him and Aaron Williams will be to take over Gerry's leadership on the field and get everyone lined up right and on the same page before each snap.