Monday notebook: Riley gives Armstrong mixed reviews
As has been the case since he took over as the starting quarterback as a redshirt freshman back in 2013, Tommy Armstrong received just as much criticism as he did praise for his play in last week's loss to Wisconsin.
The senior only completed 12-of-31 passes for 153 yards and had two costly interceptions against the Badgers. However, he did play well enough to get the Huskers to within one last overtime score of winning a huge Big Ten road game against the 11th-ranked team in the country.
When head coach Mike Riley went back and reviewed the film of the game, he agreed it was definitely and up-and-down night for the fourth-year starter. But the toughness and determination Armstrong showed in the loss were what stood out more than anything to his head coach.
"Tommy battled like crazy," Riley said. "He was under duress a lot… Tommy is pretty dynamic back there, and he's hard to catch. He's bailed us out of a lot of stuff, and that was the kind of game he was in quite a bit.
"Wisconsin's defense can be pretty overwhelming with their speed and size, and they're really sound defensively. We had a lot of issues, but I thought Tommy battled and made some plays… It's pretty neat when it gets really, really tight and tough, he makes a lot of plays."
That being said, Riley also had some critiques of Armstrong's performance. While the entire offense struggled all game, Riley said maybe the most frustrating series to watch came on the final possession in overtime.
On first down, Armstrong ran a zone-read option play and gave the ball up to Terrell Newby for a three-yard gain. Looking back, Riley said Armstrong should have kept the ball and ran, and there was an opportunity for a big play had he done so.
"Boy, it had great capabilities if he had kept it with the position we had and the blocking on the edge," Riley said. "So that's kind of haunting and tough to look back on."
Newby was stuffed for a one-yard loss on second down, and then Armstrong's pass to Jordan Westerkamp on third down fell incomplete.
Replays showed Westerkamp was likely interfered with by a UW defender and a penalty should have been thrown, but Riley said Armstrong could have made the throw sooner or held on a bit longer and found an open Alonzo Moore.
On fourth down with the game on the line, Riley said Armstrong made the right decision going to Stanley Morgan in the corner of the end zone, but said a better throw could have resulted in a touchdown.
"I thought that was a good choice," Riley said. "Just a little bit lighter ball on that - Stanley beat the corner pretty good. Throw it away from the safety just a hair more, and strike up the band...
"They become bang-bang plays that you have to make, and we didn't make any of them."
Huskers get both good, bad news on weekly injury report
Riley gave the latest injury report for his team as Nebraska gets ready to take on No. 6 Ohio State this week, and he was the bearer of both good and bad news.
The good news was that there's a chance - albeit probably a small one - that tight end Cethan Carter could rejoin the lineup as soon as this week after missing the past three games with an elbow injury he suffered against Illinois on Oct. 1.
"Cethan Carter is on his way back," Riley said. "I don't know about this game. We'll look at him starting tomorrow to see where he is. He's been working out, hitting bags, running routes, doing some stuff. So he's close, and we'll see how that goes this week.
"It would be good to have him back, but I want to make sure he's really well and feels really good. It might be one of those deals where he's pretty close and it might be best to keep him out another week just for his comfort in playing. But he's pretty close."
The other positive was that linebacker Dedrick Young, who had to leave the Wisconsin game late in regulation with an elbow injury and did not play in overtime, is expected to be back on the field against the Buckeyes.
"We have high hopes for Dedrick," Riley said. "He had a bad elbow, but we're going to see how he goes through the week. My guess - I don't want to say my hope, because I hope it's higher than that - but I think he'll play."
The bad news, however, was when Riley confirmed that right guard Tanner Farmer has already been ruled out for this week due to a severe ankle sprain he suffered on the third drive vs. the Badgers.
Senior Corey Whitaker took Farmer's place with the first-team offense the rest of the game, and Riley said Whitaker would once again fill that void and get the start on Saturday at Ohio State.
"We've had some people step in and do admirable jobs," Riley said. "I'm really proud of that, and that's what we'll have again. Corey Whitaker is an older guy in the program. I've got a lot of respect for him, and he always appears to be ready.
"When a guy goes in like that, you want it to be as seamless as possible, and Corey helps us do that with what he knows and how he plays."
- Robin Washut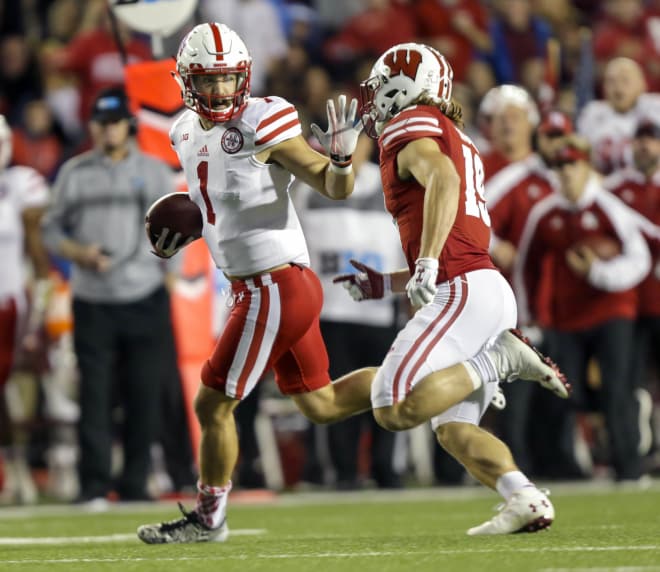 Westerkamp downplays no-call on OT pass play
A lot was made following Nebraska's 23-17 overtime loss at Wisconsin of the no-call on the downfield contact between Westerkamp and Badger rush end T.J. Watt.
On a key third down throw from Armstrong, Watt got in front of Westerkamp and shielded him without make a play on the ball.
When asked about the play on Monday Westerkamp took the high road.
"It was a tough call to make from the ref's standpoint, especially at a time like that," Westerkamp said. "It really doesn't matter what I think, it's said and done. It's a tough call. I wish there was a flag thrown, but you have to move on."
So if Watt wasn't blocking Westerkamp did he think he could've caught the pass from Armstrong?
"Yeah, I think so," Westerkamp said.
-Sean Callahan
Schedule makers weren't friendly to Huskers
You'd have to go back to 2011 to find the last time Nebraska faced a back-to-back road game schedule like they'll see this season.
The Huskers played at No. 12 Penn State and then followed that up against a Michigan team the next week in the Big House that eventually went on to win the Sugar Bowl.
Going to Madison and now Columbus in back-to-back weeks will no doubt test this football team. Riley said he couldn't recall a tougher road stretch in his entire coaching career.
"Probably not very many times anywhere do you play two teams ranked this high back-to-back," Riley said. "That's just the way it is."
Riley added he knows this team is looking forward to the challenge they face.
"Where we are right now with that loss on our heels, I'm just looking forward to getting going," Riley said. "I love our team and what we are getting to do. So we are going to go after these guys and see what we can get done.
"We know it's a big chore. This is a good football team that's well coached with a lot of good players. We are going to get ready to go and find a way to beat them."
-Sean Callahan
Quick hits
***Riley said he'd like to see more screen passes incorporated into the game plan against Wisconsin. They ran one screen vs. UW and it was fairly successful. In retrospect he said they should have gone to the play more.
***Riley said Ohio State's J.T. Barrett was a "really good all-around" quarterback, so Nebraska will have to have a good plan to account for him in a variety of ways. He said NU might utilize a spy on Barrett in certain situations.
***Riley said he felt Nebraska only dropping two spots in the AP poll this week was due to people getting some confirmation about how good NU actually was. That game showed more people that they belonged, he said.
***After his interview, Riley was asked if he sent in the play where Westerkamp appeared to be interfered with to the Big Ten offices, and he said he hadn't. However, he said it was definitely a penalty.
***Tight end Trey Foster said Carter has been eying the Ohio State game for his return since the day he got hurt, and he was "hungry" to get back out there.
***Defensive tackle Carlos Davis said he actually dislocated his shoulder during the UW game. It popped back into place when he hit the ground, and he only had to miss one play because of it.