Monday notebook: Offensive line injuries a growing concern
Now nearly a full month into the season, injuries are starting to mount for Nebraska, particularly along its offensive line.
After losing a projected starter in Jerald Foster to a season-ending knee injury during fall camp, the Huskers were already thin on an offensive front that featured three new starters and two others taking over new positions.
Now it looks like NU might be down another starter this week against Illinois, as sophomore right guard Tanner Farmer is considered doubtful and most likely out after suffering a high ankle sprain in Saturday's 24-13 win over Northwestern.
"Tanner is probably out," head coach Mike Riley said. "It's a high ankle sprain. He might need right through the bye to be healthy for the following week. So we'll see about that."
Nebraska was already using a former tackle in senior walk-on Sam Hahn to replace Foster at left guard, and while senior Corey Whitaker would take over for Farmer if he indeed is ruled out, the depth after him suddenly becomes a major concern.
Riley said right now the top backups at guard would be true freshman Boe Wilson and redshirt freshman Jalin Barnett, neither of which have played a single meaningful snap in their college careers.
In fact, while Wilson was briefly in the discussion for immediate playing time before the season, Riley had since stated he wanted to redshirt the former three-star prospect in 2016. Barnett, a former four-star recruit, has been plagued by minor injuries in his own right.
"It's just kind of the next man up kind of thing," Hahn said. "If somebody goes down, it's next person up to step up and make plays. We just have to get prepared in practice every day and take it from there."
The good news is that the Huskers feel good about Whitaker - who earned one of the highest grades of any offensive lineman after filling in for Farmer on Saturday - stepping into the starting lineup.
But the lack of depth after the first group could present some problems this week against an Illinois defensive line that Riley called the best Nebraska will have seen all season.
"We've lost two scout team players as a matter of fact, so our offensive line depth right now is not great," Riley said. "We've got to get this lineup set for this week and figure out how to practice for our defense, too, as we go through the week."
- Robin Washut
Williams finally returns to NU sideline this week
For the first time this season, wide receivers coach Keith Williams will be with Nebraska when it takes the field against Illinois on Saturday.
After being arrested for DUI back in August, Williams was suspended for two weeks of fall camp practices and then could not be around the team or even in the stadium for the first four games of the year.
Even though the Huskers have gotten off to a perfect 4-0 start in Williams' absence, Riley said he was very happy to get one of his most talented assistant coaches fully back in the mix.
"I told him today we better win (Saturday), otherwise he's going back in the box," Riley joked. "I think it's going to be great having Keith back. That was a hard, not-good situation. I think we've been through the consequences of that, so we're excited to have him back now full-fledged into the practices and the games and the whole part of it. It will be good for the Huskers to have him back."
Williams has been able to coach during practice since Sept. 1, but he has declined any interviews since reading a prepared statement shortly following his arrest.
Riley said he's been very proud of the way Williams has carried himself throughout the process, and he knows the Husker players - especially the wide outs - can't wait to have Williams back on the sidelines on game days.
"I think he has handled it as good as we would've wanted him to," Riley said. "Kind of the suspension part, that might have been the hardest, when he wasn't even here, for the receivers, for everybody."
- Robin Washut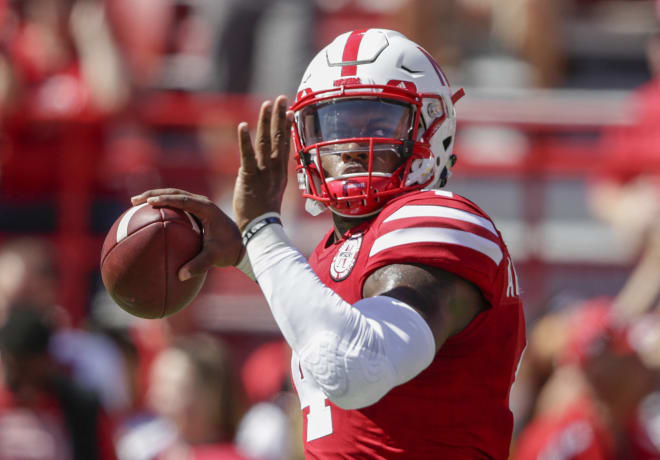 Efficiency one of Armstrong's biggest improvements in 2016
Tommy Armstrong made sure to quickly pass the credit to his offensive line, running backs and wide receivers after being asked about being named the Big Ten Offensive Player of the Week for the third time in his career on Monday.
While his 378 yards of total offense and a touchdown in Nebraska's win over Northwestern were certainly impressive, what has made Armstrong so valuable for the Huskers this season has been the drastic improvement in his efficiency.
After throwing 28 interceptions at a rate of one every 26.7 pass attempts over the past two seasons, Armstrong has been picked off just once on 106 throws so far this in 2016. He's also completing 56.6 percent of his attempts, the highest mark yet in his career.
The senior quarterback credited that to being more careful with the football and smarter with his decisions. In particular, he said he's made it a priority to utilize his check down receivers more than ever and not take unnecessary risks when he could just throw the ball away.
"Just knowing where my check down is, using my feet every once in a while, and throwing the ball away," Armstrong said. "Just knowing I can live another down and make sure I know where to go with the ball at all times…
"Just keep living on the short passes whenever they give us those chances. Those guys turn 3 to 4-yard routes into 20 to 30-yard gains, so I've just got to make sure to put the ball in those guys' hands whenever I can."
- Robin Washut
Parrella's impact being felt on the field, in recruiting
John Parrella is still only four game into his Nebraska coaching career, but he's already won over the Husker fan base for his work both on the field coaching the defensive line and on the recruiting trail.
The first-year NU assistant was the lead recruiter on defensive tackle commits Deontre Thomas and Deiontae Watts and defensive end commits Robert Porcher and Guy Thomas.
He's also working on defensive line prospects Damion Daniels, Tyler Shelvin, Ben Hutch, Andrew Van Ginkle, and Martin Andrus, all of which either have or are planning on taking official visits to Lincoln.
"I think he's one of those guys who's hard to say no to," Riley said. "He works at it real hard, but there's a special uniqueness that you guys already know because of of his background at Nebraska that he brings that is special. There's a passion that he brings to his recruitment.
"I think he first of all believes in Nebraska, and so he recruits to that well. But I also think that he believes in what we're doing. So he can combine that real well as he recruits. It's a great combination that he brings."
In addition to his work as a recruiter, Riley couldn't be happier with how well Parrella has done in taking over a defensive line that lost all four starters and its top backup from a year ago.
Riley credited veterans like Ross Dzuris and Kevin Maurice for embracing Parrella since the day he took over, which has helped a d-line "full of novices" play far better than most initially expected.
"I think kind of the buy-in of the older guys and the character of those older guys coupled with the teaching that everybody's getting - John is a real, real detailed teacher of what we're doing out there," Riley said. "I think that combination is great.
"So I think you see a real vibrant room. I love it. These guys stay hungry, they stay on edge. He doesn't ever let them relax… You need that continual push, and there can't be any staying just satisfied with what's going on. I don't think John will ever let them do that."
- Robin Washut
Quick hits
***Riley said receiver Alonzo Moore (shoulder) is "doubtful" to play Saturday vs. Illinois. Riley said they're being careful with Moore because of how much his shoulder has bothered him the past two weeks.
***Riley said they ideally want around 22 players in their 2017 class. He said they "feel good about the buzz that's going on about Nebraska", and while they have a ways to go with some of their top prospects, they feel really good about how things have gone so far.
***Riley said he's been happy with how well Nebraska has done in "explosive plays" on both sides of the ball. He said they define those as runs of 10 or more yards and passes of 20 or more yards. Riley counted 14 "explosive plays" offensively and allowed just two defensively against Northwestern.
***Riley said the biggest factor in Nebraska's higher number of fourth-down conversion attempts came down to an increased confidence in their personnel and knowing what they can do well.