Monday notebook: No. 8 Huskers happy, but far from content
As Nebraska hits the midpoint of the 2016 regular season, it really couldn't ask to be in a much better situation after the first six games.
The Huskers ave rolled to a perfect 6-0 record, marking their best start to a season since the 2001 Rose Bowl team. That's propelled them up to No. 8 in the Associated Press poll and No. 9 in the USA Coaches poll heading into Week 8.
It's certainly been a complete 180-degree flip from where the program was at this time a year ago, when NU was sitting at 2-4 after head coach Mike Riley's first six games.
But having experienced two completely different ends of the spectrum, Riley said the only thing that truly mattered when all was said and done wasn't how a team started a season, but how it finished.
"Whether you start off good in a season or you start off bad in a season, the story is told in how you finish," Riley said. "So we're at a good point in our record right now. We love that record. Whatever that ranking brings us right now is great, but we all know you'll be identified by your season in total. All this stuff right now is just fun for everybody else. For us, it's exactly the record that we want, and now we have get better."
That mentality has clearly set in with his player as well. While Nebraska enters this week's home game with Purdue as 24.5-point favorites, the Huskers insist they're focused solely on the Boilermakers and not ahead to the upcoming tests at No. 10 Wisconsin and No. 2 Ohio State.
"We've just got to keep playing football," junior safety Kieron Williams said. "I don't think you can look too far ahead, because when you look too far ahead you don't see anything. I think our focus is Purdue, and then after that it's Wisconsin and Ohio State. You can't look much past that. I think the rankings are for (the media) to do, that's their job. Our job is to play."
It also doesn't hurt that the Huskers have embraced some perceived outside skepticism over whether they're legitimately one of the ten best teams in the country or if they've merely benefitted from a six-game schedule with a combined opponent record of 13-22.
"Yeah, I definitely think we have something to prove, and that's what we're trying to do every year," senior running back Terrell Newby said. "But we're all about us and we always play for each other. As Coach Riley says, those (rankings) don't matter until the end of the year, so we just try to block out all that outside noise and just go out and play."
- Robin Washut
Offensive line puzzle still being finished
The key word when you look at Nebraska's offensive line situation this week is versatility.
Seniors Corey Whitaker and Sam Hahn, along with sophomore Cole Conrad can all play both tackle and guard, which has bailed the Huskers out the last two games.
Against Illinois, Whitaker played right guard for the injured Tanner Farmer, and Conrad stepped in at right tackle for the injured David Knevel.
"It's just that time of year where you've got to have some guys step up and do it, and you expect them to," Riley said. "We don't like losing guys to injury, but we have to be ready."
This week the questions are at the tackle position, where both Knevel and Nick Gates are battling ankle injuries.
If neither could play against Purdue, look for both Hahn and Conrad to play tackle, while Farmer and Whitaker man the two guard spots. Dylan Utter is obviously a fixture at center, with both Whitaker and Conrad listed as his back-ups if an injury were to happen.
Riley won't know more about the line situation until Tuesday afternoon when the Huskers return to practice. He also didn't rule out somebody like Jalin Barnett getting the call up.
"We still have great hopes for guys like (Michael) Decker and Christian Gaylord and Barnett… I think those guys are going to be good players," Riley said. "The development of people is different, and that line position, that's probably the position that overall in my career that we've had the fewest true freshmen or even redshirt freshmen just break in and all of a sudden be a starter.
"We find that guy every once in a while, but the development both mentally and physically sometimes takes a little longer. We expect those guys to be front and center in the competition as we go."
-Sean Callahan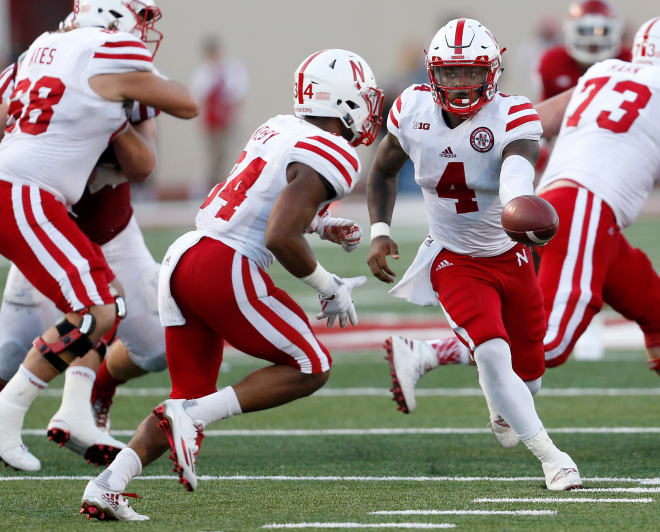 Newby running "like a man" in the fourth quarter
There weren't a lot of positives that came out of Nebraska's offensive performance at Indiana, but one of them was no doubt the play of Newby.
The senior led the Husker offense with 102 yards rushing on 22 carries. It was the second straight game he's gone over 20 carries and 100 yards on the ground.
Most impressively he carried the NU offense on his back in the fourth quarter during their 15-play drive that chewed up nearly 8 minutes of clock and iced the victory.
"Newby was a bright spot on offensively," Riley said. "I thought he was really a man there at the end, made some good, tough runs… He's a good football player, he's a versatile football player, and he's a tough-minded guy. He's been a man in the fourth quarter of the past couple ball games, and I really appreciate that."
Newby had a real similar moment against Illinois as well when he broke the game open with a 63-yard touchdown in the fourth quarter, finishing with 140 yards on 27 carries.
"I knew when we were up in a situation like that, we want to be able to run the ball and kind of chew clock and move the ball down the field, so I knew where it was going to be going for a few of those plays," Newby said.
"I feel like I'm playing pretty good so far. There's a lot of things I think personally I can improve on, a lot of things that we can learn as an offense, but the ceiling is very high for us."
-Sean Callahan
Some good, a lot of bad for NU special teams
Nebraska was far from perfect in last week's win over Indiana, and one area where the Huskers struggled as much as any was on special teams.
There were some bright spots in the game, including two more field goals from kicker Drew Brown and some impressive tackling on kickoff coverage.
But the negatives far outweighed the positives. Two of the biggest mistakes came on a blocked punt in the second quarter that resulted in a safety, and then a 39-yard put return by Indiana's Mitchell Paige that led to a Hoosier touchdown.
"It was some really, really good stuff and some bad stuff," Riley said. "Drew Brown is really having a good year. I wish I didn't have him try that long field goal in that Illinois game, otherwise he'd be perfect. They should take that off the books and put 'bad coaching' in there or something.
"Our punt team… It was a bad day. We couldn't protect. We got a punt blocked, and thank goodness it it ended up being a safety. If it would've been a touchdown we would've lost the game. Then we gave up the big return. That team's job is to protect and cover, and we didn't do either of them. So we've got a lot of work to do there."
- Robin Washut
Quick hits
***Riley said quarterback Tommy Armstrong is obviously banged up with his ankle injury, but they fully expect him to be ready to go for Purdue.
"He is like a lot of guys are today after a game," Riley said. :He's sore and he's got some ice on and all that, but we fully expect him to be ready to go and play."
***Running back Devine Ozigbo (ankle) was good to go, and the reason he didn't play much Saturday was because his prep wasn't as thorough to get him ready during the week.
***Tight end Cethan Carter (elbow) was out again this week, but he was getting closer to returning from his elbow injury.
***Wide receiver Jordan Westerkamp (back) was listed at somewhere between doubtful and questionable right now. Westerkamp is doing some running in the pool now, and Riley said they would "find out a lot more tomorrow."
***Lastly, Riley said cornerback Eric Lee was out with a concussion and should be back this week.
***Riley said they would like to not have to pull any redshirts on the offensive line, but they might if they absolutely have to.
***Riley said they ned to do a better job of getting De'Morany Pierson-El more room on punt returns. A couple of the returns on Saturday were result of NU expecting a fake and not playing for a return.
"We just need to give De'Mornay a little more room," Riley said. "We were in situations a lot there in limited range where, knowing this team's background, I was really suspecting a fake. So we left our defense on the field for I think three punts, and you don't often get great returns when you leave your defense in."