Monday notebook: Bryant pushing for immediate role
There was a play towards the end of Nebraska's first live scrimmage of fall camp on Saturday where true freshman running back Tre Bryant took a carry around the right end, trucked over a defender, and barreled into the end zone for a touchdown.
It was at that moment where head coach Mike Riley, offensive coordinator Danny Langsdorf, and running backs coach Reggie Davis all started to think that redshirting Bryant this season might not be an option.
There's obviously still a long way to go for the former three-star prospect from St. Louis, Mo., to move up a loaded Husker running back depth chart, but with what he's shown already in his first handful of practices, Bryant looks to be well on his way to getting there.
"I liked him," Langsdorf said. "I think he has a good feel, he hits the hole hard, he doesn't dance around a bunch, he's got good speed. I thought he ran hard, especially at the end. He ran over a defender coming downhill on him and then he scored on it. That was a great run. So I'm excited to see what he can do.
"With all the freshmen, we've got to make a decision on them quickly, and with the work he's done he's making it hard to say that he's going to redshirt."
Davis agreed with Langsdorf's early assessment, saying Bryant has held his own since the first day he set foot on campus.
"He showed a lot of toughness," Davis said. "He's a very smart young man and is picking up on things very well. So it was nice to see him in a live situation because obviously we haven't seen that since high school.
"Seeing him in a live college situation was big and he held up well. I was really happy with the way that he played."
Whether Bryant can pass up more experienced backs like Terrell Newby, Devine Ozigbo, and Mikale Wilbon for carries this season remains to be seen.
But if he continues to perform the way he has been this fall - and reel of highlight runs like he did on Saturday - Bryant just might force his coaches' hands to throw him into the mix right away.
"No, I wasn't," Davis said when asked if he was expecting Bryant to be so far along in his development this early. "He's surprised me and exceeded expectations in that regard from what I can see."
- Robin Washut
Simmons OK after scary injury
Much of the excitement over Saurday's scrimmage was lost when freshman linebacker Greg Simmons was carted off the field and taken away in an ambulance following a helmet-to-helmet collision with a defensive teammate late in the session.
While there was initially major reason for concern, Riley had some very good news regarding Simmons's status on Monday.
"He was actually, by the time dinner was just about over (on Saturday), he was back," Riley said. "It's going to be a while. He's got a real sore neck, so it will be a while probably before he participates again.
"But he's OK. Everything checked out good."
- Robin Washut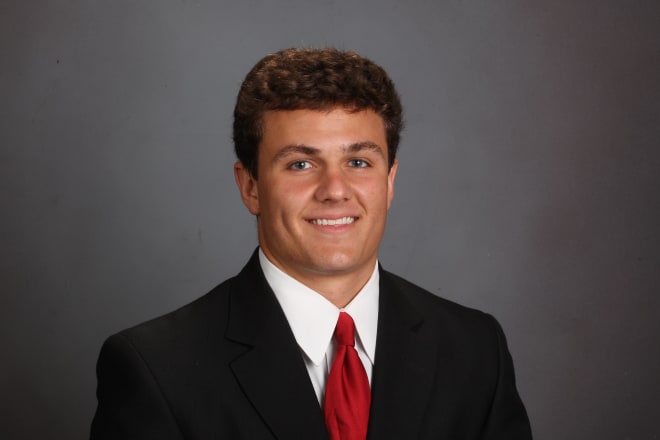 Graduate assistant Buck steps up in Williams' absence
With Keith Williams unavailable for Nebraska's Monday morning practice for obvious reasons, Nebraska had to get a bit creative with how it coached its wide receivers.
In his absence, Riley said he elevated second-year graduate assistant Hardie Buck to handle the individual portion of Monday's practice with the wide outs, and he would continue to fill that role until more is decided on Williams' status.
Riley added that the Huskers did very little individual work on Monday, focusing more on team reps. That allowed both Riley and Langsdorf to have bigger voices with the receivers as well.
"Hardie can individually work with those guys, and then both Danny and I were more proactive with that," Riley said. "We did very little individual today and lots of team work.
"So all of our coaches who might have a hand in the perimeter - whether it's Hardie or Danny or myself - we're all a part there. We can do this for a time like this."
Langsdorf praised Buck as a promising coach coming up the ranks. Buck was with the team working under Williams all of last year after spending the 2014 season as the special teams coordinator at Jacksonville State.
Buck, who played wide receiver on two Alabama national championship teams in 2009 and '11, also assisted with special teams under Bruce Read at Oregon State from 2012-13.
"Really a good technician," Langsdorf said of Buck. "He worked closely all of last year with Keith, and a lot of knowledge there. Helpful with the young guys and has been coaching those guys. He'll get some experience, and he's a smart, knowledgable guy that will do a good job for us right now…
"We're going to have to adjust a little bit. We'll make it work. We'll spend a few more hours in the office."
- Robin Washut
Quick hits
***Tight end Cethan Carter (concussion) and defensive back Charles Jackson (hamstring) were both back at practice.
***Linebacker Michael Rose-Ivey (knee), linebacker Chris Weber (concussion), defensive tackle Khalil Davis (knee), and wide receiver Lavon Alston (unknown) all sat out.
***Langsdorf said he was definitely happy about the news that Tanner Lee was granted a sixth year of eligibility this week. He said Lee "looked the part" during his first scrimmage action on Saturday and would be a huge asset on the scout team this season by giving the defense "as tough of a challenge as they will get" each week.
***Langsdorf was also asked about how Lee's news might impact Patrick O'Brien. Langsdorf said it's always tough going from the high school star to college where everyone is good, but he also doesn't want any player coming in thinking they're guaranteed anything.
Langsforf said O'Brien has looked really good in his own right this fall, and the competition would only make both players better over the next three seasons.
***Langsdorf said he was glad to see no turnovers from his offense in Saturday's scrimmage, especially no interceptions from his quarterbacks. However, he added that there were a lot of missed easy completions they had to make going forward.
***On the offensive line, Langsdorf said he expects all four of Nebraska's scholarship freshmen to redshirt this season. He said Matt Farniok is the most ready to play out of that group right now, but he still has a lot of work to do mentally in learning the offense.