Michael Lynn commit: What does it mean for Nebraska?
Nebraska added to its offensive line class Sunday night with a surprise commitment from Michael Lynn.
The 6-foot-7, 280-pound offensive tackle out of Greenwood Village (Colo.) Cherry Creek picked NU over offers from Arizona, Arizona State, Oklahoma State, Washington State, and Utah among others. He becomes the 15th known commit for Nebraska's 2019 recruiting class.
Here are some quick takes on what Lynn's commitment means for Nebraska.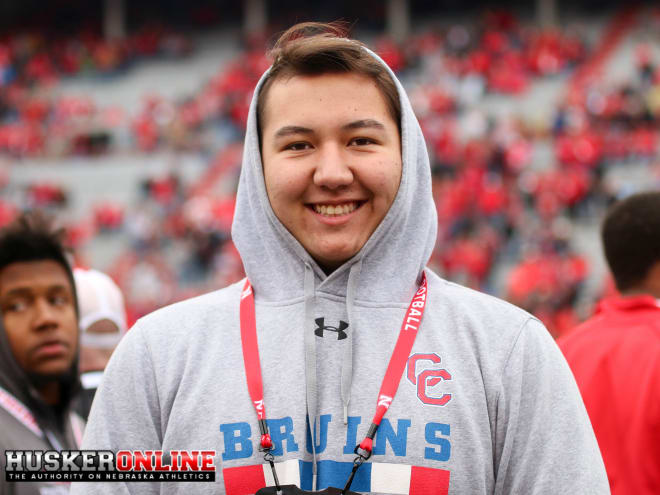 1. Nebraska's greatest need in the 2019 recruiting class in terms of overall numbers and talent is along the offensive line and especially at offensive tackle. The addition of Lynn now gives the Huskers three total offensive line commits and two high school offensive tackles. It's likely we'll see NU add at least two more commitments along the OL in this recruiting class.
2. Nebraska has been extremely active within the 500-mile radius this recruiting cycle and Lynn represents another key get from that region for the Huskers. Out of NU's 15 commits for 2019 nine hail from within the 500-mile radius.
3. Colorado has long been a state Nebraska has had some recruiting success in, but it seems as if the Huskers have cranked things up a notch or two and it's definitely paying off. Coach Barrett Ruud is the primary recruiter in the state and he has developed quite a solid relationship with all of the players NU has offered in the 2019 class and beyond. Lynn joins quarterback Luke McCaffrey as the two commits for the Huskers from Colorado so far in 2019. Having Lynn and McCaffrey on board should only help NU's recruiting efforts in the state going forward. In fact, the Huskers are after Lynn's teammate, 2020 offensive lineman Carson Lee for next year so he is one to keep an eye on.
4. Lynn plays right tackle in high school and that is probably the position he is best suited to play once he arrives at Nebraska as well. I like the fact that Lynn has a long and lean build at 6-foot-7, 280-pounds. He will not be a player strength and conditioning coach Zach Duval will need to have lose a ton a weight before he can correctly build him up in the weight room.
5. For his height, Lynn has very impressive knee bend and overall flexibility. There are times where he can play a little high, but for the most part he play with good pad level and leverage. He also shows nice, quick feet and the ability to move and run very well on the football field. That overall size and level of athleticism is certainly why Nebraska made a push for Lynn in this class.
6. Lynn is nasty on the football field. He's a finisher that loves to get his opponent on the ground. You can tell that he really enjoys run blocking and just being physical in the trenches.
7. Cherry Creek has a reputation as being one of the top overall programs in the state of Colorado and produces Division I players on a yearly basis. The players that come from Cherry Creek know what hard work is and what it takes to win and play at a high level. From all accounts Lynn is a leader on and off of the field and a player that takes care of business in the classroom.
8. 2019 Nebraska commit breakdown
8/5/2018 - Michael Lynn - OT - 6-foot-7, 280 - Greenwood Village, CO - 3 Stars
7/23/2018 - Mosai Newsom - DE - 6-foot-5, 260 - Waverly, IA - 3 Stars
7/21/2018 - Nick Henrich- LB - 6-foot-3, 210 - Omaha, NE - 3 Stars
7/19/2018 - Tony Fair - DT - 6-foot-3, 330 - Tucson, AZ (South Bend, Ind.) - NR
6/29/2018 - Jamie Nance - WR - 6-foot, 160 - Blanchard, OK - 3 Stars
6/22/2018 - Matthew Anderson - OL - 6-foot-7, 250 - Leesville, LA - NR
6/15/2018 - Ronald Thompkins - RB - 6-foot, 195 - Loganville, GA - 3 Stars
6/6/2018 - Jackson Hannah - LB - 6-foot-3, 234 - Nashville, TN - 4 Stars
6/4/2018 - Luke McCaffrey - QB - 6-foot-2, 180 - Highlands Ranch, CO - 3 Stars
6/1/2018 - Desmond Bland - OL - 6-foot-4, 300 - Yuma, AZ (Flossmoor, Ill.) - 4 Stars
5/5/2018 - Rahmir Johnson - RB - 5-foot-10, 170 - Oradell, NJ - 4 Stars
4/9/2018 - Thomas Grayson - RB - 5-foot-11, 190 - Tulsa, OK - 2 Stars
3/5/2018 - Ethan Piper - DE - 6-foot-4, 280 - Norfolk, Neb. - 3 Stars
11/24/2017 - Garrett Snodgrass - ATH - 6-foot-3, 220 - York, Neb. - 3 Stars
6/24/2017 - Garrett Nelson - OLB - 6-foot-3, 236 - Scottsbluff, Neb. - 3 Stars
9. Commits by position
1 - Quarterback
3 - Running back
1 - Wide receiver
0 - Tight end
3- Offensive linemen
1 - Defensive tackle
2 - Defensive end
1 - Outside linebacker
2 - Inside linebacker
0 - Safety
0 - Cornerback
1 - Athlete
0 - Special teams
10. Where are they from?
4 - Nebraska
2 - Colorado
2 - Oklahoma
1 - Georgia

1 - Iowa
1 - Illinois
1 - Indiana
1 - Louisiana
1 - New Jersey
1 - Tennessee