Meyers carries offense, late-rally leads to 5-3 win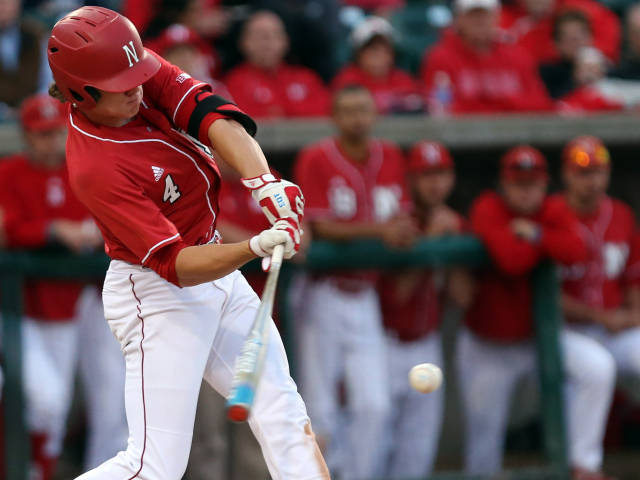 The Nebraska (22-14-1, 6-3-1) baseball team only had three hits in the first seven innings on Friday night, but broke things open in the eighth inning with four hits to get a crucial 5-3 victory over Big Ten leader Minnesota (22-11, 7-3).
NU continued their dominance against the Gophers since they joined the Big Ten. The Huskers are now 13-2 against Minnesota since 2012.
"It was a big boy game," head coach Darin Erstad said on his postgame radio show. "Two pretty good arms going, clean baseball and it was fun to be a part of."
While the offense took until the eighth inning to get going, junior Jake Meyers arguably had his best game of the year. Meyers had three of the team's first four hits on Friday.
Meyers was 4-of-5 with two RBI and three stolen bases. He led the game off with a single and followed it with back-to-back stolen bases that eventually helped him give NU a 1-0 lead going into the second.
"It was a baseball player play," Erstad said of Meyers' second stolen base, in which he advanced to third on Gopher miscue. "There are so many scenarios in the game that you can't practice. That's all on him. He saw it, reacted and used his instincts and athleticism and made the play."
NU looked comfortable until Minnesota sophomore shortstop Terrin Vavra hit a two-run home run in the third inning. That's when Nebraska junior pitcher Jake Hohensee settled into his element.
"He's just experienced, earlier in his career, he would have had a nervous breakdown." Erstad said. "After that home run, he really locked in, mixed his pitches, had them off-balance and we needed that and he delivered."
Hohensee (5-2) finished with three strikeouts, two walks and allowed three runs in his seven innings.
In the other dugout, Gopher junior pitcher Lucas Gilbreath put together an outstanding outing as he struck out seven, walked two and allowed three runs on three hits.
"Their pitcher has great stuff," Erstad said. "He had almost 100 pitches in the fifth inning and that's a recipe for success. You need to really grind out the at-bats and when you're doing that, it's a good sign."
NU sophomore reliever Jake McSteen entered the game in the top of the eighth inning and only gave up one hit in the five batters he faced. Junior relief pitcher Luis Alvarado entered the game and got the last two Gopher batters out and recorded his seventh save of the season.
Nebraska returns to action on Saturday at 2:00 pm. Nebraska's starting pitcher will be RHP Derek Burkamper (2-3, 3.75 ERA, 36.0 IP, 30 K).
"These guys take a lot of pride in what they do," Erstad said. "Today they were ready to go and it wasn't anything like we talked about. We aren't trying to do anything special. We are going to play our game. Just execute and make plays and that's what we did."