Media Days notebook: How will the 3-4 defense impact Nebraska?
CHICAGO - One of the bigger storylines with Nebraska going into Big Ten Media Days this week in Chicago is the Huskers move to the 3-4 defense.
NU has run the 4-3 defense since 1993, but will make the transition into the 3-4 under Bob Diaco this season.
In 2013 Wisconsin was one of the first Big Ten schools to make the move into the 3-4, and it played a big factor in some of the Badgers success the last few seasons under Paul Chryst, despite the fact they'll be going on their third defensive coordinator in three years.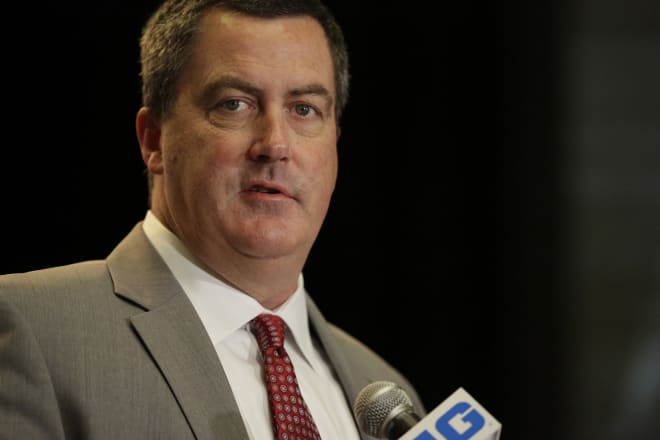 As Nebraska gets ready to make the transition into the 3-4, Chryst seems pretty confident things should go pretty smoothly under his good friend Mike Riley.
"Mike (Riley) ran the 3-4 defense in Canada," Chryst said. "He was one of the first guys to run it. Mike knows football and Mikes knows defense. The last person he'd call about the 3-4 and ask what I think is me. That's not going to happen. I learned from him."
Chryst was also quick to point out that most of the Badgers success the last few seasons on defense had to do more with talent than scheme.
"Obviously I wasn't here when we made the move initially, but I knew Wisconsin was going to have a good defense with Chris Borland at linebacker," Chryst said. "Scheme is important and I'm not minimizing that, but players make the difference. Why have we been good on defense? We certainly have had good schemes and good coaches, but we've had really good players.
"I would argue that your offense and special teams help the defense just like your offense. I don't think it's just as simple as (switching schemes). Heck, if there was something magical, everyone would go to the 3-4 and we should've done that a while back, or everybody would go to the 4-3 or the 46 defense because it worked really good for the 85' Bears. I don't think it's that clean."
Another interesting connection with NU's move to the 3-4 defense is they'll be doing it under the guidance of a former Iowa Hawkeye.
Iowa head coach Kirk Ferentz and Diaco technically never worked together, but they do have a strong mutual respect for one another.
"I know Bob (Diaco) and know of Bob because he coached at my alma mater, so there's these little strings of attachment," Ferentz said. "But I really don't know Bob other than causally, but what he's done as a coach and as a coordinator is really well documented. I'm sure he'll have those guys playing and they'll be ready to play when we play them."
-Sean Callahan
BTN pushing alternate platforms in era of changing media
As the Big Ten Network enters its 10th season, the conference's successful broadcasting operation made it clear that its focus is and will continue to be locked in on adapting with the rapidly changing future of college sports media.
Though BTN has made strong progress in becoming a staple on standard cable packages around the country, president Mark Silverman pointed to several steps being taken to further push the network's reach through increasingly popular online streaming options.
Silverman announced that Big Ten fans will now be able to watch their teams via several streaming outlets such as DIRECTV NOW, YouTube TV, Hulu, and Fox Sports GO.
"Regardless of how the industry evolves, BTN will be committed to be available to all our viewers across the country," Silverman said. "As the industry continues to evolve, we're really focusing on growing our content. And Big Ten content, BTN content, we're looking to do more and more and have the content live on a variety of different platforms."
Silverman said BTN has recognized that it would be a detriment to both their network and the fans not to push alternate platforms to air Big Ten programming.
The goal, Silverman said, was for BTN to be as "agnostic" as possible in how their live sports and various shows are viewed, meaning stressing online and mobile streaming more than ever along while further building their original cable network.
"If you're not leveraging the tens of millions of people that are on these different platforms during the day I think we're all missing a huge opportunity and it does cause you to rethink a bit how you run your network and how you grow your brand," Silverman said.
"So I would tell people, we need to do our job of being widely available however it is you want to be able to watch the network. That's really been the driving force as to why -- our subscriber base is pretty much even from year to year. Whatever minor fallout there might be in cable is more than offset by the growing number on the over-the-top side."
- Robin Washut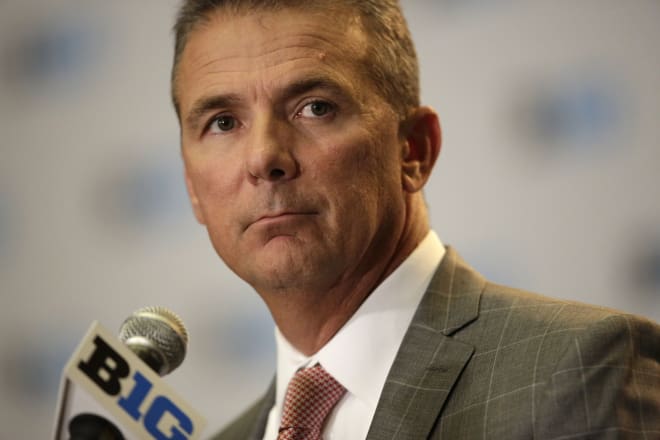 Meyer: There is no gap between Big Ten, SEC
Considering that the Big Ten has now featured a team in each of the first three College Football Playoffs, including Ohio State winning the 2015 national championship, there is definitely a strong argument that the perceived talent gap between the Big Ten and the SEC is now smaller than ever.
Buckeye head coach Urban Meyer took that one step further on Monday.
"I don't think there's a gap at all," Meyer said. "And that's no disrespect to other conferences. To give my opinion to other conferences or when I hear that, I have no idea. But I've coached in the SEC East when that was one of the strongest in the country, and I think the Big Ten East right now is every bit as strong as I can remember the SEC East…
"This is as tough a conference as there is."
While the presence of a program like Alabama has done a lot to bolster the SEC's image as college football's power conference, maybe one of the main reasons for the league's hype has been the level of recruiting almost across the board.
But Meyer said even that advantage has dwindled significantly over the past six years since he took over at OSU.
"I thought recruiting, I was shocked at the disrespect to Big Ten had in 2012," Meyer said. "I don't feel that at all anymore. I feel a great amount of respect nationally about the Big Ten. You sit and look at the national recruiting rankings and you see the Big Ten everywhere, all over the place, and that's the way it should be.
- Robin Washut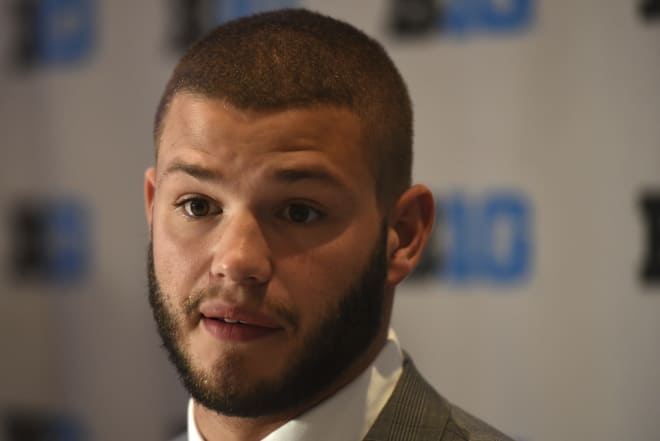 Badgers facing new pressure as clear Big Ten West favorites
As Chryst and Wisconsin's players took their turn at Media Days, the questions the Badgers had to answer had a little bit of a different feel than the ones they fielded last year.
Entering the 2016 season, UW was projected to be one of the top contenders in the Big Ten West but had to overcome one of the most grueling schedules in all of college football in order to live up to that billing.
This year Wisconsin is once again one of the frontrunners to win the division, and with presumably a much less daunting schedule ahead, some say the Badgers are the clear favorites to return to Indianapolis.
In fact, with 31 first-place votes from a 38-member media poll put together by the Cleveland Plain Dealer last week, many consider UW the team to beat in the West.
Not that Chryst is allowing his team to buy into all of that outside hype, however.
"That's what's great about this season is you have to go play it," Chryst said. "All the talk doesn't really matter. And so don't spend a lot of time, energy, thinking about what's being said. You try to focus your energy and your players' energy on what you can control, what you can best put your energy into, and that's the fun part."
Wisconsin's players seem to have bought into that mentality entering the season. Linebacker Jack Cichy said it didn't matter what others expected the Badgers to do this year, mainly because those expectations wouldn't be any higher than the goals they've set for themselves as a team.
"I think it puts a little bit more on our own expectations of ourselves and holding ourselves accountable and holding each other accountable," Cichy said. "It's going to be a different narrative that last year. We've already heard it, and you guys have asked about it today. With that needs to come us just being more responsible and us veterans taking ownership in that."
- Robin Washut
With the first pick of the Big Ten TV draft...
As we learned more about the new Big Ten TV deal on Monday, one of the interesting nuggets shared by ESPN's Burke Magnus and FOX's Larry Jones was the selection process is literally a draft.
"I think it's been widely publicized that FOX picks first of the overall inventory, not of the weekly inventory," Magnus said. "It's literally a straight-line draft – 1, 3, 5, 7, 9 and 2, 4, 6, 8. We pick selection positions on a particular week, then when you get into the 12-day you pick the game to match that pick. The portfolio of games was pretty equivalent, the difference being FOX takes the No. 1 overall pick on an annual basis."
With that No. 1 pick FOX chose the Ohio State vs. Michigan game, while ESPN/ABC selected Oklahoma vs. Ohio State with their top selection.

FOX will have the No. 1 pick all six years of the Big Ten deal, which means they will more than likely have the rights to the Ohio State vs. Michigan game each year. In 2016 the game drew 16.84 million viewers, over 6 million more viewers than the next highest rated regular season college football game.
"It's difficult to say what it's actually worth," Jones said. "It's an important game and for the sales market to be able to say we have the Ohio State-Michigan game, it's certainly a great asset, and it will get our best platform and it will be terrific. We are looking forward to it."
-Sean Callahan