McIntyre discusses offer from Nebraska
There has been a growing amount of optimism that Fremont (Neb.) Archbishop Bergan athlete Kade McIntyre could pick up an offer from Nebraska.
The 6-foot-4 and 200-pound McIntyre could play several positions at the next level. The Huskers had only evaluated McIntyre to play offense until very recently which led to his offer from Nebraska.
"I talked to coach Ruud earlier this week," McIntyre said. "He told me how interested Nebraska was in me and kind of a different eval than seeing me as a wide receiver because they have offered me as a linebacker now.
"Today he got me on the phone and told me that he knew that they were a little late in the process and that the eval was messed up initially. Nebraska did a re-evaluation and determined they wanted to offer me as a linebacker."
Now the question becomes is the offer as an inside or outside linebacker? Coach Ruud is the inside linebackers coach, but it's likely that Fremont is his recruiting area as well. McIntyre said that Nebraska wants to get him in Lincoln soon to discuss where they could see him playing.
"I am not sure if it's inside or outside. Nebraska has asked me to come to Lincoln soon and I might get there next weekend so that coach Ruud can walk through things with me and show me where Nebraska sees me playing at."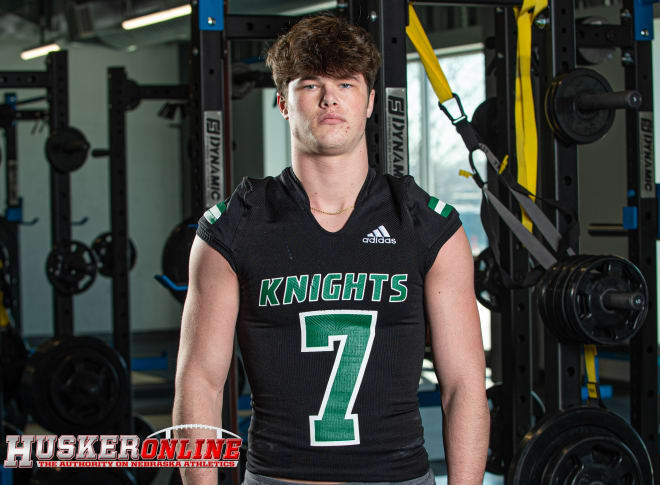 The million-dollar question now is does the timing of the Nebraska offer hurt the chances for the Huskers?
"It's a little weird with Nebraska coming in as late as they did being in my own area," McIntyre said. "But, honestly I am going through the process the same with every school and that is if there is interest there I am going to visit, look over everything, evaluate all of the people and take it all in my own way."
McIntyre has already set up three visits and is in the process of setting up a fourth. He says that he is keeping his last remaining official visit open.

"I have Iowa on June 10th, Minnesota on June 17th, Kansas State on June 24th and I am currently lining up an official visit to Tennessee. I will have one extra official visit that I am leaving open for now to see what comes."
The offer from Nebraska comes a day after Tennessee offered McIntyre. It was a familiar name for Husker fans who extended the offer to McIntyre to come play at Rocky Top.
"Tennessee hasn't really offered me at a specific position. They said that they could see me playing several positions. They said that they could see me as a linebacker, possibly as a tight end and as a wide receiver as well. They more or less offered me as an athlete. It was coach Mike Ekeler that offered me."