Matthew Anderson commit: What does it mean for Nebraska?
Nebraska has a big need along the offensive line in its 2019 class and they got some help in that area as Matthew Anderson announced his commitment to the Huskers.
The 6-foot-7, 250-pound offensive tackle announced his decision via Twitter on Friday afternoon and becomes the 10th known commit for Nebraska's 2019 recruiting class.
Here are some quick takes on what Anderson's commitment means for the Huskers.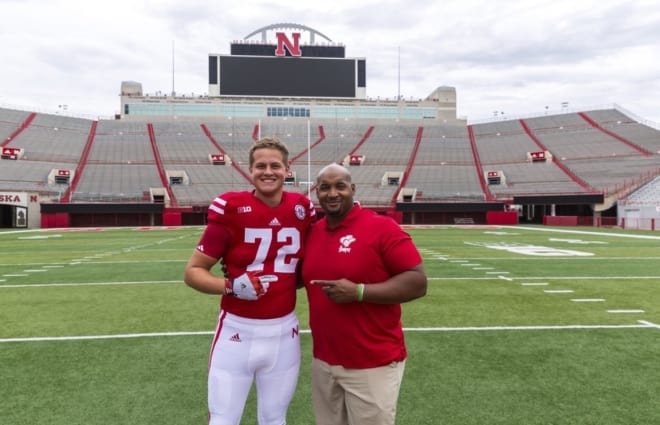 1. Nebraska had a huge need for offensive linemen in its 2019 recruiting class, especially at the tackle position. He becomes the second offensive lineman to commit for 2019 and the first true tackle.
2. Anderson is exactly the type of offensive tackle prospect Nebraska seems to prefer recruiting. He is a tall, lean, and athletic prospect that does not carry any bad weight on his frame. The Huskers would prefer to bring in a player that they can start adding the proper weight onto right away than to bring in a guy that they have to slim down first before they can build them back up.
3. Nebraska got in on the ground floor with Anderson due to their connections in the coaching ranks. The Huskers were tipped off by some mutual friends in the business about Anderson and it led to the Huskers being the first Power 5 offer for the talented prospect. That early offer led to an early visit, which went very well, and ultimately a public announcement on Friday that Anderson was committing to NU.
4. Anderson is an excellent athlete with tremendous growth potential. Up until last season, the recent Huskers commit had been a tight end. He played right tackle at roughly 230-pounds last season and has since added at least 20-pounds of lean muscle mass to his frame. Once he gets into Nebraska's strength and nutrition programs he will easily end up being 300-pounds or more of lean muscle. I see him having a similar frame as former Husker offensive tackle Lydon Murtha.
5. Although he is raw since he has only played one true season along the offensive line, Anderson shows the potential of being a great offensive tackle at the next level. First of all, he has great feet and he can move and run extremely well. He has excellent bend and plays with leverage. He's a prospect that should make a huge leap from his junior to senior season along the o-line.
6. I love the fact that Anderson plays with an edge on along the offensive line. He's a finisher out there and plays with a nasty disposition. That's something you don't always see from players, especially ones that move from a skill position to the o-line.
7. Anderson has all of the intangibles you could ever want in a prospect. He's an excellent student, a leader on and off of the football field, a tough kid that loves to compete and also one that volunteers his time with the mentally disabled at his school. Anderson is an Eagle Scout and someone that the people in the small community of Leesville, La. look up to.
8. 2019 Nebraska commit breakdown
6/22/2018 - Matthew Anderson - OL - 6-foot-7, 250 - Leesville, LA - NR
6/15/2018 - Ronald Thompkins - RB - 6-foot, 195 - Loganville, GA - 3 Stars
6/6/2018 - Jackson Hannah - LB - 6-foot-3, 234 - Nashville, TN - 4 Stars
6/4/2018 - Luke McCaffrey - QB - 6-foot-2, 180 - Highlands Ranch, CO - 3 Stars
6/1/2018 - Desmond Bland - OL - 6-foot-4, 300 - Yuma, AZ (Flossmoor, Ill.) - 4 Stars
5/5/2018 - Rahmir Johnson - RB - 5-foot-10, 170 - Oradell, NJ - 4 Stars
4/9/2018 - Thomas Grayson - RB - 5-foot-11, 190 - Tulsa, OK - 2 Stars
3/5/2018 - Ethan Piper - DE - 6-foot-4, 280 - Norfolk, Neb. - 3 Stars
11/24/2017 - Garrett Snodgrass - ATH - 6-foot-3, 220 - York, Neb. - 3 Stars
6/24/2017 - Garrett Nelson - OLB - 6-foot-3, 236 - Scottsbluff, Neb. - 3 Stars
9. Commits by position
1 - Quarterback
3 - Running back
0 - Wide receiver
0 - Tight end
2- Offensive linemen
0 - Defensive tackle
1 - Defensive end
1 - Outside linebacker
1 - Inside linebacker
0 - Safety
0 - Cornerback
1 - Athlete
0 - Special teams
10. Where are they from?
3 - Nebraska
1 - Colorado
1 - Georgia
1 - Illinois
1 - Louisiana
1 - New Jersey
1 - Oklahoma
1 - Tennessee