Martinez signs deal with the Eagles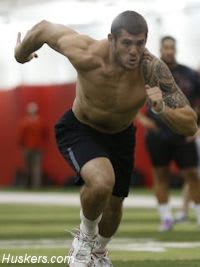 Almost all of Nebraska's undrafted players found out their future homes on Saturday.
One of the lone Husker players who didn't sign on Saturday night was quarterback
Taylor Martinez
. The 2012 first-team All-Big Ten quarterback only started four games in 2013 because of a foot injury and was limited in his draft preparations because of that injury.
On Sunday the California native found his NFL home after he signed a three-year standard undrafted free agent deal with the Philadelphia Eagles.
According to Martinez's father Casey, his son was in negotiations with three other NFL teams before settling with Chip Kelly and the Eagles.
Casey Martinez didn't want to "speculate" on what position his son will play in Philadelphia, but immediately the possibility to work in Kelly's offense drew rave reviews on social media from many national football pundits.
According to CSNPhilly.com's Reuben Frank, Martinez won't play quarterback for Philadelphia. Frank said Martinez will most likely start out at wide receiver or defensive back.
Casey Martinez said his son didn't sign with the Eagles until about 2 pm CST on Sunday, as they weighed out the different options he had the last two days.
Currently Philadelphia has four quarterbacks on their roster in returning starter Nick Foles, former N.Y. Jets starter Mark Sanchez, former USC standout and fourth round draft pick Matt Barkley and former Tulsa QB G.J. Kinnie.
While at Nebraska Martinez started 43 games passing for 7,258 yards and 56 touchdowns, while he rushed for 2,975 yards and 31 touchdowns on the ground.
Earlier this year at Nebraska's Pro Day, Martinez worked out as a quarterback, receiver and defensive back, and said he'd be open to play wherever at the next level.
"It really doesn't matter to me," Martinez said when asked about a future position. "I'm an athlete, so I can go out there and play whatever position, just like what I did today. I just went out there and played safety and receiver. I haven't played receiver since I was a true freshman and the last time I played safety was when I was in high school."