Martinez progressing, still questionable for Michigan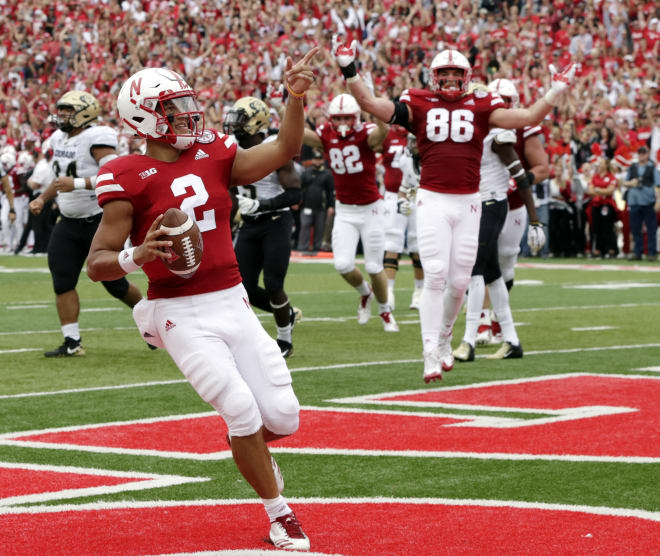 After missing last week's game vs. Troy with a right knee injury he suffered in Nebraska's loss to Colorado, quarterback Adrian Martinez remains questionable looking ahead to this week's Big Ten opener at Michigan.

The good news for the Huskers is that the true freshman appears to be improving by the day, as head coach Scott Frost said Martinez was able to practice on Monday morning.
However, Frost added that they were in no rush to decide on Martinez's availability, and there was a chance he could once again be a game-time decision on Saturday.
"We're going to make a decision on what's best for the team and what's best for him," Frost said. "It was close (to him playing) last week, but he wasn't ready, and we didn't want to put him in that situation.
"We need him for the rest of this year and for the rest of his career, so the key is going to be if there's any added danger for further injury."
Martinez's status was in doubt all of last week after not practicing leading up to game day. But he was able to go through full pre-game warmups before ultimately ruled out.
Sophomore walk-on Andrew Bunch ended up making his first start in Martinez's absence, completing 19-of-27 passes for 177 yards, two touchdowns, and two interceptions. He also fumbled three times, though none were lost.
In his first start vs. Colorado, Martinez accounted for more than 300 total yards and three touchdowns before leaving the game midway through the fourth quarter.
While Martinez could make a major difference in the Huskers' chances in Ann Arbor, where they come in currently listed as 18-point underdogs, Frost said he wasn't going to risk any long-term setbacks for short-term benefits.
"Until I hear from the trainers that he's progressed to a point where he's progressed from further injury, we'd be foolish to play him," Frost said.