Luke McCaffrey commit: What does it mean for Nebraska?
The quarterback is a key piece to every recruiting class and Nebraska just landed their guy for 2019 in Luke McCaffrey.
The 6-foot-2, 180-pound signal-caller out of Highlands Ranch (Colo.) Valor Christian announced his decision for the Huskers via Twitter on Monday afternoon. He picked the Big Red over offers from schools such as Colorado, Duke, Michigan, Ole Miss, North Carolina, Ohio State, UCLA, Virginia, and Washington among others. McCaffrey becomes the seventh known commit for Nebraska's 2019 recruiting class.
Here are some quick takes on what McCaffrey's commitment means for Nebraska.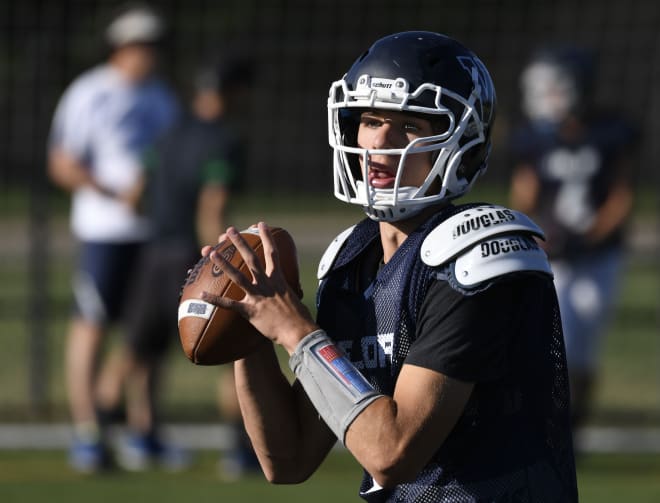 1. The quarterback is always a cornerstone piece to every recruiting class and Nebraska landed theirs with Luke McCaffrey. Head coach Scott Frost and quarterback coach Mario Verduzco offered McCaffrey back on March 26. He ended up taking an unofficial visit shortly thereafter on April 7 for NU's second Junior Day which really set the table for his eventual commitment to the Huskers.
2. Frost and his staff have been very active on the recruiting front in the state of Colorado since being hired. The Huskers have eight offers out already between the 2019 (4) and 2020 (4) classes and there will surely be more to come. McCaffrey is currently considered the No. 2 prospect in the state and is a well-known and respected player. His commitment should only help Nebraska's efforts in recruiting the state going forward.
3. McCaffrey is a playmaker. He is a true dual-threat quarterback that can make plays with his arm as well as with his legs as a runner. He's a terrific athlete that seems to play with a great feel for the game.
4. As a passer, McCaffrey shows the ability to make several different throws. He has the arm strength to stretch defenses, but also displays nice touch on his short to intermediate passes. He's a very accurate passer that has a presence in the pocket and shows good decision-making ability.
5. McCaffrey's feet are what really separate him from a lot of other quarterbacks out there and are surely part of the reason why Nebraska likes him so much. He does an outstanding job of extending the play with his feet when he needs to and is also very good at running the zone-read and option plays. He's a very productive ball carrier which gives defenses something they have to respect at all times.
6. The Huskers are getting a great overall athlete with McCaffrey. He has played several positions on offense, defense, as well as special teams during his career at Valor Christian. In addition to football, he has also played basketball, lacrosse and run track.
Perhaps the most interesting thing about McCaffrey is that he is far from a polished product as a quarterback. This upcoming season will be the first year he's been the full-time starter as his brother Dylan McCaffrey (Michigan) was the starter from 2014-16 and Blake Stenstrom (Colorado) was the primary starter last season.
7. McCaffrey's intangibles are another aspect that really separate him from many other prospects out there. He's a leader on and off of the football field, a good student, and a tough competitor that loves the game of football. His lineage is undeniable as his father, Ed, was a standout player in the NFL, his older brothers Max McCaffrey and Christian McCaffrey (Heisman finalist) are in the NFL and Dylan is a quarterback at Michigan. His mother was also a standout collegiate athlete. Competing and preparing at an extremely high level are simply in his DNA.
Stat check: McCaffrey completed 54 of 71 passes (76%) for 878 yards and six touchdowns. He had 80 carries for 548 yards and nine touchdowns and reeled in 19 receptions for 147 yards and a score.
As a sophomore he caught 47 passes for 717 yards and nine touchdowns, had 23 carries for 245 yards and two touchdowns. He also tallied 42 tackles, 1.5 tackles for loss, two interceptions, four pass breakups, and one fumble recovery.
8. 2019 Nebraska commit breakdown
6/4/2018 - Luke McCaffrey - QB - 6-foot-2, 180 - Highlands Ranch, CO - 3 Stars
6/1/2018 - Desmond Bland - OT - 6-foot-4, 300 - Yuma, AZ (Flossmoor, Ill.) - 4 Stars
5/5/2018 - Rahmir Johnson - RB - 5-foot-10, 170 - Oradell, NJ - 4 Stars
4/9/2018 - Thomas Grayson - RB - 5-foot-11, 190 - Tulsa, OK - 2 Stars
3/5/2018 - Ethan Piper - DE - 6-foot-4, 280 - Norfolk, Neb. - 3 Stars
11/24/2017 - Garrett Snodgrass - ATH - 6-foot-3, 220 - York, Neb. - 3 Stars
6/24/2017 - Garrett Nelson - OLB - 6-foot-3, 236 - Scottsbluff, Neb. - 3 Stars
9. Commits by position
1 - Quarterback
2 - Running back
0 - Wide receiver
0 - Tight end
1 - Offensive linemen
0 - Defensive tackle
1 - Defensive end
1 - Outside linebacker
0 - Inside linebacker
0 - Safety
0 - Cornerback
1 - Athlete
0 - Special teams
10. Where are they from?
3 - Nebraska
1 - Colorado
1 - Illinois
1 - New Jersey
1 - Oklahoma