Lewis on the right path and not looking back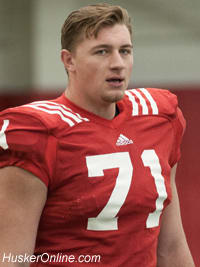 Click
Here
to view this video.
[rl]On year ago,
Alex Lewis
was sitting in a Colorado jail cell not knowing what would become of his future, let alone his career as a football player. On Thursday, the senior left tackle took Nebraska's practice fields as one of six co-captains, an honor awarded to him by his teammates.
Life has certainly taken a 180-degree turn for Lewis. Now that he's back on the right path, he has absolutely no intentions of turning back.
"Looking back two years ago, I was in a dark place," Lewis said. "To be called a co-captain with five other teammates of mine, that was a pretty cool feeling, something I hopefully someday can express to my children, my children's children. They'll get to come in the hallway and see my photo there with my father (former Husker center Bill Lewis).
"It's something that he and I can share together and get to look back on down the road and be proud of it."
On May 11, 2013, the former transfer from Colorado and a fellow CU teammate were involved in an altercation in Boulder, Colo., that left one man unconscious. Lewis was convicted of misdemeanor assault and sentenced to 45 days in jail, though it was delayed until last summer so he could complete his spring classes.
Lewis, who had already chosen to transfer to Nebraska before the incident, faced a long road back. In addition to the jail sentence, he had to complete 100 hours of community service and attend Alcoholics Anonymous meetings and anger management classes. Lewis also had to undergo substance-abuse evaluation and was subject to drug testing under his probation.
There was a point where Lewis admittedly had doubts over whether he would ever play a single down as a Husker. He definitely didn't foresee himself becoming the leader on and off the field that he is now.
"Absolutely not," Lewis said. "When you're going through something so tough like that, it's hard to look so far down the road. You just have to take it one day at a time. It's hard to walk the straight and narrow, especially when I was going down the wrong path. But now I'm ready to rock and roll. All that's behind me, and there's nothing in front of me to stop me from excelling."
Those lofty expectations also extend on to his goals for his final season as a Husker in 2015.
"Diamonds on my finger," Lewis said. "That's what I want. That's why I came to Nebraska. I came here to win and I came here to win big. That's what is on my mind, and that's what is on everyone's mind."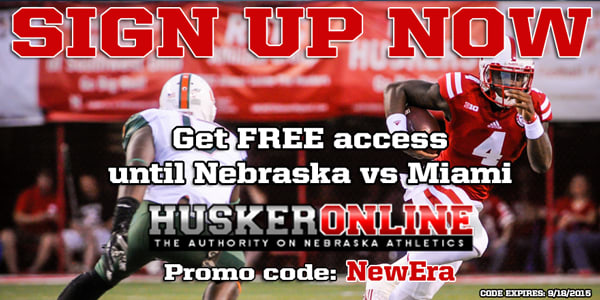 Click
Here
to view this Link.