Leaner, faster Ozigbo making his case this fall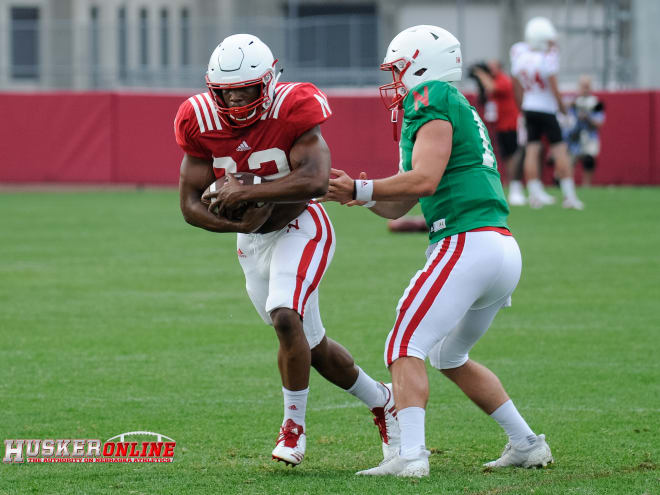 When head coach Scott Frost took over at Nebraska this offseason, there was obviously going to be a major shift in the style of offense and the personnel needed to run it effectively.

At running back, the one player who seemed the most out of place regarding what the Huskers wanted to do at the position going forward was senior Devine Ozigbo.
Listed at 6-foot, 230 pounds on last year's roster, Ozigbo entered winter workouts as by far the largest running back in the room. Realizing the situation, the Sachse, Texas, native was immediately determined to make some big changes.
Despite now being listed five pounds heavier at 235 on the 2018 fall roster, Ozigbo has gained plenty of praise for the work he put in during NU's offseason strength and conditioning program.
"I think Devine's looking quicker and faster than I've ever seen him," Frost said. "The big difference in our offense is when you get a crease, are you going to get five (yards), are you going to get 12, or are you going to go the whole way? I think getting in shape and getting leaner has been big for him. He's at least a step faster."
Ozigbo ended up leading Nebraska last season with 129 carries for 493 rushing yards along with three touchdowns. However, he only averaged 3.8 yards per attempt and his longest run of the season was just 28 yards.
The former three-star recruit knew that in order to remain a factor in Frost's high-powered offense, he would have to become a more explosive and dynamic runner.
"After experiencing that spring I definitely wanted to get myself in better shape," Ozgibo said. "This offense and this tempo, it's something you're going to need to do to get out on the field for as many plays as any back wants to be.
"I needed to get in a little bit of shape, lose some weight, get a little faster. Just getting my body right was the biggest thing for me this offseason."
Now leaner and faster than ever, Ozgibo finds himself competing in one of the most crowded position battles on the team at running back.
Along with fellow senior Mikale Wilbon, who ranked second last year with 379 yards and a team-high six rushing touchdowns, Nebraska also returns a healthy Tre Bryant, who started the first two games and racked up 299 yards and two scores before a season-ending injury.
The Huskers then brought in top junior college running back Greg Bell and heralded true freshman Maurice Washington to the mix along with sophomore Jaylin Bradley.
With so many quality backs vying for only so many touches this season, Ozigbo said the only thing he's focused on right now is the same motivator that drove him all offseason - to make himself better.
"I've been trying to get myself to be myself," Ozigbo said. "I feel like I'm my biggest competition. That's the attitude I go on with. I want to make the guys around me better, but as long as I can continue to get myself better, I feel like I'm doing my job."