Know your opponent: USC offense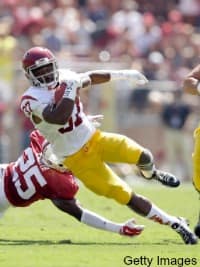 As the Holiday Bowl approaches, Nebraska prepares to try and slow down a USC offense that ranks among the nation's best in several categories. The Trojans are especially lethal through the air, though their ground game showed real life early in the season.
What are the keys to stopping USC? That's for
John Papuchis
and his staff to break down, but HuskerOnline takes a look at where the Trojans stack up nationally, who to keep an eye on and what their best and worst outings of the year reveal.
National/Pac-12 Rankings
Total offense: 452.8 yards per game (31st in nation; 6th in Pac-12)
Scoring offense: 35.1 points per game (27th; 4th)
Passing: 294.6 points per game (15th; 4th)
Rushing: 158.2 yards per game (70th; 7th)
Players to watch
Running back Javorius Allen
: A first-team All-Pac-12 selection, Allen sputtered a bit down the stretch. After rushing for at least 100 yards in eight of USC's first nine games, he didn't cracked the century mark in any of the Trojan's final three games. But he still averaged 5.3 yards per carry, and he's a major threat out of the backfield - Allen has 40 catches for 442 yards this year.
Wide receiver Nelson Agholor
: After just missing out on a 1,000-yard season last year, the junior didn't get off to a great start in 2014. He failed to reach 100 yards in each of USC's first six games, but he's exploded since then. Agholor had at least 100 yards in five of his last six games, including a pair of 200-yard outings, giving him 97 catches for 1,223 yards and 11 touchdowns on the year. ESPN's Mel Kiper Jr. has him ranked as the No. 9 receiver for the upcoming NFL Draft. Agholor also has two punt returns for scores.
Quarterback Cody Kessler
: Kessler has quietly ranked among the nation's top quarterbacks, throwing for 36 touchdowns and just four interceptions while completing 70.7 percent of his passes, the second-best mark in the nation. He's not much of a scrambler and has been sacked 30 times this year.
Center Max Tuerk
: A three-year starter and first-team conference pick, Tuerk has also played guard and tackle in his career. His versatility could come in hand in case of injury. If he stays at center, his imposing 6-foot-6 frame is something rarely seen at that position.
Numbers to know
+11: USC's turnover margin this year. The Trojans have lost just seven fumbles and thrown four interceptions. Nebraska is minus-2 in turnover margin this season.
121: Points by which USC has outscored its opponents in the first quarter. The Trojans have scored 157 and given up just 36 in the opening stanza.
10
: USC field goal attempts this year. The Trojans have made eight of them, but
Steve Sarkisian
is on the gutsy side - he's gone for it on fourth down 23 times this season.
27.7: Yards per kick return by true freshman Adoree Jackson. Jackson returned one kick for a score.
Best performances
Nov. 29: USC 49, Notre Dame 14: Once a top five team, the Fighting Irish crumbled down the stretch, lessening the impact of this blowout win. But it was nonetheless impressive - USC jumped out to a 35-0 lead in the second quarter and Kessler finished with 372 yards and six touchdowns. Ball control was the name of the game - the Trojans held the ball for nearly 38 minutes and converted 13 of their 18 third-down chances.
Oct. 18: USC 56, Colorado 28: Kessler had one of the finest days in school history, tossing a USC-record seven touchdowns, including three to Agholor. Allen rushed for 128 yards on just 15 carries as the Trojans piled up 532 yards in an early rout.
Worst performances
Nov. 22: UCLA 38, USC 20
: Kessler's two-yard scoring toss to
Justin Davis
tied the game at 14-14 in the second quarter, but USC's offense evaporated after that. UCLA scored the game's next 21 points to pull away. Agholor had a season-low 24 yards receiving and the Trojans mustered just 62 yards on the ground.
Oct. 25: Utah 24, USC 21: The Trojans managed just seven points after intermission to give up a halftime lead and suffer their third loss. USC led 21-17 with 2:08 remaining, but Agholor stepped out of bounds a yard short on fourth down to turn the ball over to the Utes. That turnover, USC's second of the game, led to Utah's game-winning drive.