Katerian LeGrone commit: What does it mean for Nebraska?
The Nebraska football team secured its first commit of the early signing period Wednesday morning as Katerian LeGrone signed with the Huskers.
The 6-foot-3, 220-pound wide receiver out of Atlanta (Ga.) B.E.S.T. Academy becomes NU's 13th known commitment in its 2018 recruiting class.
Here are some quick takes on what LeGrone's commit means for Nebraska.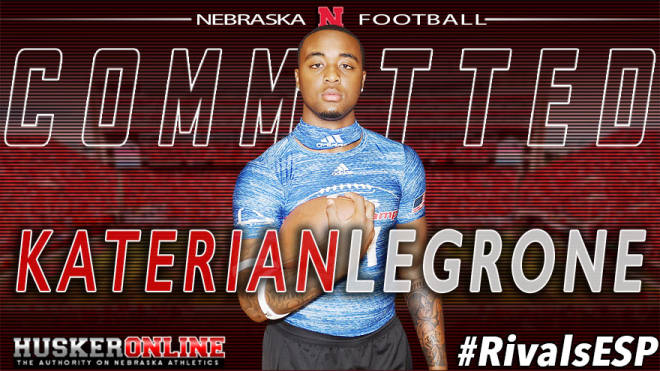 1. Head coach Scott Frost and his staff have carried their recruiting momentum right on into the early signing period with the addition of LeGrone. Frost has now added six new commits to Nebraska's class since being hired less than three weeks ago. The Huskers hosted 14 official visitors in Frost's first two recruiting weekends and have now closed on six of them with many more set to announce today. The job this coaching and recruiting staff has done during this transition has been extremely impressive.
2. At 6-foot-3, 220-pounds, LeGrone immediately adds a big, physical presence to NU's wide receiving corps. He's got good speed for a big athlete and is a very strong and fluid runner. His build and playing style remind me some of former Husker wideout Quincy Enunwa.
3. LeGrone shows off his soft, but very strong hands over and over on film. He does a great job of high-pointing and attacking the football while it's in the air.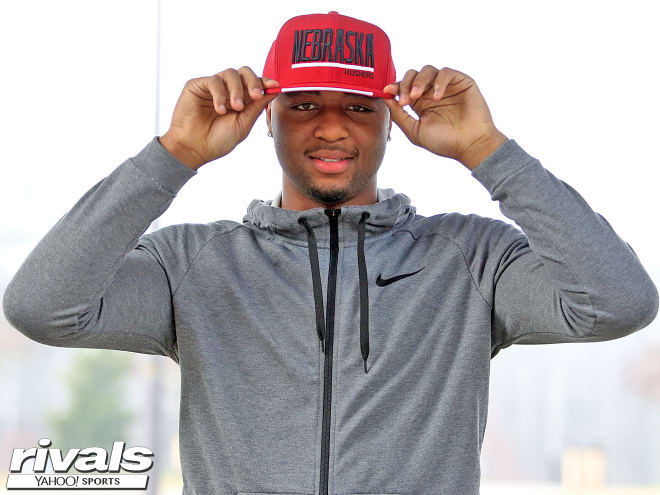 4. It's one thing to have a big athletic frame as a receiver, but it's another to be aware of how to use it to your fullest potential on the football field. LeGrone repeatedly shows the ability to shield defenders away from the ball using his body to make a clean catch. He has excellent body control and adjusts well to the ball while it's in the air. These are all assets that should allow him to be a nice weapon in the red zone for NU.
5. LeGrone shows he's much more than a possession receiver on film as he consistently gains yards after the catch. Not only was a he a deep threat for his team, but he also was effective in the screen game. I like the versatility that he shows running a variety of different routes while working out of the slot, split out wide, and even as a ball carrier as a wildcat quarterback in certain packages. He's a load to tackle as he rarely was brought down by just one defender.
6. The Huskers are getting a well-rounded, physical football player in LeGrone. He's not afraid to get dirty as a blocker. In fact, it looks as if he enjoys finishing his blocks on the perimeter often times taking the defender to the ground. He also played some linebacker and safety on defense and had more than his fair share of big time hits.
7. Once again, you're seeing Nebraska add a commit to a transition recruiting class that the coaching staff knows extremely well. LeGrone was once committed to Frost and his staff at UCF so NU knows exactly what type of player and character they are getting in him which isn't always the case when a new staff is trying to fill out a recruiting class in a limited amount of time.
I also believe the fact that Frost and his staff only offered and recruited two former UCF commits (LeGrone and now NU commit Justin McGriff) to Lincoln is a big sign that they felt these were players that they had to have in their system. Not only does LeGrone now help fill one of the biggest needs in Nebraska's recruiting class, but he also may help the Huskers dip back into Georgia in the future.
Senior season stats: Offense: 52 receptions for 824 yards, five touchdowns and seven 2-point conversions; 13 carries for 59 yards, one touchdown and one 2-point conversion; 2 of 6 passing for 42 yards and a touchdown; Defense: 45 tackles, one TFL, one sack, 11 PBU, one INT and one fumble recovery.
8. 2018 Nebraska commit breakdown
12/20/2017 - Katerian LeGrone - WR - 6-foot-3, 220, - Atlanta, GA - 3 Stars
12/17/2017 - Deontai Williams - DB - 6-foot, 180, - Jones County C.C. (FL) - 3 Stars
12/12/2017 - Adrian Martinez- QB - 6-foot-3, 198 - Fresno, CA - 4 Stars
12/11/2017 - Justin McGriff- WR - 6-foot-6, 210 - Tampa, FL - 3 Stars
12/10/2017 - Jaron Woodyard- ATH - 5-foot-11, 175 - Yuma, AZ - 3 Stars
12/10/2017 - C.J. Smith- DB - 6-foot-3, 190 - West Palm Beach, FL - 4 Stars
10/6/2017 - David Alston- OLB - 6-foot-5, 215 - Woodbury, MN - 3 Stars
8/7/2017 - Cameron Brown- WR - 6-fot-1, 175 - St. Louis, MO - 3 Stars
5/2/2017 - Barret Pickering- K - 6-foot, 185 - Hoover, AL - 3 Stars
4/16/2017 - Tate Wildeman- DE - 6-foot-6, 245 - Parker, CO - 4 Stars
4/8/2017 - Will Farniok- OL - 6-3, 260 - Sioux Falls, SD - 3 Stars
6/17/16 - Masry Mapieu- DT - 6-5, 290 - York, NE - 3 Stars
8/7/15 - Cameron Jurgens- TE - 6-3, 235 - Beatrice, NE - 4 Stars
9. Commits by position
1 - Quarterback
0 - Running back/fullback
3 - Wide receiver
1 - Tight end
1 - Offensive linemen
1 - Defensive tackle
1 - Defensive end
1 - Outside linebacker
2 - Safety
0 - Cornerback
1 - Athlete
1 - Special teams
10. Where are they from?
3 - Florida
2 - Nebraska
1 - Alabama
1 - California
1 - Colorado
1 - Georgia
1 - Maryland
1 - Minnesota
1 - Missouri
1 - South Dakota