JUCO star Mack locks in official visit to Nebraska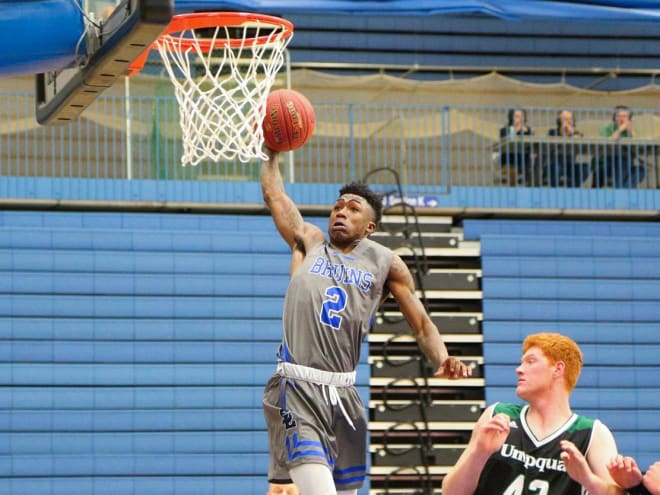 When assistant coach Matt Abdelmassih joined Fred Hoiberg's staff at Nebraska, many immediately assumed that 2019 junior college star Cameron Mack would inevitably follow him to NU.
It took a couple of weeks longer than some thought, but the 6-foot-2 point guard from Salt Lake (Utah) C.C. finally locked in that trip to Lincoln for April 26-28 for his first official visit since de-committing from St. John's earlier this month.
Mack is rated as the No. 2 JUCO player in the country and averaged 19.1 points on 45 percent shooting from the field and 33.5 percent from downtown last season. He also averaged 7.4 assists and 5.9 rebounds per game.
A redshirt freshman last season, Mack will have three years of eligibility remaining.
While his connection to Abdelmassih has been well documented, Mack said he'd also been building a strong relationship with Hoiberg since his recruitment to Nebraska began.
"Me and him have a good relationship," Mack said. "He's really been reaching out to me and we've been developing a relationship that I want with a head coach. That mainly locked the visit in. I like Coach Hoiberg a lot."
Nebraska recently reaffirmed the commitment of fellow 2019 JUCO standout Jervay Green, who is rated just behind Mack as the No. 3 junior college player in the nation.
It turns out that Mack and Green have become fairly close after going up against each other this season and remaining in regular contact over the past few months. Mack said Green hadn't been actively recruiting him as of yet, but that connection will certainly work in the Huskers' favor.
"Me and Jervay are honestly close. He's my guy," Mack said. "We played against each other this year, and after the game, we kind of just connected and became close. He's got great energy, good vibes. That's what you need in your life."
As well as things have been going between Mack and Nebraska, there is still some heavy competition to land his services. Mack said he has also locked in an official visit to Texas A&M on May 3-4, and he is working on setting up a trip to Arizona shortly after.
Mack said he plans on making his decision on his future school by May 11, the weekend before his birthday.
Wherever he ends up, Mack said he wants to be the one running the show at the point guard position. Based on his conversations with the Huskers, that's been exactly their sales pitch.
"Mainly just putting the ball in my hands and from Day 1 and letting me run the offense and create for others," Mack said. "That's how I want to play. I want to be the PG wherever I go."