JUCO receiver Williams enrolled and ready to begin new journey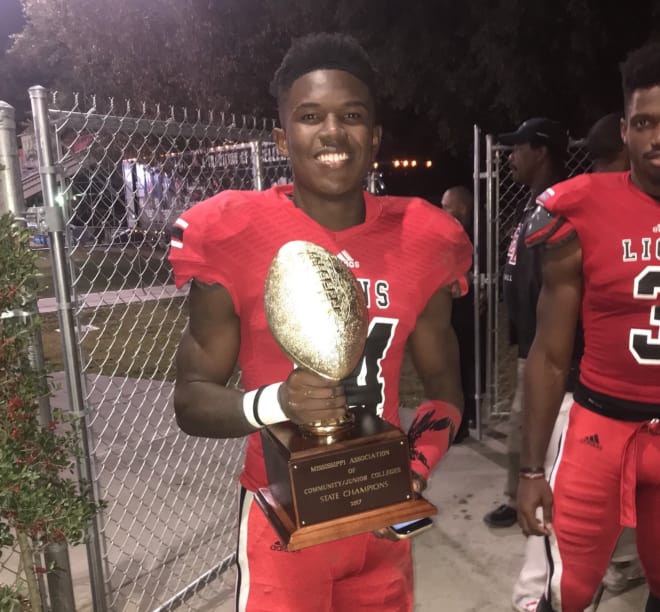 It's been quite a couple of weeks for East Mississippi C.C. wide receiver Mike Williams.
The 5-foot-10, 175 Williams led the Lions with 669 yards receiving this past season, playing a key part in helping the famed "Last Chance U" take home another NJCAA national championship.
Williams was a qualifier out of high school and signed with Georgia Southern in 2016, before transferring to East Mississippi for his sophomore season in 2017. He took a risk leaving Georgia Southern, and another gamble not signing on Dec. 20, but as he started classes at Nebraska on Jan. 11, everything fell into place for the Lake City, Fla. native.
"People questioned me when I left Georgia Southern, but I never questioned myself," Williams said. "I believed in myself, and that's why I decided to go to the JUCO.
"About a week or two ago Coach (Ryan) Held from Nebraska hit me up and said I was a good player and would be a good fit in this offense. It just went from there."
Williams committed to NU this past week sight unseen. He became the fifth junior college prospect the Huskers have signed in their 2018 recruiting class joining wide receiver Jaron Woodyard, running back Greg Bell, linebacker Will Honas and defensive back Deontai Williams. All but Woodyard are expected to be on campus for the spring semester.

"It's beautiful up here," Williams said. "I'm loving it already."
As for playing at "Last Chance U," Williams said it was everything he could've imagined. East Mississippi gave him the exposure he needed, despite the fact he didn't join the Lions program until the summer - which meant nobody was able to see him over the spring recruiting period.
"It was definitely an experience to remember," Williams said. "There wasn't much to do but focus on football, which is what I was there for. We had great teachers and great coaches and got the job done."
Nebraska, along with UCLA, Texas Tech, and Tennessee all approached Williams late in the process once they became aware of his story and saw his film.
Growing up in the middle of Florida, Williams said he was very familiar with UCF and what they've done on offense the last couple of seasons under Frost. He knew that was something he wanted to be a part of.
"It was very welcoming," Williams said of Nebraska. "It's like a family atmosphere here. I feel like I fit in pretty good."
There's no question Williams will add speed to this Husker roster, as he's been clocked at 4.37 seconds in the 40-yard dash. He considered himself one of the fastest players on East Mississippi's team, along with former track star and fellow wide receiver Kirk Merritt who came to Last Chance U after stops at Oregon and Texas A&M.

Williams is living with a group of JUCO recruits that NU signed this semester. One of his roommates is Bell, who he played against in the NJCAA national championship game along with Woodyard.
"Greg (Bell) ran the ball hard and was hard to bring down," Williams said. "Jaron (Woodyard), he was electric from the outside. He could catch a 5-yard out and take it to the house. He's got laser speed."
Williams said he'll spend the three-day weekend getting acclimated to his new home, then get ready to begin winter conditioning under new strength coach Zach Duval starting Tuesday.
"It's a fresh start for everybody," Williams said. "Nobody has an advantage on anybody because you've got all new coaches with a new offensive system, so everybody is learning it at the same time."