Javin Wright's commit keeps Huskers' recruiting momentum rolling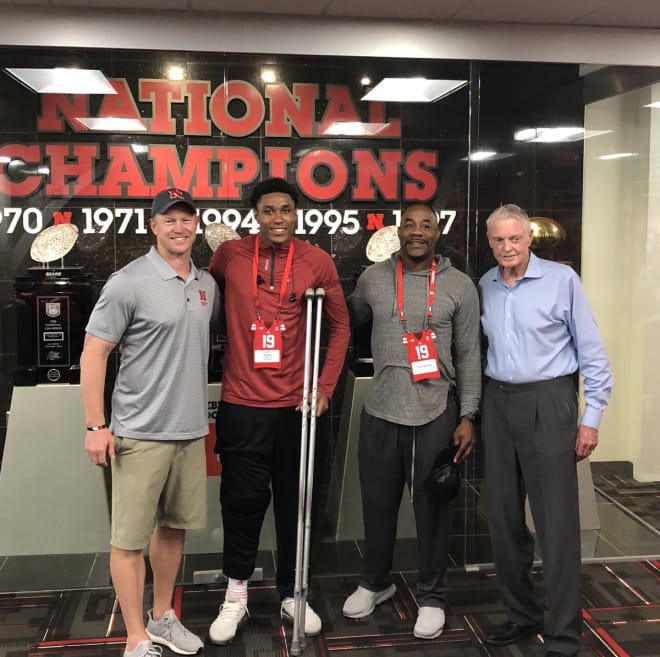 The Nebraska football program kept its recruiting momentum going by adding their third new verbal commit over the past week in the person of defender Javin Wright. He announced on twitter Wednesday his commitment to and intention to sign with Nebraska.
The 6-foot-3, 185-pound Chandler (Ariz.) Hamilton High product is the son of former Husker safety Toby Wright, and he is excited to follow in his father's footsteps at NU.
"I actually had to go to UCLA to see if it matched the vibe at Nebraska," Wright discussed about his decision-making process. "It was up there, but it didn't really match it. So, I knew Nebraska was it for me.
"I got a positive vibe [at Nebraska]. UCLA was also positive, but at Nebraska the fans were supportive, the coaches were supportive, and I just felt like everything was about to go up. Even with their 0-6 start."
Wright added that he had the utmost confidence in Coach Scott Frost and the new Husker staff, which led him to choose Nebraska over his other offers from both in-state DI schools, as well as Oregon, Washington, Louisville and several others.
"I broke the news to Coach (Travis) Fisher, Coach (Erik) Chinander, and Coach Frost all down the line," Wright shared. "I talked to them on the phone and texted them, and they said that they want me on campus right away."
Wright's father is 100% behind and fully supports Javin's decision to follow in his footsteps in becoming a future Blackshirt.
"Oh, he loves it!" Wright explained. "He's a former Cornhusker, so he's okay with it. [The NU coaches] plan on keeping me at corner for now, but if I gain weight I can play safety; and if I gain even more weight, I can move to outside linebacker."
This is a big burden off his shoulders, according to Wright, and he can't wait until he gets to Lincoln to start his Husker career.
"This is a milestone in my life," Wright said. "It's a big milestone, but I'm not planning on stopping anytime soon. Nebraska is going to be a new home for me, so I'm going to go there and grind, and see if I can make the team better."
Wright said that he is "about 80%" in his recovery from the surgery he had to repair his season-ending knee injury. He is already doing some running as part of his therapy.
Nebraska now sits at 20 total verbal commitments for their Class of 2019, and they will likely take a full load of 30 signees this cycle.