Final take: Huskers fight until the very end
IOWA CITY, Iowa - As Scott Frost said back in July at Big Ten Media Days, "people better get Nebraska now, because we are going to keep getting better and better."
Well 12 games are officially in the books for the Husker football team, and it's safe to say every one of those words Frost said in August came to life this season.
This was a season that delivered heartbreak to Big Red faithful, but at the same time it also delivered a whole lot of optimism. That was once again on display Friday in Iowa City.
Iowa seemingly had control of Friday's Heroes Trophy game, but they left a small crack in the door and Frost and his up and coming offense stormed through it. Trailing 28-13, the Huskers tied Friday's game 28-28 and it took a gutsy fourth-and-8 call from the 38 yard-line and a 41-yard field goal to take down Nebraska 31-28.
Iowa had their backs against the wall, and Kirk Ferentz knew his defense was reeling, so he put the games in the hands of two of his best players – quarterback Nate Stanley and tight end T.J. Hockenson. They pre-snap read Nebraska safety Antonio Reed was playing deep and they made the perfect throw. It was a tough way to see the Huskers lose, but Ferentz probably didn't like his team's chances in overtime.
"I've got some fighters in there," Frost said following Friday's loss. "We've been missing some of that. That team is getting to a point that they expect to win and hate to lose. They are going to fight to the end no matter what. The result wasn't what we wanted, but I'm awfully proud of those guys."
As NU's players talked about Friday's loss you could sense their disappointment.
"It hurt. It hurt bad," junior linebacker Mohamed Barry said. "I believe we should've won that game. There were plays that weren't made that should've been made. I put that on myself. I am expected to make those big-time plays. I could've iced the game. So I put that on myself."
"We were supposed to win that game. You have to make those big-time plays in the critical times and the critical moments. Some plays weren't made, and they should've been made. Those kinds of plays have to be made next year."
The Huskers finish the season 4-8, the same record they had a year ago under Mike Riley.
However, the difference is the feel. Take away the Michigan game, Nebraska competed with every other team on their schedule in 2018. They had Big Ten West champion Northwestern all but beat. They battled to the very end with Wisconsin and had a chance to go up 28-16 on Ohio State in the third quarter.
There is a lot to like about this season for the Huskers, and the hype going to next year is going to be legitimate. With the way Nebraska's schedule flips in 2019, there's no reason why NU can't contend to win the West.
"I heard about how Nebraska quit in some of these games last year," Frost said. "There was no quit in our guys. I'm happy for them from that standpoint. What disturbs me is Iowa is a bigger, stronger football team. That's right now. I never thought I'd see or hear that or say that about a Nebraska football team. That we can fix. We can get bigger, we can get stronger. Give their guys credit. They've had three, four years in Iowa's strength and conditioning program. We've had one year of Zach (Duval).
"They leaned on us quite a bit, especially in the first half. I thought the defense did a good job of responding. I'm looking forward to the day we get that fixed and don't get pushed by anybody."
Now on to the breakdown…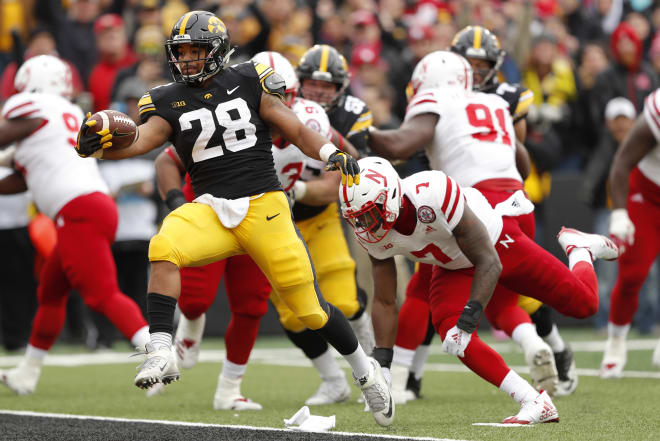 What I saw on Friday
***Iowa won the toss on Friday and they took the football. I thought that was a big deal early on, as it allowed the Hawkeyes to set the tone with their offense, and keep the Huskers offense off the field. It was a very similar approach to what Wisconsin did.
***I don't get the thinking at all by Iowa to call a fake field goal in a situation where you are up 28-13 in the late third quarter. I don't know very many people at all that would choose to do that vs. going up 31-13. An 18 point lead at that point pretty much would've ended the game. That decision nearly cost Iowa.
***Don't let anyone fool you. There is some bad blood between these two football programs. Things got pretty heated in pregame warm-ups between both teams, and that carried over on the field at times.
***This was easily the most offensive fireworks we've seen in a Nebraska vs. Iowa game. The first punt on Friday didn't come until 5 minutes into the second quarter.
***Iowa's defensive line had a stretch on Friday where they really dominated. The blind side sack Brenden Jaimes gave up that resulted in a 9-yard loss could've been disastrous. Then on the ensuing play, NU gave up another sack. Other than that stretch, I felt like Martinez's mobility gave Iowa a ton of problems.
***Omaha native Noah Fant had a very quiet afternoon on Friday. On five targets, Fant had just one catch for 12 yards.
Meanwhile, his cohort TJ Hokenson had five catches for 54 yards on five targets, two of which came on third-and-long.
***The fake punt call by Frost was just as gutsy as Iowa's fake field goal, but the difference was NU was not in a position to put the game away. They needed to create some momentum, and it worked. Before that fake punt, the Huskers had three straight three-and-outs to start the third quarter.
***Nebraska will begin their off-season lifting program on Dec. 3. NU will get one week off, before doing one week of winter conditioning work. It's not ideal to miss a bowl for the second year in a row, but Frost is doing all he can to get his players the work they need before taking off for winter break.
The final grade out
Rushing offense: B-
Nebraska was not very balanced with their running game early but wore Iowa's defense down some in the second half. Adrian Martinez led the Huskers with 76 yards, while Devine Ozigbo had 50 yards on 10 carries. I would've liked to see Ozigbo get more carries, but the way Iowa limited the possessions the Huskers had to go into more of hurry-up mode.
Passing offense: B+
Martinez was once again lights out, even without JD Spielman for the second game in a row. Martinez finished 26-of-38 for 260 yards and one touchdown. I loved the way the Huskers used Maurice Washington in space against Iowa's slower linebackers. Washington had seven catches for 102 yards on nine targets. Stanley Morgan also added 81 yards on seven catches, but his long catch of the day was only 22 yards.
Rushing defense: F
The Hawkeyes controlled the line of scrimmage for nearly all of Saturday's game. Even on their final drive, Iowa called four straight run plays, getting 25 yards on their first three carries. As Frost said in the post-game, the Huskers need to get bigger and stronger over the off-season. Iowa finished with 266 yards rushing on 45 carries, and had by far their best rushing output of the season, over 100 yards more than their season average.
Passing defense: C-
When you look at Nate Stanley's final stat line, nothing about it blows you away. He was 16-of-27 for 152 yards and two touchdowns, but he made all of his throws count. Stanley made the throws that mattered, including the gutsy fourth-and-eight call from the 38-yard line with 48 seconds left in regulation. That was the equivalency of a game-winning throw. If he doesn't make that throw, Nebraska's chances to win the game go up immensely.
Special teams: C-
Nebraska's special teams made two plays of note. They stopped Iowa on a fake field goal, and they executed a fake punt on the ensuing position. Other than that, the Huskers failed to create any type of field position with their special teams, as their long kick return of the day was just 17 yards, and NU got nothing in the punt return game. Iowa also got a decent kick return on their final possession that put the ball on the 36, which gave them a chance to set up the game-winning field goal. They also nearly broke a kick return for a touchdown, but Cam Taylor made a tackle on the edge to stop it.
Sean Callahan can be reached at sean@huskeronline.com and he can be heard each day at 6:45 am and 5:05 pm on Big Red Radio 1110 KFAB in Omaha during the football season. He can also be seen on KETV Channel 7 in Omaha during the fall and each week he appears on NET's Big Red Wrap-Tuesday's at 7 pm.