Instant takes: Nebraska 52, Fordham 7
Here are some instant takes and reactions following Nebraska's 52-7 victory over Fordham, their first win of the season.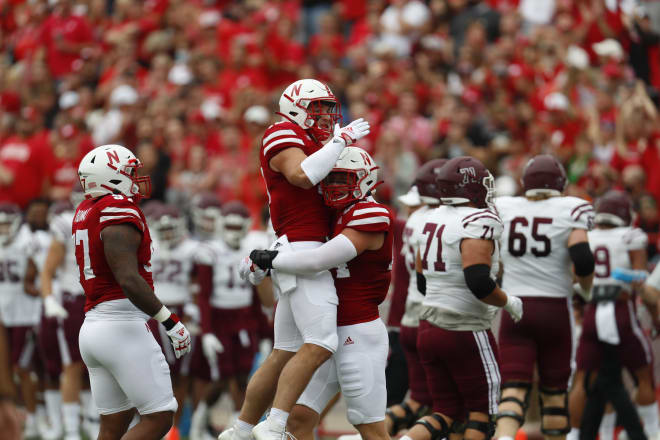 A little offensive momentum 
Nebraska has created some momentum before Buffalo travels to Lincoln next Saturday. The Bulls defeated Wagner, an FCS college in Staten Island, N.Y., 69-7 in its first game of the season. In 2020, Buffalo finished 6-1 in the Mid-American Conference (MAC).
Buffalo is a solid team and will take advantage of Nebraska's mistakes if they are not careful to eliminate them. And don't get me started on the team waiting for the Huskers in Norman the following week.
Having 633 yards and 52 points against Fordham is a great way for Nebraska to gain confidence in its offense after a rough game against Illinois where the Huskers struggled to get any rhythm.
However, there were still mistakes that can't happen if NU wants to be successful in the Big Ten.
On the first drive, quarterback Adrian Martinez and running back Gabe Ervin Jr. fumbled a handoff exchange losing 10 yards on the play. Martinez made up the extra yardage with a 19-yard run but that could have been a positive 19 yards instead of nine past the line of scrimmage.
While NU made progress on offense, there is still a lot of improvement to be made. But seeing how the offense can run outside of practice will give Nebraska's athletes confidence that what they're doing can work when executed correctly.
Wide receiver Samori Toure is Nebraska's go-to receiver
On Nebraska's last drive of the half, a nine-play, 83-yard drive in just under two minutes, Toure had a 30-yard reception on the right side to start the drive and a 23-yard reception on the left a few plays later for the first down and more.
Toure had a six-yard run after a flip from Martinez on that drive also. The Montana transfer had 59 of Nebraska's 83 yards of the drive.
The last drive before halftime also detailed how many ways the Huskers are using Toure. He had two 20 plus yard receptions one on each side of the field and a six-yard run. In the first half, he rushed 21 yards toward the beginning of the second quarter.
On fourth down and five yards, Nebraska trusted Martinez to connect with Toure in the middle of the field for a 25-yard gain. He earned his first touchdown as a Husker three plays later.
Toure could very well be the Huskers' go-to receiver this season in a wide variety of situations.
Winning the turnover battle
Nebraska did it, they won the turnover battle.
Six-year senior JoJo Domann caught his first career interception while mid-air in the first quarter.
Another six-year senior Deontai Williams caught two interceptions, one in the second quarter and the other in the third.
Nebraska scored on all three drives following an interception. The offense was able to capitalize on the defense's efforts.
The Martinez and Ervin's failed exchange in the first quarter was counted as a fumble towards Martinez and a touched punt return fumble by Cam Taylor-Britt gave Nebraska two fumbles.
They still won the turnover battle by one and a win is a win. Neither of those two fumbles resulted in Fordham scoring, a step in the right direction.
Now, the Huskers just need to win the turnover battle against a Power 5 opponent, a slightly bigger challenge.
Special teams improvement
Nebraska's kicking game was much improved against Fordham compared to the Illinois game the previous week.
Kick-off specialist Brendan Franke kicked all five of his kick-offs through the endzone for a touchback. Kelen Meyer also went four of four on touchbacks.
Kicker Connor Culp, the 2020 Big Ten Kicker of the Year, made a 39-yard field goal in the second quarter and completed all of his extra-point attempts.
Six-year senior Marquel Dismuke blocked a Fordham 39-yard field goal attempt. Nebraska's offense scored on the next drive.
However, the Huskers are still struggling with finding a reliable punt returner. Cam Taylor-Britt, who recovered a punt in the endzone against Illinois for a safety, touched a punt that Fordham recovered at its own 35-yard line.
Brody Belt went back to return a punt and muffed it out of bounds.
Nebraska has got to figure out a way to not let its own special teams beat themselves.