Instant takes: Nebraska 28, Buffalo 3
Here are some instant takes from Nebraska's slow-start 28-3 victory over Buffalo to advance to 2-1 on the season.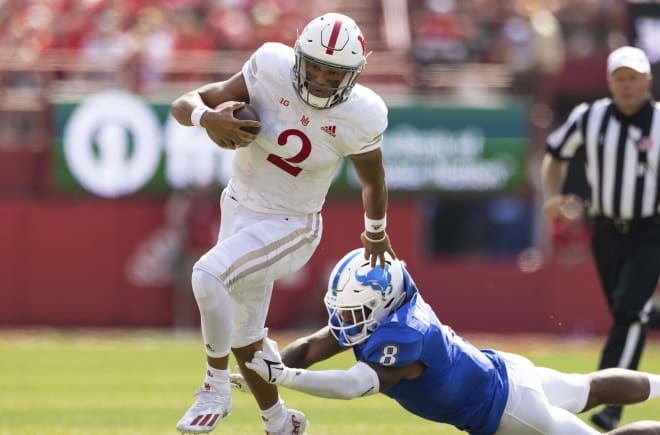 Nebraska's rushing offense 
Similar to last season, Nebraska's quarterback is still its most productive runner. Adrian Martinez had 110 yards on six attempts in the first half.
In the second quarter, Martinez had a 71-yard scramble to the second-yard line that running back Gabe Ervin Jr. converted into Nebraska's first touchdown on the next play. Martinez also had seven, eight, nine and 13-yard scrambles in the first half.
Martinez finished with 112 rushing yards on nine attempts. He became the fifth player in Big Ten history to have 6,000 career passing yards and 2,000 rushing yards. Former Husker Taylor Martinez is also a part of that club.
As for the running backs, the trio of Ervin, Markese Stepp and Sevion Morrison had 33 yards on 16 attempts in the first half. The longest rush from this group was by Stepp for seven yards.
It's hard for Nebraska to commit to the run game when they can't get much production out of their backs.
The running backs finished with 106 yards on 31 attempts. Ervin had a position-high 21 yard run in the third quarter and 56 yards on 10 attempts for the game. Morrison had eight carries for 24 yards and Stepp added nine carries for 17 yards.
Rahmir Johnson entered the game with two minutes remaining and had four attempts for nine yards.
30 points left on the field
Nebraska had three touchdowns called back because of penalties. Kicker Connor Culp missed three field goals, one in the first quarter, one right after halftime and another with 10 seconds left in the game.
That's 30 points left on the field.
It's possible that these penalties allowed room for the touchdowns to be created. But Nebraska could have led by 31-0 at halftime.
During the Huskers' first drive in the second quarter, they went for it on fourth-and-three and Martinez connected with Samori Toure, who ran into the endzone. NU wide receiver Wyatt Liewer was penalized for offensive pass interference.
Later in the second quarter, wide receiver Zavier Betts bobbled a catch around a defender, secured the ball and ran the five yards into the endzone. That touchdown was called back because offensive tackle Bryce Benhart was charged with a holding penalty.
With less than 30 seconds left in the game, backup quarterback Logan Smothers pitched a pass to wide receiver Will Nixon who ran it in for a touchdown. The points were called back because Smothers threw the ball past the line of scrimmage.
Because of the penalty, Culp lineup up to miss his third field goal of the game.
In a closer game, Nebraska can not afford to take their own points off the board. In a game with Buffalo, a MAC team but a good one at that, NU's error margin isn't as low as when they take on opponents like Oklahoma next Saturday or the Big Ten teams afterward.
Nebraska's defense and Luke Reimer earned MVP awards
Nebraska's defense had their first first-half shut out since the 2019 Maryland game. They held Buffalo to one field goal. In fact, this was the lowest number of points the Blackshirts have allowed since 2011.
In its week one matchup, the Bulls scored 69 points against Wagner and averaged 43 points per game in 2020.
Buffalo rushed for 135 yards and had 224 passing yards. Last season, they averaged 287 rushing yards and 191 passing yards per game.
The defensive MVP was linebacker Luke Reimer.
Reimer came up big when NU's defense needed it the most. During the first play of the fourth quarter, when the Huskers were up 14-3, Buffalo had just earned a first down due to a missed Cam Taylor-Britt tackle.
Reimer tipped a pass into the air, caught it for an interception, and returned it 22 yards to the one-yard line. Ervin punched in his second touchdown of the game behind a block from defensive tackle Deontre Thomas on the next play.
Reimer had a game-high 16 tackles. Buffalo's offense went for it on fourth-and-three in the second quarter on the Bull's own 44-yard line. Reimer flew over to the visiting sideline and tackled the ball carrier for no game on the play.