Instant takes from Nebraska Red-White Spring game
Nebraska hosted its annual Red-White spring game in Memorial Stadium as the defense defeated the offense 43-39.
Here are four instant takes from the Huskers' spring game: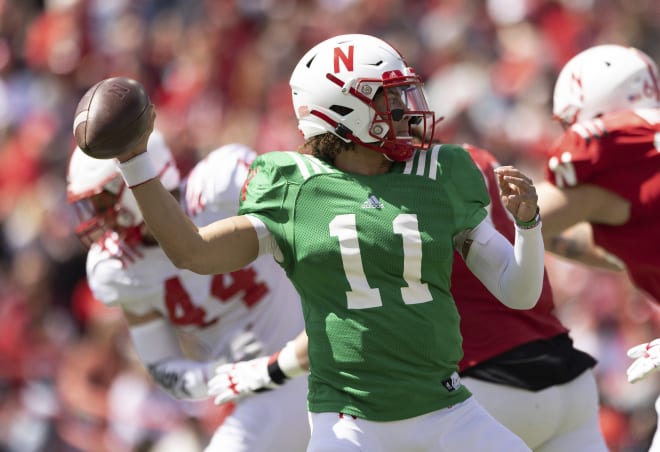 Quarterback battle
To no surprise, Texas quarterback transfer Casey Thompson led Nebraska's first drive with the first team. Thompson went 3-for-4 for 31 passing yards and had three rushing attempts for a total loss of 11 yards.
All three of Thompson's completions were 10 or 11 yard passes, showing off his accuracy in medium-range passes.
Logan Smothers led the first drive with the second team and then he and Chubba Purdy switched off. Smothers went 5-for-14 for 46 yards and had negative six rushing yards.
Purdy showed a little bit of his speed as he had a six-yard rush. The Florida State transfer went 5-for-10 for 63 passing yards.
It seems Smothers and Purdy will be battling for the backup position.
The Huskers' offensive line allowed a lot of pressure on their quarterbacks, making it difficult to know just what the quarterbacks could do. But each quarterback showed glimpses of their talents.
Thompson showed some leadership after quarterback Jarrett Synek juked his way into the endzone for a touchdown to start the fourth quarter. Thompson was the first guy to greet him as he ran to the sideline.
Special teams still has lots of room for improvement
With the special teams additions in the off-season including a new coordinator Bill Busch and FCS Punter of the Year Brian Buschini but they still have a ways to go.
Buschini had eight punts for 322 yards and averaged 40.2 yards. He started off the game with a 63-yard bomb that earned a loud ovation from the crowd. His numbers decreased followed it up with a 49-yarder and then a 29-yarder and a 14-yarder.
Buschini can clearly has the leg to get it down he just needs to focus on consistency.
Placekicker Chase Contrarez had a 26-yarder but missed one from 42 yards.
Contrarez likely won't be NU's starting kicker come fall with scholarship kicker Tommy Bleekrode arriving this summer.
Special teams still has room for improvement.
Garrett Nelson setting the tone
Outside linebacker Garrett Nelson set the tone for the defense as he put their first points on the board by sacking quarterback Casey Thompson on the first drive for a loss of seven yards. The defense took off from there, leading the offense 27-10 at halftime.
Nelson also sacked quarterback Logan Smothers for a three-yard loss in the second quarter.

In between plays, Nelson displayed his leadership abilities as he met punter Brian Buschini in the middle of the field after a 29-yard punt to talk to him and pat him on the helm.
After Grant recovered his own fumble, Nelson got up from trying to recover the same ball and put his hand on Grant's helmet to talk with him for a few seconds.
Running backs are limited with no tackling
JUCO transfer Anthony Grant has the shining moment for the running back group on Saturday as he had a 60-yard touchdown run for the offense's first score of the game. He showed his speed and vision as he took the handoff and cut left as the line shifted and took off.
Jaques Yant had the most carries of all the backs with 11 carries for 29 yards.
However, Yant and Grant's skills weren't shown to their fullest as Nebraska didn't tackle in the first half.
Yant especially does his best work after contact and runs behind his pads. On one play during the second quarter, Yant was called down after a few yards at around the 25 but ran to the endzone, visibly frustrated that he couldn't battle his way there.
Rahmir Johnson got the start on the first drive with the first team but has 14 yards on six carries.