Illinois vs. Nebraska: Keys to victory, HOL score predictions
Illinois comes to Lincoln fresh off a victory against Minnesota, with a chance to go to a bowl game for the first time in Lovie Smith's three seasons in Champaign.
Meanwhile, Nebraska is coming off a very impressive showing at Ohio State last week, where the Huskers gave the top 10 Buckeyes all they wanted and more in the Horseshoe.
As things get closer to kickoff, here are today's keys to victory for Nebraska vs. Illinois. NU is currently an 18 point favorite for today's game in Lincoln.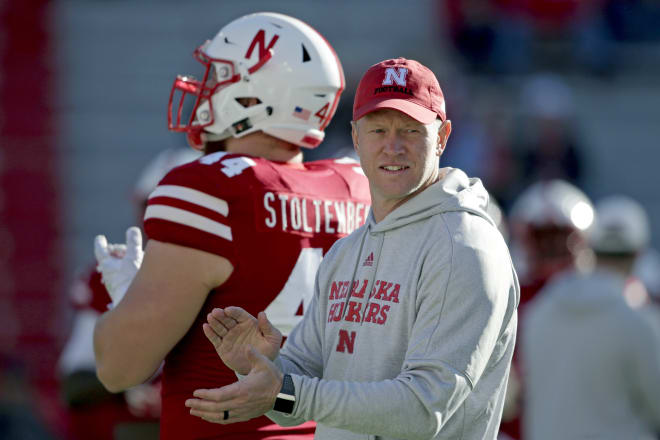 KEYS TO VICTORY: Illinois at Nebraska 
KEY 1: Fast start on offense
Illinois's defense has struggled all season. Nebraska needs to make a statement early what type of day this is going to be for them.
KEY 2: Be ready to adjust
Last week with Lovie Smith running the entire defense, he threw a few new wrinkles at Minnesota. They also played much more aggressive on defense. Nebraska needs to be ready to make adjustments at anything new Smith might throw at them.
KEY 3: Containing Bush's running ability
Maybe the most significant challenge today for the Blackshirts will be containing former Nebraska quarterback A.J. Bush. The big, athletic Bush will keep Nebraska on their toes with his ability to run. They can't allow Bush to have a big day.
KEY 4: Improved special teams play
This one goes without saying. Nebraska's special teams had played better the last few weeks, but things completely derailed at Ohio State. With it being a cold, windy day today, the kicking game and creating field position will be a big key for NU's special teams.
KEY 5: Set the tone early
Really since the second half at Wisconsin, we've seen Nebraska turn a corner this season. That needs to continue today, as this football team knows they have a real chance to finish this season 3-0 if they play like they did last week at Ohio State.
EXPERT TAKE: Illinois at Nebraska 
Sean Callahan - HuskerOnline Publisher
Nebraska will jump on Illinois early. The Huskers will put up over 600 yards of total offense and Adrian Martinez will once again have a big day. NU will cruise to an easy 28 point victory.
Nebraska 48, Illinois 20
##############################
Robin Washut - HuskerOnline Senior Writer
Illinois comes in on the heels of its best game of the year and looking to keep its bowl hopes alive, but if Nebraska plays anywhere close to the level it did last week, this one shouldn't be close. The Illini are a total mess on defense, and their spread triple-option scheme is very similar to what NU's defense sees every day in practice from its own offense. I see the Huskers racking up a bunch of yards and points in a convincing victory.
Nebraska 42, Illinois 21
##############################
Nate Clouse - HuskerOnline Lead Recruiting Analyst
I see Nebraska getting off to another fast start against Illinois this weekend. That fast start forces Illini quarterback AJ Bush to pass more instead of being able to rely solely on their rushing attack which is good for the Huskers. The Blackshirts will get a few picks off of Bush that the offense turns into points allowing NU to cruise to a relatively comfortable win on a cold day.
Nebraska 35, Illinois 20
##############################
Mike'l Severe - Omaha World-Herald Bottom Line
This thing could be a real shootout based on the numbers. Reggie Corbin is averaging early a 1st down every touch. But if you can slow down that running game and force AJ Bush to throw from the pocket the Huskers will blow out the Illini. I think Ozigbo gets close to 200 yards and Nebraska should get close to 600 total. I don't see this game being close unless the Huskers turn the ball over at least twice.
Nebraska 45, Illoinois 24
##############################
Andy Kendeigh - KETV Channel 7 Sports Director
Illinois is awful on defense. Even with Lovie Smith taking over the defensive play calling, the Illini still gave up 31 points and 438 yards in their win against Minnesota. This is the same Illinois team which gave up 63 points to Maryland, 49 points to Wisconsin and 46 points to Purdue. You have to think Nebraska scores 50-plus if the Huskers play smart.
Nebraska 52, Illinois 31
HuskerOnline Week 11  Score Predictions 
Week 11
Sean Callahan
Robin Washut
Nate Clouse
Mike'l Severe
Andy Kendeigh 

Illinois at Nebraska

48-20

Nebraska

42-21

Nebraska

35-20

Nebraska

45-24

Nebraska

52-31

Nebraska

Wisconsin at Penn State

27-23

Wisconsin

24-21

Penn State

28-21

Penn State

30-17

Penn State

28-17

Penn State

Ohio State at Michigan State

31-23

Ohio State

42-10

Ohio State

31-24

Ohio State

24-10

Ohio State

27-24

MSU

Northwestern at Iowa

24-17

Iowa

20-17

Northwestern

27-21

Iowa

38-24

Iowa

17-16

Iowa

Maryland at Indiana

34-24

Indiana

24-20

Indiana

21-20

Indiana

34-28

Maryland

30-21

Indiana

Washington State at Colorado

41-34

WSU

49-42

WSU

35-28

WSU

27-24

Colorado

34-27

WSU
HuskerOnline Score Prediction Standings 
Expert Picker
Straight Up
vs. the Spread 
Cumulative Total 

Andy Kendeigh

KETV ABC-Omaha

43-16

30-28

73

Mike'l Severe

OWH Bottom Line

37-22

34-23

71

Sean Callahan

Huskeronline

35-24

31-26

66

Nate Clouse

HuskerOnline

33-26

26-31

59

Robin Washut

HuskerOnline

33-26

25-32

58