Huskers want to get rowdy in 2014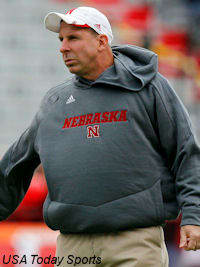 Click
Here
to view this video.
Every August there seems to be a word or a catch phrase that describes how the team wants to play that season.
As Nebraska's players met with the media on Friday before the start of fall camp, sophomore quarterback
Tommy Armstrong
used an interesting word to describe what he wants to see from the Huskers in 2014.
Armstrong said he wants this team to play "rowdy." Too many times a year ago Armstrong said the team had a hard time facing adversity, which changed their temperament on the sidelines. That has to change in 2014.
"We want to go out and create an identity for our team this year," Armstrong said. "We want to go out and be a rowdy team and go out there and let all of our skills and all of our offensive threats and defensive threats speak for themselves. That's what our identity is this year."
There were times last year where Armstrong saw those characteristics from the team, but there were also times where he didn't.
"We've looked at certain games last year and we'd score and make big plays, but then on the sideline we'd have guys just standing around," Armstrong said. "We want to be energetic this year. We want to have everybody on the same page.
"When we are all on the same page, I feel like we are unstoppable. That's how it was in certain games last year. We are doing all the things right and we had all things going, but when stuff got hard and we started to struggle it was like a domino effect. Guys weren't cheering us on and saying 'we got this' and stuff like this. I feel like this year we have to be consistent to cheer on each other and be there for each other and stuff like that."
Junior defensive
Randy Gregory
said for this defense to be successful they have to play with confidence and swagger.
During the spring the defense showed that ability at times, and Gregory's hoping that carries over into fall camp.
"I think to me everybody sees us as the Blackshirts and the Blackshirts they know of from the 90's and the really good teams," Gregory said. "I think we are just trying to get that look back. Not to say we haven't had it, but we want to be a feared defense. It's going to take a lot to get there, a lot of talent, but I think we have it and I think we have the guys to make the team rowdy. Part of that is we are just real excited, so I think we are ready to get on the field and just show people."
As the team met with the media on Friday you could sense almost a guarded optimism. A year ago at this time they were the favorites by many to win their division in the Big Ten, but saw their season turn after key injuries to quarterback Taylor Martinez and offensive lineman Spencer Long - their only two returning All-Big Ten players.
This year the Huskers are picked third in the unofficial media poll released this week by the Cleveland Plain Dealer. The poll had NU picked behind Wisconsin and Iowa. Being picked third has almost put the No. 22 ranked Huskers in a behind the scenes role, but you could sense the excitement about this team on Friday from the players.
"I think the mood right now is excitement," Cross said. "We are very excited, and I think that excitement will turn into focus once Monday comes around."

[rl]