Huskers tap back into Louisiana for commit No. 11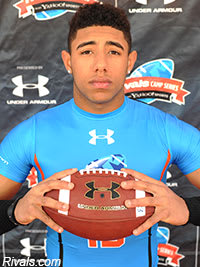 A year ago Nebraska signed three players from the state of Louisiana and they already have one commitment in the class of 2015 from Rivals100 New Orleans Isidore Newman running back
Kendall Bussey
.
On Thursday the Big Red added another commitment from the Bayou in River Ridge (La.) John Curtis defensive back
Hunter Dale
. The 5-foot-10, 191 pound Dale gives the Huskers 11 commitments in their class of 2015.
"Today was a great day," Dale said. "I got to meet with pretty much all the coaches except for coach (
John Papuchis
), and I'll get to meet him Saturday morning. I loved everything about it. I got to meet with the baseball coaches and it just felt right at home. I felt comfortable here and I feel like I should've been here a long time ago."
Maybe the icing on the cake for Dale was the fact Nebraska was so open to let him play both football and baseball at the next level.
Besides meeting with the entire football staff, Dale spent time on his visit with NU baseball coach Darin Erstad.
"To know that I could (play both sports) here and how good both programs are really sealed the deal for me," Dale said.
Dale added he chose Nebraska over Ole Miss, Arizona, Arizona State and Florida.
Originally he planned to wait on visiting NU until official visit season this fall, but it was Bussey that convinced him to see Lincoln in July.
Getting the chance to see Lincoln up close and personal really opened his eyes and answered a lot of his questions.
"Two big things stood out to me," Dale said. "When I say Nebraska you think cornfield, cornfield, cornfield - honestly I was expecting there to be a cornfield two steps away from the stadium. Then I get here and it's a city - a good city.
"Then everything you need is in walking distance of where you need to go and I just love that about the campus. Everything is right there and everybody here is a family."
NU is recruiting Dale as a defensive back and he said secondary coach
Charlton Warren
said he has the ability to play corner, nickel, free and strong safety.
In baseball Erstad is recruiting Dale to play outfield. Getting the chance to see it all up close this week was all Dale needed to make his commitment official.
"Honestly Nebraska knows how to recruit down south people, especially Louisiana people," Dale said. "I just feel that I should be here and Nebraska is the best fit for me."