Huskers take care of business in 45-9 blowout of BCU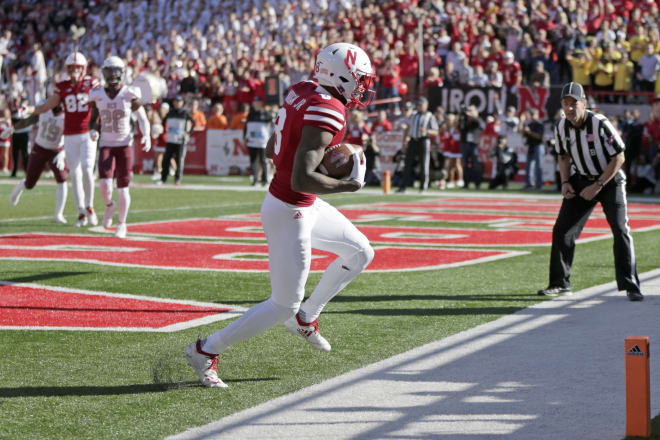 In a matchup that was only added to the schedule a month ago, Saturday's 45-9 blowout of FCS-level Bethune-Cookman was everything Nebraska needed to it be and then some.

After the season opener vs. Akron was canceled due to weather, the Huskers had to scramble to add a 12thgame back on their schedule. With the help of some personal ties between the coaching staffs, the Wildcats answered the call.
The outcome was never in question even before the opening kickoff, and Nebraska's starters were able to put up some big numbers before handing it over to a slew of young backups who gained valuable game experience.
Nearly all of the Huskers' top offensive threats got their chance to put up big numbers on Saturday, led by quarterback Adrian Martinez. The true freshman played just two quarters but still 15-of-22 passing for 213 yards and two touchdowns (he did have a bad interception as well).
Receivers Stanley Morgan Jr. and J.D. Spielman also had a field day, combining for 12 catches for 154 yards and three touchdowns in just one half of action. Spielman also added a 77-yard punt return for a score in the first quarter, giving him 149 total yards and two touchdowns overall.
Ozigbo broke the century mark for the fourth time in the past five games, finishing with 11 carries for 110 yards and a touchdown in one half of work. Freshman Maurice Washington also carried six times for 48 yards and a rushing score.
Nebraska wasted no time getting rolling, putting together a seven-play, 65-yard touchdown drive capped by a 14-yard run by Devine Ozigbo on its opening possession.
A quick three-and-out by BCU was followed by a 77-yard punt return for a touchdown by Spielman to make it 14-0 less than five minutes into the game. That marked NU's first punt runback for a score since De'Mornay Pierson-El took one 80 yards at Iowa in 2014.
Bethune-Cookman had some fight in it, though, as a 54-yard pass to Steffon Francois led to a 28-yard field goal by Uriel Hernandez.
But the Huskers' offense kept right on rolling, answering right back with a six-play, 76-yard march and going up 21-3 on a three-yard touchdown pass to Morgan.
Martinez then found Morgan again on the next series for a 27-yard touchdown toss to push the lead to 28-3 with 2:55 still to play in the first quarter.
By the time the opening quarter finally ended, Nebraska had already racked up 28 points, 215 yards, and Martinez was 11-of-14 passing for 156 yards and two touchdowns. Morgan had six catches for 75 yards and two TDs, while Spielman accounted for 145 total yards and a score.
It took 10 minutes into the second quarter for NU to get back on the board, but Washington ran a touchdown in from eight yards out to cap a methodical seven-play, 75-yard drive and make it 35-3.
The Huskers had a chance to punch it into the end zone one more time before the end of the half but ended up settling for a 29-yard field goal by freshman Barret Pickering to go into halftime up 38-3.
Nebraska pulled the bulk of its offensive starters, which led to a scoreless third quarter (aided by an interception in the end zone by NU safety Deontai Williams).
That changed when backup Noah Vedral, who just became eligible this season last weekend, got loose and dove over the pylon for a 20-yard touchdown run to make it 45-3 with 13:39 left in the game.
Nebraska had a chance to add to its lead a few minutes later but Vedral was picked off at the BCU 10 and returned to the 18. The Wildcats then drove 82 yards and scored their lone touchdown of the day on a five-yard run by Alfred Adams as time expired.
The Huskers will return to Big Ten action again next week when they travel to take on Ohio State. Kickoff is set for 11 a.m. and will be televised nationally on FOX.