Huskers survive late Ohio State rally in 11-9 win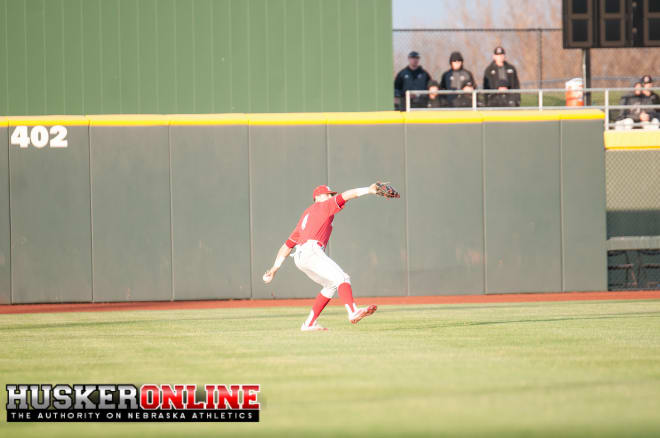 Despite allowing an eight-run eighth inning to Ohio State, Nebraska (26-16-1, 9-5-1) found a way to close the game out for an 11-9 win on Sunday afternoon.
Hot bats, Buckeye pitching mistakes, and Nebraska junior pitcher Jake Meyers were the reasons why NU was able to finish off the weekend series in winning fashion.
Meyers got the game started with a single to centerfield, followed by an Angelo Altavilla walk and a Scott Schreiber hit by pitch to give Nebraska a no out, bases-loaded opportunity.
That's when senior first baseman Ben Miller rocked a single down the left field line that brought in two runs.
NU took that momentum into the second inning when Schreiber hit a two-out, bases-loaded single to the shortstop that allowed freshman left fielder Mojo Hagge to score. Then the Huskers scored another run when Miller was hit by the pitcher with the bases loaded.
Ohio State third baseman Brady Cherry got the Buckeye offense going in the bottom of the sixth, as he tripled to left field to make it 5-1.
The top of the seventh was when things began to really unravel for OSU, as the Huskers scored five runs off of only two hits. The Ohio State pitchers combined for four walks as well as one hit batter.
Schreiber capped it off with a two-out double to left center field that scored Jesse Wilkening and Altavilla.
The Huskers led 11-1 going into the bottom of the eighth, but it almost seemed like Ohio State had NU right where it wanted.
Sophomore Nate Fisher came in to relieve Meyers (7-1, 2.58 ERA), who finished with four strikeouts, allowed six hits and only one run in seven innings.
From there, the Buckeye offense went on a tear by recording eight runs on eight hits. Fisher was only able to record one out and allowed four runs before he was replaced by sophomore Chad Luensmann.
Luesnmann got Nebraska out of the eighth, but not before surrendering an additional four runs. Going into the top of the ninth, Nebraska's lead had been cut down to 11-9.
The Huskers failed to record a hit in the top of the ninth, and out came junior Luis Alvarado to close the game out.
Alvarado only allowed one single, then proceeded to get a fly out and back-to-back strikeouts to secure the win and pick up his team-leading eighth save of the season.
"It's fun to watch him mature as a person," head coach Darin Erstad said on his postgame radio show with the Husker Sports Network. "He's just a guy who loves to compete and knows what he can do.
"He has really learned how to control himself in those situations and has a good feel for the game."
There is no mid-week game this week due to finals. Rutgers will travel to Hawks field this weekend for a three-game series, with the first pitch on Friday at 6:35 p.m.
"It's a good lesson to never let your guard down," Erstad said. "It's one of those things where you play enough games that crazy things can happen. You just keep playing pitch-to-pitch. A real nice job by our guys."