Huskers see WR Jaidyn Doss playing a role on offense and special teams
The Huskers were host to one of their top wide receiver targets this weekend, Jaidyn Doss.
Doss, a three-star wide receiver and returner, from Peculiar (Mo.) Raymore-Peculiar got a better chance to meet all of the coaches and staff this weekend on his second visit to Nebraska. The Huskers have put themselves in a very good spot for Doss.
"I got up here on Thursday night on the night before," Doss said. "On Friday we kicked off the visit with some meetings to cover academics and things like that. We got a chance to chill with the players. My host was Alante Brown.
"I had a chance to talk to coach Whip. I also had a great talk with coach Joseph. And I had a little talk on Saturday with coach Frost. We did a photoshoot, did a tour and then we had a dinner where I had a big steak.
"Today was the real meeting with coach Frost. We had a 30-minute talk with the head coach and then we got down the road after we had breakfast."
Nebraska brought in a trio of players for official visits this weekend. Doss was joined by fellow offensive recruits Cayden Green and Dylan Edwards. The three recruits have known each other for years and this was the plan to set up visits for the same weekend to Nebraska.
"I already knew Dylan and Cayden. We have all been friends for a while now. I have known Cayden since sixth grade and Dylan since seventh grade. We lined up the visit to Nebraska to visit together. They wanted all three of us there so we lined it up."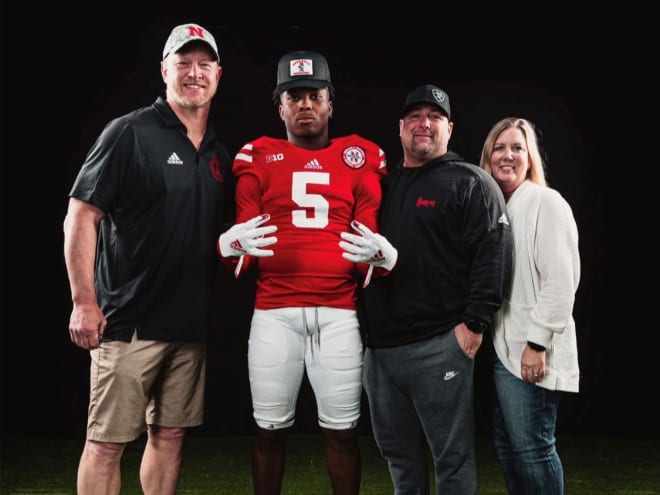 Another conversation with a Nebraska coach that Doss had this weekend was with his recruiting coach and the special teams coordinator. Bill Busch shared his thoughts with Doss on the role he could see him playing at Nebraska as well.
"We have talked about that a lot," Doss said. "Coach Bush sees me as a guy that he wants as a returner and he's told me about all of the protection that he will have for me at Nebraska. He likes to have his returners protected for a run back."
The visit went really well for Doss and his family this weekend. This was his second time getting to Lincoln and he really got to see how the players and coaches interacted this weekend while on his trip.

"This was my second trip to Nebraska. My first visit was a mid-week, spring practice visit. I would give the visit to Nebraska this weekend was an "8.5 to 9". It was close to a "9". The best thing about the weekend that I saw was the relationship between the players and the coaches. There is a lot of respect there between them."
The Nebraska visit is the only one that Doss has set up so far. There are a couple of schools that he is thinking about taking a trip to and he will start set up dates for those trips in the coming weeks. He plans to make a decision before the start of his senior year.
"I am thinking about a couple of official visits, but I haven't set them up yet," Doss said. "I am thinking about Kansas State. I am pretty sure that I am thinking about Michigan State. I would like to make my decision before my senior season around July or August."